Horsham Artist Cherry Parsons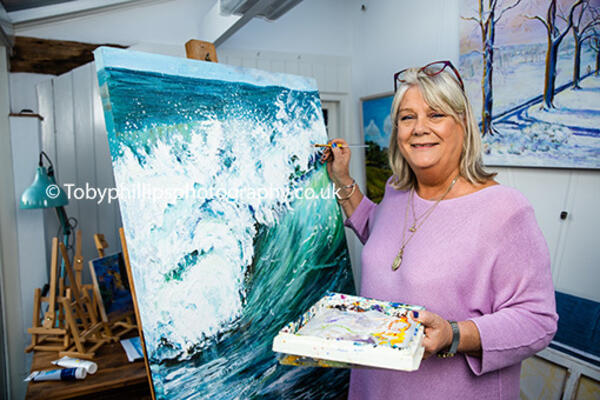 Published on 1st January 2020
Lunch atop a Skyscraper has become one of the world's most iconic photographs. The snap of eleven workers sat on a steel girder during construction of the Rockefeller Centre, New York in 1932 has been subject to countless parodies over the years. The Simpsons, the cast of Friends and the Despicable Me minions have all been depicted in a similar scene. Horsham artist Cherry Parsons created her own artistic interpretation.
Who Forgot the Fish? depicts 11 seagulls enjoying chips over Brighton. Two birds have even brought along sachets of tomato ketchup and tartare sauce. This and other paintings of seagulls have become Cherry's most recognisable work. Yet the success of this humorous collection has been a surprise to the artist.
"I started painting seagulls simply as I had a lot of blue paint left on my palette one day," said Cherry. "It was too much to wash away, so I painted two square canvases in blue and left them. I painted a seagull on one square and called him George, after the actor George Segal. The second seagull was Steven, named after Steven Seagal. They seemed to work as a pair, so I called the pieces Who Me? and Yes You! They were just a bit of fun, but friends and family kept saying that they liked the seagulls as they're silly and make you smile. The idea snowballed to the extent that the life and times of George and Steven are now depicted in 16 paintings.
Because they are small square canvases, they can hang individually or as a montage of two, three or four paintings, so there's flexibility.""Because of the seagull's association with Brighton, I painted my own version of the New York skyscraper photo with the Royal Pavilions in the background. That's become one of my bestselling prints. The seagull pictures are very playful; I work on the principle that if they make me laugh, they'll make others laugh too. Strangely, a few people who initially said they didn't like seagulls have later bought one!"
Northbrook Memories
Art has been a lifelong passion for Cherry, but it is only in recent years that she's been able to devote more time to it. Cherry was steered away from attending art college as a teenager and instead went into the fashion trade, opening a store along Guildford Road, Horsham. That venture ended when her first child arrived, although Cherry maintained a love of painting and other creative hobbies while raising a family.
When her eldest daughter went for an interview at Northbrook Art College in Horsham, Cherry went along too and was unexpectedly offered a place on the Foundation course. "I was chatting to the tutor and he asked, 'Does your daughter get her interest in art from you?' As she did, he asked if I might be interested in the part-time course. It was a fabulous experience as I could study everything from glass to ceramics to computer design. I was essentially playing with materials and the teaching was hugely beneficial. We lived in North Parade at that time and sadly could only watch from our garden as Northbrook went up in flames years later. That was heart-wrenching, as it had been a wonderful place for me to learn."

Varied Influences
Cherry has continued to work and learn from different tutors to expand her knowledge. She attended classes run by Rosalyn Sprey, Head of Art at Farlington as well as John Thompson at Nymans Gardens. Cherry also joined Horsham Artists Open Studios (HAOS), exhibiting in the Art Trail with floral painter Judith Smith and botanical artist Deborah Crago. These influences help increase the variety of Cherry's output, which includes portrait and landscape work.
"I'm a firm believer in attending different courses," said Cherry. "It helps you to evolve as an artist. Also, painting can be an isolating hobby, so it's nice to meet people and have that camaraderie within a group."
''As I'm a Horsham girl, I like painting the Causeway, Denne Hill, Horsham Park, the River Arun and even tractors ploughing the fields at Devil's Dyke. We also love going on holiday to Majorca and I paint pictures from there. Portraits are important to me as well. One of my favourites shows my granddaughters looking over our garden wall into a fishpond. I changed the scene to place it at the seaside, but like most of my paintings, it's very personal to me. Sunshine, light, water and people are my main inspiration; seagulls have been a more recent diversion!"

Art for Everyone
Recently, Cherry exhibited at Horsham Museum and Art Gallery, where it was the humour of the seagulls that attracted the most remarks. Having worked tirelessly to create new paintings for the exhibition, as well as HAOS Art Fair, Cherry is now preparing her schedule for 2020.
Wherever she decides to sell and exhibit, Cherry is keen to offer original work, prints and greetings cards to suit every budget. "Somebody who likes a painting might not be able to afford the original," she said. "So, I try to make my work affordable for all. As for my future direction, I will try new ideas. I've recently been working on a ballerina painting which has got a great response on social media. But I'm not sure it will repeat the success of the seagulls."
Cherry's art is available at http://cherryparsonsart.com/

WORDS: Ben Morris
PHOTOS: Toby Phillips Photography