Museum ready for Contemporary Art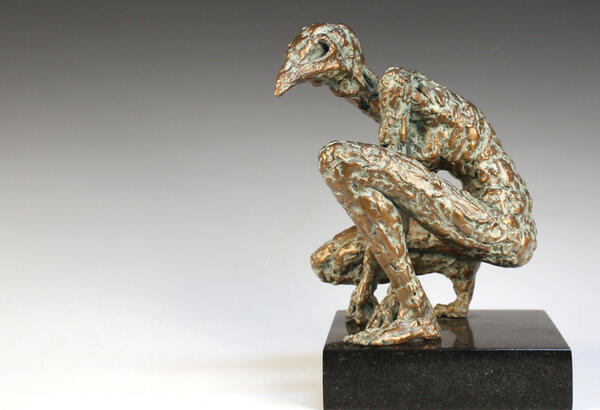 Few aspects of society and culture attract as vast a range of opinions as contemporary art. We are both angered and yet fascinated when the annual list of nominees for the Turner Prize are announced.
We are often enraged as the world's media turn out in force to publicise new exhibitions by the likes of Tracey Emin and Damien Hirst, all seemingly in agreement that it's all nonsense as we unwittingly help drive their profile up to the clouds.
But of course, there is so much more to contemporary art than unmade beds and tiger sharks in formaldehyde.
Sussex boasts an incredible number of gifted contemporary artists involved in painting, sculpture and pottery, and to celebrate this each year Toovey's auctioneers in Washington form an association with Horsham Museum to create a unique exhibition and sale.
A diverse range of work by fifty artists, hand-selected by art expert Nicholas Toovey, is now on display in Off the Wall, at the museum until 7th July. Two weeks later, all of the art will be available to buy at auction at Toovey's.
Nicholas said: "This will be my sixth Contemporary Art Auction. I had some friends that were artists who could not get in any galleries locally, and all the good talent was trying to get their work up to London as there was very little around Sussex.
"I was lucky that I worked for a family firm and could say 'I have a quirky idea, I don't think it'll make a lot of money but I'd like to do it.' I felt it was my duty to promote the arts and give a platform for artists that was new and exciting. You had TV shows such as Bargain Hunt that had broken some barriers in that people were no longer scared of auction houses.
"I think though that a lot of people are still a little bit scared of walking into an art gallery, as they assume they won't be able to afford the art and that people are going to be a little bit snooty. Horsham Museum is fabulous as it has a good footfall and I like the fact you have 21st century art sitting in a timber framed medieval building. I really like that contrast."
Horsham Museum now has a permanent art gallery, which has helped it attract thousands of new visitors in recent years. It was the museum's involvement in Nicholas' plan that first inspired the idea of establishing a gallery.
Jeremy Knight, Museum & Heritage Manager, said: "Nick had done an exhibition of contemporary art in Worthing and then asked if we would consider doing it here in Horsham. This was before we opened the art gallery, but we agreed. We were really testing the water but the exhibition proved to be very popular and from that we decided to transform what was the Georgian room, which was furniture, display and ceramics, into an art gallery. That was done three years ago, so the second year of the contemporary art exhibition was in the Art Gallery.
"Having a gallery has brought in a whole new audience. A lot of people are now coming in, and the visitor
numbers have increased dramatically in the last three years. People are seeing things here that they did not expect to see, and that's creating a real buzz in the area. Nowhere else do you have fifty artists that you can just walk in and experience and there are not that many opportunities to see such a variety of work.
"That is part of the museum's role – yes, we show people historical items and highlight what people have done in the past, but also we present opportunities for people to see contemporary work that will inspire them, and push other artists on to do better."
Highlights of the Off the Wall exhibition include 'new still life' painter Chris Kettle, beautiful bronze sculptures by Eve Shepherd, which are full of emotion with dark undertones, landscape artist Andy Waite, sculptor Guy Stevens, dramatic paintings by Jim Sanders and spiky, heart shaped dishes by Claire Palastanga, which are both warm and wonderful.Newcomers to the event include figurative painter Christine Tongue, printmaker Kary Fisher and ceramicist Jessica Jordan.
Nicholas said: "One of the many established artists is Chris Kettle. His work is very popular, but he's quite a slow artist as his art can take six months to complete and he only ever has one on the go. There's not going to be a flood of them on the market so it's possibly a good investment. He looks at the still life genre in a really contemporary way. It has its traditions in the work of the Dutch masters, but it has a 21st Century twist. I like the idea of updating something and making it fresh and current. It is unique and different and that is what I look for – an artist that has found their own voice.
"I want the auction to be enjoyable as well as promoting what is out there now, as some of it is fabulous. Whether you like traditional or weird and wacky there is something for everyone. There are only four artists that have been in every single sale, as I like to keep it fresh and different. I look all year round for artists offering the right calibre or mixture. Pottery is important to me as I don't think it gets enough exposure as an art form. Sculpture is wonderful, but tends to be more expensive because of the materials involved.
"Paintings are equally important, and I want to showcase not just what is fashionable but what is being made in a wonderful way. There is a really good range of prices too. Lowest estimates start at £50 which is a good level to get people on board, and the higher end art is probably £8000. So if you're looking at serious investment there is that opportunity.
"I think there are things that will make you smile, some things that will that will bemuse and some that will enrich your life and you'll hopefully want to take home. It's an eclectic mix but I think it's a happy eclectic mix."
Jeremy is equally as enthusiastic about the Off the Wall Exhibition. He said: "It is pointless showing art where people come in and say 'I could do that'. We don't want that. They might look at something and think that it doesn't require much skill, but when they actually have a palette and are given a fresh canvas, an empty page, or a lump of clay or wood, they actually can't do it.
"One of the things I like about the contemporary art exhibition is that people of modest means can actually acquire pieces of art. They can go down to the auction and have real fun – because bidding is fun. There's a sense of chase. We've bid for things for the museum. We look long term, and think that in 100 years these pieces will be antiques, but the public may look at it differently and buy on the strength of art being nice to have on show. This is a great showcase for what people are doing, it inspires people to do better, and it also encourages people to collect and enjoy art."
Off the Wall can be seen at the museum until 7th July and art will then on sale at Toovey's Sale of Contemporary Art at Spring Gardens Washington on 21st July. Illustrated catalogues are available from Horsham Museum and Art Gallery or Toovey's during the exhibition for £6.