Creative Snapshots with Joanna Wenczka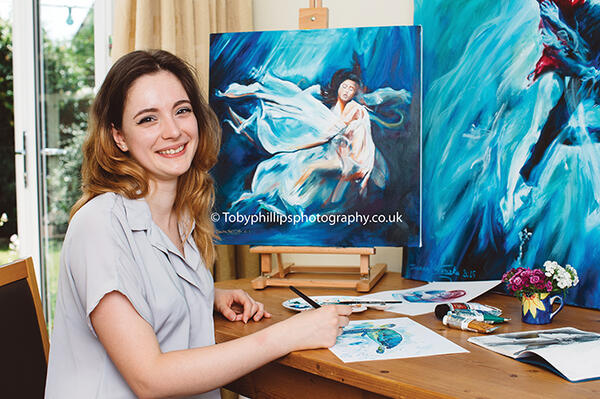 Published on 1st July 2017
Animated Inspiration
After completing my A' levels, I went to a careers fair with the intention of studying product design at University. But after looking into it, the idea of spending three years designing a toilet brush didn't appeal! A Southampton University stand was promoting a degree in animation and that really excited me. I loved cartoons as a child and the prospect of a career in animation appealed to me.The animation course involved sketching hundreds of pictures every day and this required discipline. But I enjoyed it, particularly the story boarding process. It was interesting to learn about various styles of animation and it gave me great admiration for cartoonists, particularly Pixar films, which are incredible detailed.
An Emotional Year
My final year at University was tough. My dad was diagnosed with terminal cancer, so I had to try and balance my home life with education. He encouraged me to commit to my university course and I'd come home as often as possible to care for him and make as many memories as I could. I completed an animated film for my final project. There was then a special screening of all the students' work at a cinema in Southampton. My film was about three minutes long, which equated to 2,000 individual drawings spliced together. It was about a date in a restaurant that goes disastrously wrong and the central character ends up with somebody else in the restaurant. Each character was based on a different suit in a deck of cards. The main character was Jack and the girl he ends up with is heart-shaped, whilst the shallow, materialistic woman he first meets is the diamond.My dad went to a chemotherapy session at hospital in his suit and immediately travelled to Southampton for the screening. That made working for 42-hours non-stop to finish the project worthwhile for me!
Sleeping with the Fishes
Whilst at university, a lecturer offered several students some extra work. We were adding colour to drawings after the line work had already been created, for a project ambiguously titled 'fish.' Sleeping with the Fishes later won the BAFTA for best short animation film in 2014. It was great for us to have been a small part of that! When I came home from university, my dad rolled out a little bit of red carpet for me!I was very proud to have earned my degree and loved animation, but found it difficult to find work in the field. I drew some animations for a band called Cats in Space and created teaching aids based around a barn owl character. I also helped friends with various projects. However, since leaving Southampton, I've been focusing on painting. People were telling me that my work was good enough to sell, so I thought I would give it a try. Just a few months before he died, my dad took me to Seawhite's art shop and told me to 'go mad' as it was my 21st birthday. I had what I needed to get started.

Two to Tango
Lindsay Wright, a very talented local artist and friend, helped me develop my painting style. She also taught me the basics of tattoo art! Lindsay hosts evenings where artists come together to work. During one such evening, I started painting Galatea's Tango on a large canvas that my dad bought me. A few people stopped painting for a while to watch me as I was so focused. When I'm in full flow, I can just keep going as I find painting quite cathartic. Galatea was a sea-nymph (appears in Metamorphoses by the poet, Ovid) who shared a great love with Acis. When he is killed by a jealous rival who also loves Galatea, she transforms Acis into a river spirit so the two can live in immortality. My painting doesn't necessarily reflect that story. It's more about expressing different phases of dance in one image, like an animated scene in one still. Galatea's Tango is not perfect and I don't want it to be. It's the picture that made me believe I could be an artist and spurred me on. Whilst I have made prints, I won't sell the original as it has a strong personal meaning. I feel it's for me and my dad, as he was the one who was encouraged me the most and I miss that.

Pets Portraits
Most of my work is based on commissions, primarily portraits of people or pets. They make a nice gift and I enjoy doing them. A portrait is such a personal thing, so it's a great feeling when you get it right and you've captured the true character of the subject. Some artists are very precise, almost to the point of a drawing looking like a photo. But I like things to look like a painting or drawing. The key is to capture the essence of an individual's character, which stems from my experience in animation. Other parts of the picture can be incorrect or abstract, but when you capture the glint in the eye or the smile of the subject, you know that the whole picture is going to be okay. It's also important to know when it's time to stop. Sometimes, I think artists can do too much and can spoil a portrait.People are surprised how affordable portraits are. They don't always cost that much and they make for a lovely gift.

From Senna to Bowie
Last year, I contributed a painting of a barn owl for an exhibition called Flock, which was held at Roffey Park. The venue has recently offered me the opportunity to host an exhibition of my own, so I hope to paint more pieces with a 'movement' theme. I love painting animals, particularly sea creatures, and water is a theme which runs through much of my artistic output. However, I do have quite a diverse range of work. I've tried everything from a water colour portrait of Senna and his Lotus to a charcoal study of David Bowie, to pencil drawings of Harry Potter and my movement paintings in oils and acrylics. I recently drew a ship that was once stranded in the Suez Canal. A client approached me with the idea as his father had been on the ship. I don't limit myself as an artist and like to work in several mediums and on a wide range of subjects.My aim at this moment is simply to get more of my art out there to build my reputation and hopefully I will reach the point where I can forge a career as a full-time artist.

HAOS Art Trail
I'm involved with the HAOS Art Trail this July, which I'm very excited about. I am joining up with two other artists, Irma and Andre Westerdijk, so I hope that by having a sculptor, painter and upcycling artist in one location, we will attract quite a few members of the public.As well as selling my art, I produce prints and greetings cards, as some people only have a small amount to spend. Art needs to be accessible and one of the key aims is to cater for everyone. If you're producing work that nobody can enjoy because it's too expensive, then what's the point?
For more information, visit Joanna Wenczka's Art page on Facebook or Instagram or visit her website at https://www.joannawenczka.com

INTERVIEW: BEN MORRIS
PICTURES: TOBY PHILLIPS/JOANNA WENCZKA