Lesley Phillips: Humour in 3D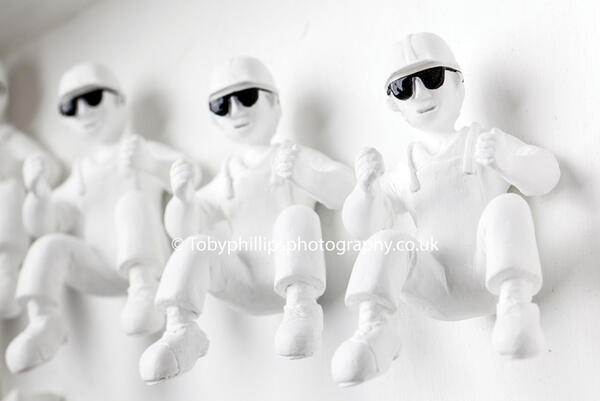 I don't know if today's teenagers are into bedroom posters in a big way. But in my day wall decorations were
important to an individual's social status.
Therefore, there was a time when a day into Horsham town would involve little more than collecting rave flyers from Heartbeat record store and visiting Athena to flip through the poster boards. I can only recall clearly a handful of the images. There's the man cradling a baby (even though he didn't look the 'dad' type), the tennis girl with an itchy bottom, and a baby that had been dressed up to look like a Hell's Angel biker with the heading 'Born to be Wild'.
Another I remember clearly was 'Lunchtime atop a Skyscraper'. It's a famous and wonderful photograph of New York builders on a girder during construction of the Rockefeller Center in 1932.
So I was excited to see that Lesley Taylor of Warnham will be taking inspiration from this iconic image for her latest series of dramatic three dimensional, humorous artworks. Lesley is working on her own unique interpretation of the image.
There will be fewer than the eleven men on the original image, and the workmen in the three part series will all be wearing shades. As well as 'Shades of New York', the artist will be creating 'Shades of London' and 'Shades of Paris.'
She said: "I used a scroll saw to cut my city scenes below the workmen. I initially used just one piece of wood for the whole scene, but it looked flat. You could see it was London but there was no depth. So I thought about making the city scene in two or three layers, and eventually I went for four layers.
"My father was very skilled with wood and he encouraged me to watch and learn from him. I know about different types of wood and the problems each brings, so I have a reasonably practical brain and I'm not half bad at DIY. This is a different way of applying that skill.
"I like how the piece is coming along now. It's not geographically accurate, but it's a representation of the city and there is enough detail in there for people to know the buildings. I took an age researching architectural features and the relative heights of buildings, before ditching scale as it was nonsense. I just made features such as the Empire State Building and Eiffel Tower stand out in the skyline. I hope people realise that it is Paris and not Blackpool!"
Thanks to her unusual method of painting in brilliant white and using a splash of colour to introduce a touch of humour to her art, Lesley has come a long way in a short time. Discouraged from pursuing art as an occupation, a weekly pottery class was her sole creative output as Lesley instead developed a career in consulting on
children's services.
A change of government policy (one Lesley actually agrees was good for children's services) during the recession saw a reduction in Lesley's workload. At the age of 49, Lesley felt it was now or never for her art career. She said: "I had always worked on the three dimensional art form as a hobby, so I thought I'd go for it.
"I was looking for a way in which I could produce something that I thought could be quite commercial. I'm not embarrassed by that.
"Humour was always important. I knew I wanted to work white on white as personally I like it as a style and I'm drawn to artwork which is simplistic in its colour spectrum. But I wanted something that I thought would grab people's attention. We were renovating a dilapidated house in Suffolk, and everything that could go wrong had gone wrong in that house. Walls came down, people put their feet through stairs; it was a real labour of love.
"Then one day I saw one of the workmen kick a can of paint over, and something clicked in my mind. The idea of the splash of colour came to me. That's where the original idea for the first 'Drip' series came from."
It was a tough learning process though, and Lesley initially made mistakes on many fronts. She used an acrylic paint which discoloured after a time, leading to 26 canvases being thrown into the bin. After consulting paint manufacturers, Lesley turned to a matt-based wood paint which can, when primed, be used on other materials as well.
The characters used in Lesley's artwork were also problematic. Initially, she used clay and thought the process of making and shaping models would be simple. It wasn't. Lesley found the clay was drying out and cracking, and so after speaking to Lydia Sanderson at The Art Academy in Foundry Lane, decided to actually learn how to make moulds and cast figures at the Sussex Sculpture Studios in Partridge Green (now in Billingshurst).
Andrew Brown, a tutor at the Studios, suggested Lesley used Chevant clay, and helped her to develop an understanding of making moulds and cast using resin from moulds. Lesley said: "The size and scale of the
figures has not changed, but you'll see the early ones do not have much detail. It was the best I could manage and I did not want to overcomplicate the figures as I needed to get them out of the mould.
"As I've gone on, I've tried new things, and some ideas have worked while others have failed. In the 'Vin Rouge' series, I made twelve chefs and was happy with four of them. You don't know until the little figure pops out of the rubber mould if he's going to work."
Lesley suspected she had a good idea with the 'Drip' series, but needed the views of other people. So she held a
private viewing in order to gauge reaction. She said: "I finished that Drip series in 2011, using red, blue, green, and yellow as the colours for the paint spillage.
"Some people just came along and thought 'no, that isn't for me' but generally there were two reactions. The first was 'It's brilliant'. The other response was 'I've not seen anything like that before.' That was a real buzz for me as I hadn't seen anything like it either. I've seen three dimensional artwork in white, but what made it different was the humour and the splash of colour. The ideas developed from there.
"I was having lunch one day when somebody knocked over a glass of red wine, and I thought that would be a striking image. I saw bungee jumping and I could see how well that would work too. I see things happen that make me smile, and it strikes a chord with me."
Before long, Lesley's art had attracted the attention of London galleries. Her brother-in-law helped her to exhibit in an empty shop in Suffolk which led to a number of sales. As a result, Lesley applied to exhibit at the 2011 Reading Contemporary Art Fair and the Untitled Artist Fair in Chelsea Old Town Hall.
Lesley said: "Both of those shows were expensive, just to show for the weekend in a very small space. "I was nervous too. In my previous life I've stood up in front of 400 people at conferences, but standing in front of my work at those shows, I was petrified. I was dreading people hating them. It was more emotional than anything I had done before, because it's your own artwork. I'm pleased to say that, overwhelmingly, the feedback was really positive and as a consequence my work was seen by a couple of London galleries, including The Woolff Gallery, which predominantly represents three dimensional artists.
"They haven't sold thousands of my pictures but it is quite a thrill to know that somebody is willing to pay the sort of prices that the gallery is charging. An even bigger thrill though was having the Open Studios here last year, with local people coming to my studio at home and buying art. I didn't expect that."
Perhaps the key to Lesley's success is her commitment to detail. In one of her larger 'Drip' canvases she needed 17 attempts to make it look authentic. The effect of the wine spillage was also far more difficult than she had at first envisaged. To make the red wine look real was a 10 month challenge," said Lesley. "Not on a day-by-day basis as to protect my sanity I needed to walk away from it.
"To create the illusion of a splash is very difficult. It kept looking like a medical accident rather than a bottle of wine. Eventually I tipped a bottle of red wine on to a sheet of white paper and saw that it just went everywhere.
"Resin doesn't splash - it sticks - so you have to fabricate that effect with exactly the right consistency of acrylic paint. It's so easy to go out of line, or create an air bubble, and there have been a few occasions when I've nearly thrown work into a skip in frustration!"
Save for an unexpected disaster, Lesley's new Shades of London should be coming along nicely by the time Horsham Open Studios is held. The first weekend (15-16 June) will see the local artists involved exhibiting at Sedgwick Park House.
On the second weekend (22-23 June), Lesley will be opening her studio at her Warnham home and will be joined by Denise Bliss, Jo Willis and Steve Gubbins. She said: "The Shades of London piece is one of the most time consuming pieces that I've attempted, in terms of physical hours, but I'm really pleased with how it's progressing. I hope it'll be a commercial success as I think it's a really cool idea!"