The Artist who doesn't do twee!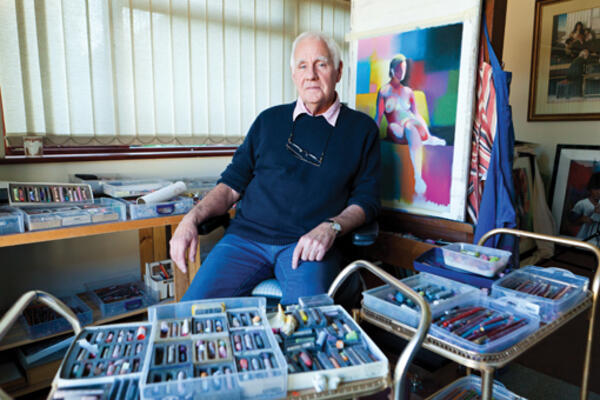 "Art has been a lifetime obsession, it has never left me. You're always learning, always picking bits and pieces up. It's also very frustrating as sometimes you think 'why didn't I take up something sensible?' But you press on and keep pushing it."
Those are the thoughts of Terry Copping, although many artists probably hold similar sentiments. At his studio in West Chiltington, a number of stunning, framed figurative and portrait paintings decorate the wall. Many more paintings are held up by hangers on a clothes rail. There are images of rock stars such as Johnny Cash, Keith Richards and Seasick Steve, a portrait of actor Patrick Mcgoohan and another of French painter Henri Matisse – a huge influence on Terry's work.
But arguably Terry's most striking images are inspired by photographs of people living ordinary lives in countries around the world – in particular Latin America – such as Terry's favourite image, The Way Out, of a young girl with a notebook detailing handwritten English words.Terry said: "Most of my work is figurative. I believe it should tell a story, it should have narrative in it."
Terry has been painting since he was 16, struggling to make a living from his paintings. He initially won a scholarship to study fine art at Sutton School of Art, concluding at St Martins, London. Terry was awarded first prize in an international pastel portrait competition organised by Faber-Castell, which led to his being featured on a BBC radio arts programme.
The Pastel Society selected one of his portraits for their centenary exhibition at the Mall Galleries, and his work has been on display at the Patterson Gallery in Albemarle Street. Terry has also been a finalist in the Not the Turner Prize sponsored by the Daily Mail. He has been a member of the Association of Sussex Artists since 2005 and became the Association's Chairman in 2010. He continues to paint daily and also runs a monthly pastel workshop and also offers individual lessons from his studio.
But whilst Terry's love for painting has never waned, he grew increasingly frustrated with how artists were treated by galleries as he struggled to make a living from his work. He worked for an architect for a long time to keep in business, as he saw galleries take huge percentages from sales of his paintings.
Terry said: "It's very difficult making a living from this. I try to keep my students away from 'chasing the money'. What happens is that artists think 'I'll do something like that because that's where the money is.' But what actually happens is their work becomes mediocre because you're not doing your own work. Chasing the pound can be disastrous, as art fashion changes every 15 minutes.
"I've done stuff for galleries, but it's difficult. I've used Western galleries but there's always tension there as they take so much out of your sale you begin to wonder, is this for prestige or to get money out of this? Some of them will rip you off. I sold one large piece and was given £3000 even though they had sold it for £9,000.It's like taking your car to a dealer and they tell you it's the wrong model, the mileage is too high, it's not fashionable, and ask how much do you want for it? They say 'Oh I couldn't possibly get you that' and it goes on. I can't do it anymore.
"It's a case of 'Great! I sold in a West End gallery! How much money did I lose?' Painting is not a sensible career choice!"
Terry's most successful line of work, from a commercial aspect, has been portraits, but he is now in a position where he can paint what he wants to so has cut back on the portraits. Terry's recent paintings have been more inspired by the expressive colour used by artists such as Matisse in the Fauvism style. Now producing artwork using a range of materials, using pastels and paints, terry said he is able to "fall back on all of the things that I've done and been trained to do". He now hopes to impart some of his wisdom on students during lectures, which he has been doing for 12 years, and his art tuition classes.
"With teaching the mature students, you pick up as much from them as you impart. In trying to find ways to talk to people you open up channels within yourself. Sometimes though, the lectures can be draining. It's good if you get an audience that are responsive, but if they're not, you're looking at a lot of stony faces!"
But whilst Terry continues to open up new channels, he does not entertain much of 'modern art'. A piece of work should inform and inspire," he said. "That's the two golden rules. I cannot stand people who are not trained, or the idea that everything has to be done in 15 minutes. There's no drama in the pictures, there's no narrative whatsoever, and a lot of modern art works are mechanically produced and disguised to look like an intellectual piece of work, when it's not. We can't keep producing twee pieces of work all the time, as life isn't twee. You should be working towards something that is profound.
"You have these huge lumps of abstract, with 100 people there all with a different opinion on it, including the artist who'll change his opinion the following day. You'll get all the Mystic Megs there, but it's the King's new clothes – people are afraid to say it's all a load of rubbish. They are pulling the wool over our eyes."
For further information please contact Terry on 01798 813077 or email terrycopping@f2s.com