Rebecca Taylor's Art Stirrups Emotions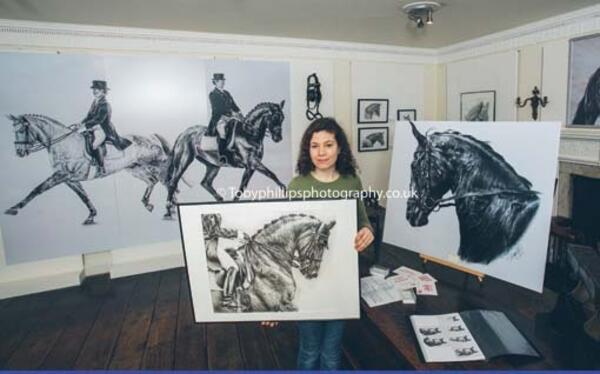 Published 3rd February 2015
On the home page of Becky Taylor's website, there is a quote from surrealist artist Salvador Dali. "Drawing is the honesty of the art. There is no possibility of cheating. It is either good or bad."
Perhaps it is this honesty that appealed to Becky. Simply creating self-representational drawings without them being open to interpretation by people looking for a meaning that may - or may not - exist. All that matters is that the finished drawing looks like the subject.
In that respect, Becky can certainly be classed as good. Good enough, in fact, that she was recently invited by Horsham Museum and Art Gallery to host an exhibition of her work. The exhibition opened shortly before Becky's 21st birthday, and will continue until 28 February.
Whilst Becky takes commissions and is happy drawing all manner of pets, her output is dominated by horses, in particular pictures of dressage.
"I have been drawing since I was little," said Becky. "Because I was around horses all of the time, they seemed a natural thing for me to draw. I loved drawing them, as I do still, and graduallyI just improved. I never studied Art at college. You don't get to do things like this at college as the focus is on contemporary styles. That's just not my style.I have been able to develop by myself without that outside influence, as it has just been a nice hobby for me to do at home.
"I simply like the fine detail of drawing and trying to make pictures look as real as possible. It is a meticulous process, with each drawing taking about 40 hours to create. Friends and neighbours have commissioned me to draw their horses and other pets too. There's not much difference, technically speaking, in drawing a dog or a horse, although I must admit that I prefer drawing horses as I am more passionate about them. I find that I really want to sit down and draw them."
Whilst friends and family may have spotted Becky's talent at an early age, it was only last March that her drawings reached a larger audience. That was thanks in part to the Olympic gold medallist Charlotte Dujardin.
Becky said: "I drew Valegro, her Olympic dressage horse, and sent a picture to Charlotte.
"She really liked it and publicised my work on her website, which has a lot more visitors than mine! Since then I've been a lot busier, so that drawing has turned out to be a big thing for me. That encouraged me to contact
galleries and ask if they were interested in exhibiting my work. Jeremy Knight at Horsham Museum replied and invited me to take some of my work along.
"He seemed to really like it and allowed me to put them up in an exhibition of my own, which is fantastic, but a bit scary too! Charlotte Dujardin posted details of the exhibition on her Facebook page too and there have been a lot of people who have subsequently been to the museum and given me feedback. So Charlotte has been brilliant!
"Of course, I'm proud of the exhibition, but it is strange to hear people talking about my work as I'm a shy person. But it is important for me.
"With your own art, you will always pick faults in everything, so it is only when other people comment that you really know if something is good. As an artist, you can always see things that you can improve on, which I suppose is a good thing because it means you can still progress."
Horsham Museum arranged a 'Meet the Artist' session in January and she also visited the museum when Jonathan Lucas, the High Sheriff of West Sussex, opened the exhibition on Parliamentary History in Horsham.
"That was the first time I've really had strangers come up and talk to me about my work," said Becky. "It was nice but I can find it difficult to talk about it. When people say that they like it, I tend to think about all the little things that are wrong with it! But I'm very grateful for all of the nice feedback people have given me!"
An illness last year meant that Becky was forced to return home from University, where she was reading Geography. As it transpires, this cloud could have a silver lining, as it certainly aided her artwork. She now has a waiting list for commissions, and plans to use the exhibition at Horsham Museum to further promote her work in 2015. Becky is also hoping to become a member of the Society of Equestrian Artists and is also hopeful of joining the Association of Sussex Artists.
You can visit her Dressage exhibition at Horsham Museum and Art Gallery until 28 February. Original artwork is for sale, along with limited edition prints and greetings cards. Fore more details visit
https://rebeccataylorart.weebly.com/