Carole Skinner's Abstract Secrets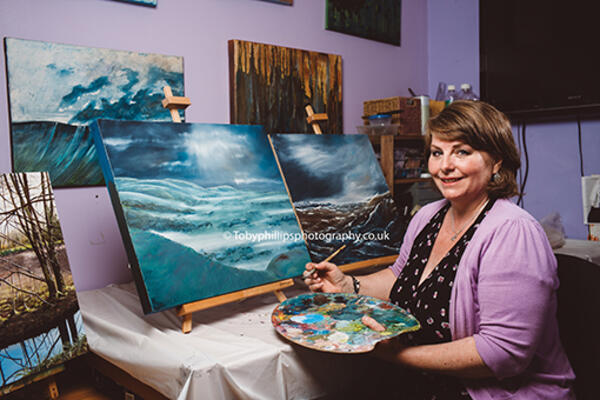 Published on 1st June 2017
Tough Beginnings
I never studied Art at college. School was difficult for me, as my mother died when I was 12 and I never knew my father. My older brother took me under his wing, but his sole interest was motorbikes! In my final year at school, I was hardly ever there. My brother would look at my awful school reports and find them funny. I shouldn't laugh, but in all honesty, we had a blast! The only class I enjoyed was Art. Although I took a course in cartoon illustration, I wanted to find a job and contribute to the housekeeping, so I didn't give much thought to further education.

Maintaining an Interest
I was always drawing, just for fun, and one day a friend bought me a basic art set with an easel. I spent a lot of time on a portrait of Lady Diana, when she was engaged to Prince Charles. I surprised myself as the portrait was very good, and friends started asking me to draw people or pets. But I worked at a building society and then married and had children, so I didn't have much time for painting. It was only when the children were old enough for school that I found I could commit to it. I became involved in Lewes Artwave, an annual festival of artists, which was always very successful for me. However, I divorced after 20 years of marriage, which was a painful time for my family. I wanted to invest my emotions in my children, so painting again went on the backburner.

Love Inspires Work
I met George and after eight years of being together, we married. He is very supportive of my art and that gives me a lot of confidence. He suggested that I quit my job as a teaching assistant in Lewes, which came with a heavy workload because teachers themselves are under so much pressure. I moved to Cowfold with George and fell in love with the environment around us. We have ponies in the field and we enjoy walking in the countryside. I feel that George has taught me about love and that has changed me as an artist.

Woodland Scenes
I used to draw a lot of portraits. I've always been fascinated by horses and never need much encouragement to paint an equine scene. However, I didn't want to just draw people or animals. I take photographs of anything that grabs my attention. This led to a series of paintings called Woodland Gems, which are close-ups of leaves, twigs, berries and natural scenes that captivated me with their shape or colour. They are very detailed, without being botanical in style. This developed in to a second series called Woodland Treasures. Whereas the 'Gem's are detailed paintings of small things, the 'Treasures' depict a wider view of natural scenes.
New Zealand Influence
About 15 years ago, me and my ex-husband tried to emigrate to New Zealand with the children. We sold our house, whilst friends and family organised a farewell party. However, we were back home just a few days later, as the trip was a disaster. We tried again, 18 months later, travelling around the country to find the right location, but nowhere felt like home. However, I was totally absorbed by the scenery. Everything about New Zealand was vast and rugged. I painted whilst I was there and a couple of galleries exhibited my work. New Zealand continues to influence my art, particularly my abstract work.
An Abstract Direction
You are forever evolving as an artist and your interests change. At this time, it is the abstract work in my Serendipity collection that I want to develop further. I love abstract paintings and the reaction it inspires. I'm not necessarily trying to produce dark work with this collection, but there is something dark about the vast emptiness of New Zealand, which I try to capture. Evaporation is inspired by a place called Rotorua, a town on the North Island famous for its geothermal activity, with bubbling mud pools and gases. Woodland Reflection is based on a lovely stream just a mile from my home, which is full of dead trees and has all manner of plants hanging over it.
Creating Microscapes
When it comes to creating my abstract landscapes, I start by choosing colours and gradually add layers. I'm not one to randomly splash colours over the canvas. I tend to work gently and rotate the canvas to allow colours to run and create different effects. Then, I step back, study the work and hopefully see things that wouldn't have occurred by design. If you look closely, you can see tiny landscapes, or microscapes, in the painting. Having identified these scenes, I will enhance and draw attention to them. I add layers in the hope and expectation that I can create depth to these secret features of a painting. Sometimes, I don't see any such microscapes at all, so I'll scrap the entire painting!

Exhibition Time
I recently contacted The Capitol, Horsham, and they were very kind and allowed me to exhibit my work in the Art Gallery. The response was lovely and I sold Enchanted Gorge, one of my abstract paintings. I hope my new Woodland Treasures series will be completed in time for a June exhibition at High Beeches in Handcross and hope to exhibit at Horsham Museum & Art Gallery in 2018. Having enjoyed being involved in the art scene in Lewes, I am involved in the Art Trail with Horsham Artists Open Studios this year and the Art Fair hosted by HAOS in October. I went along to the event last year and was very impressed by the various artists and makers, so decided to get involved.

I'm Still Learning
My children are now grown up and I'm a grandmother, so I feel this is my time. I've done more painting in the last six months than I have in a very long time. When I start working on a piece of art, I sometimes cannot stop! George occasionally tells me that I should take a break and sit down, but if I'm working and in the right mood, I want to carry on as it's not easy to find that creative flow. You can't put it down and simply pick it back up again. I'm still learning an awful lot. You always develop as an artist, but because I am self-taught I've perhaps had to learn a little more. But I fell my work is nowbenefitting from that journey.
For more information, visit Carole Skinner's Art page on Facebook or https://www.caroleskinner.com


INTERVIEW: BEN MORRIS
PICTURES: TOBY PHILLIPS/CAROLE SKINNER