Rosalyn Mina: An Abstract Lesson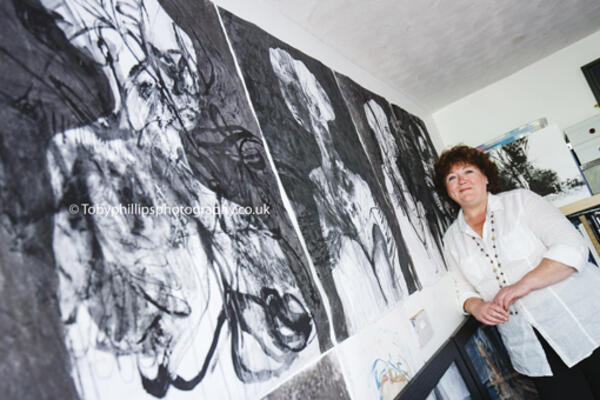 Published on 7th August 2015
It was a teacher that inspired Rosalyn Mina, then a schoolgirl in Scotland, to pursue an interest in art. After a career as a painter and creator of stained glass windows, Rosalyn has gone full circle, inspiring others as an art teacher.
Having lived in Horsham for about 20 years, Rosalyn teaches at Farlington School, where she also hosts popular adult classes. Many of the artists have been successful as a direct result of the classes, selling work and holding their own exhibitions.
Scottish Roots
Rosalyn's passion for art began back home in Scotland. "My art teacher, Mr Sheridan, introduced me to ideas and concepts I hadn't considered before. He inspired me to go to Art school.
"My focus was on illustration and I went to Leicester as the Graphics department was very good. During my time there, my art interests broadened and I found a particular connection with stained glass windows"
During the second year of her course, Rosalyn visited Coventry Cathedral and was amazed by the intricate work of the windows. Seeing a connection to her own work, which was also very dark and linear, Rosalyn started to approach her illustrations through techniques used in stained glass.
Stained Glass
After Art School, Rosalyn moved to London, certain that stained glass windows was what she wanted to do.
"I must have written 50 letters to various studios and artists," she said. "Finally I was given an apprenticeship with Lawrence Lee, who I knew was well known and respected.
"After a few weeks, I discovered he had designed the Nave windows at Coventry Cathedral – the work that had inspired me - so it felt like fate!
"I worked with Lawrence for two years and then worked for a commercial stained glass company, with clients primarily in the Middle East. The work was all quite abstract and geometric with no religious theme. It was a great experience although creatively wasn't hugely satisfying so I went freelance, working on smaller commissions."
All the while, Rosalyn had continued to paint, and exhibited her landscape pictures, mainly depicting the Scottish countryside.
"I was inspired by the Scottish landscape in a way that I was not by London," says Rosalyn. "I can certainly see a connection to stained glass in my landscape paintings as they are also very linear and structural."
Pupil Turns Teacher
Rosalyn started a new chapter in her life when, unexpectedly, a teaching opportunity came up near her Essex home at Hassenbrook School.
As it was a maternity-cover role, Rosalyn accepted the position, triggering a passion for teaching that remains today.
She said: "I found it exciting. The students were so open - we continually explored ideas and styles - and the effect that their progress had on the young people was astounding. When you create something, you get a buzz – a warm feeling - and to see that in the children was fantastic."
Rosalyn took a break from art and teaching to raise a family in Horsham. But when the children had all started school, Rosalyn blew the cobwebs off her paintbrushes! She met many other creative people based around Horsham for painting sessions and courses. Gradually, her style evolved and once again Rosalyn exhibited her paintings through Open Studio groups in Horsham and Brighton.
"I began to experiment more," said Rosalyn. "I realised that you are always developing your style, so I began to have fun with it. At the same time, I was receiving commissions for stained glass windows as the millennium was approaching and many buildings were fitted with commemorative pieces.
"I worked in collaboration with Opus Stained Glass in Brighton, designing the pieces for them to install. It was a very exciting time as I created windows for places including Guildford Cathedral and St Mary's Catholic Church in Worthing."
Deconstructing Art
Rosalyn also returned to teaching, and has now been at Farlington School for 20 years. She teaches art on a part-time basis and runs adult classes too. "I still love teaching," she said. "Teaching is much more open than it once was. Children are encouraged to experiment and their inspiration comes from a wider range of sources.
"The pupils just feed their imagination, explore techniques and materials, and then it all depends how they interpret it all.
"Art is not just a case of being able to draw accurately. However, I still believe this is important because it helps you understand structure and materials. There is a place for abstract and semi-abstract art, but in order to do that you must have the fundamental skills of drawing and painting. The ability to play and experiment is vitally important too,and be open to happy accidents!
"When you look at good abstract art, there is a quality and integrity to it. It's been shaped and carefully considered, with a basis of an understanding of the subject. I hope that when people see my landscapes, they can see that the shapes and colours create an atmosphere.
"I wouldn't be able to draw my abstract figures if I hadn't learnt how to deconstruct the contours and shapes of the body."
Abstract Figures
It is these figurative pictures rather than landscape paintings that now dominate Rosalyn's home studio.
There has been a distinct change of style in her work over the last few years, although for Rosalyn the progression has been a natural evolution.
"I have an endless fascination for portraits and would love to further explore that in the future, but at the moment the focus is on figures. Whether it is a figure, a landscape or a portrait, you are still dealing with lines, shape, form and structure. So it is how you play around with those elements that matters.
"What others think of my work is not a concern really, as I can only create art for myself. Having said that, my two sons are very supportive of what I do, and they love what I'm doing at the moment and I'm pleased about that. So maybe what others think does matter a little bit!"
Rosalyn is excited about the current exhibition of work by her adult class students at Farlington, and for a Farlington School Sixth Form Exhibition held from 9 – 29 November at The Capitol's Art Gallery.
She said: "The standard is incredibly high and it deserves to be seen. I've been running the evening classes for five years and the work has evolved so much. It is very creative and I find that the students tend to inspire each other.
"Most people who come along have done so not to make money, but because they enjoy creating. When they sell their work, it's always a nice surprise because that wasn't the aim. The aim was just to evolve their ability and become better artists."