CLAY 'N' GLAZE POTTERY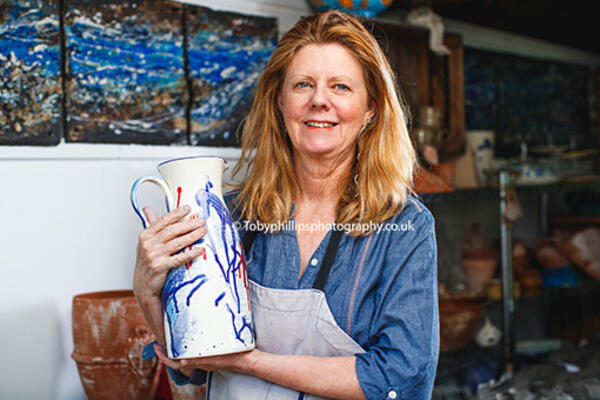 Published on 1st July 2019
Wendy Yates is on a mission.It's a mission that defined much of her career and continues in retirement, at a time when it's more important than ever. That mission is to pass on knowledge of ceramics. It's an art form practiced and enjoyed by civilisations for 20,000 years, yet Wendy believes pottery remains undervalued by society.
"Ceramics has never truly been accepted as real art," she said. "It isn't funded properly, with adult education courses closing and fewer schools teaching it. I continue as I have knowledge and experience of diverse pottery styles that I want to pass on."
"I never imagined we would reach the current point, where art and other creative subjects are not appreciated in schools. Physical Education used to be important, but lessons were cut and only now are we realising the importance of keeping children active. Now, art is being side-lined, even though creative subjects are more important than ever, as we live in a very visual world."

CLAY 'N' GLAZE
Wendy runs Clay 'n' Glaze in a purpose-built studio at her home in Pulborough. As well as pursuing her own love of pottery, she welcomes people of all ages to share her passion. Some find pottery therapeutic, some use sessions to meet new people, while others hope to become artists in their own right.
"After retiring, I was upset at the thought of not having pottery in my life," said Wendy. "I wasn't sure I could survive without opening the kiln door every day. That's my fix! So, I started working on my own pieces and over the years, others have turned up wanting to learn."
"I host courses on specific subjects from time to time, but usually people come here for shorter sessions and it's up to them what they do. We've managed to create a wonderful community environment here. Lots of people find pottery therapeutic. It might be that they have a stressful job, busy home life or are perhaps caring for somebody. Coming here offers them a little respite."
"Matt Smith used to be production potter, but like many others struggled to make a living from it, so he changed careers. He brought his kiln here and comes in to maintain his passion and pass on his own skills. Lots of people enjoy watching him work and he's often asked to 'throw' a bowl or vase. Katie Wells is another who comes in here. She is a young illustrative artist with lots of promise. I feel I'm one of the lucky ones, as I'm continuing to do what I love with others around me, which is important, as pottery can be solitary work."
NEW IDENTITY
Wendy's desire to pass on ceramics skills was inspired by her career in teaching. After working in state education, Wendy moved into adult education, teaching everything from basic pottery to running training courses for teachers, demonstrating how kilns can be used to improve ceramics classes in school.
After 16 years, she accepted a job as a ceramist at a school in Ascot, eventually became Head of Art, before moving to Cranleigh School. By the time of her retirement a decade later, ceramics was a major part of the Art Department, with students receiving some of the best Pre-U results in the country. But Wendy always felt a lack of love for pottery as an art form.
"There was a time when I would tell people that I'm a potter, and they'd say, "that's nice, what else do you do?" But thanks to artists like Grayson Perry, ceramics has moved from being a craft into being an art form. It has a new identity. We've also have programmes like the BBC's Great Pottery Throw Down which has helped raise its profile."
"I watched ceramics decline for 40 years, with skills being lost and schools furnished with kilns that weren't used. I'm just trying to keep it alive. Occasionally, I meet someone that I know will pass on the skill themselves in later life, and that gives me great satisfaction. I'd hate to see these skills disappear, as pottery is what I love. I will probably drop dead with clay in my hand."
The variety of skills that Wendy has learnt over the years is reflected in the students' work. There's an array of dark, smoke-fired pieces heated in the outside kiln, clay lizards made by children, saucers decorated with shells, vases and bowls painted with floral patterns or abstract colours, pieces with porcelain or glass-fired elements and ornamental pieces infused with horse hair.
With such wide-ranging pieces, Wendy admits that when she does have time to produce work of her own, it's difficult to define. "People don't know me as a potter with a certain style," she said. "I was recently inspired by a visit to the coast, creating a three-panelled piece depicting waves crashing on rocks. It's a cacophony of materials with various oxides mixed together, and very different to my other work. I usually do big outdoor sculptural pieces, like poppy seed heads. I enjoy natural forms, but there's usually an abstract element too."
"I also love working with glass and metal, fusing with ceramics to create something unique. My art does fire off at tangents, as I've taught for over 40 years and different experiences inform my work. Even now, I attend a course every summer to learn something new, or research a style that might take me in a new direction, as there is no limit as to what you can learn and achieve in ceramics. But what I really love is teaching. That's what excites me and motivates me every day."
For more details about Clay 'n' Glaze, including courses and studio sessions, visit http://claynglaze.co.uk