Iveta Goddard: Quirky Ceramic Creations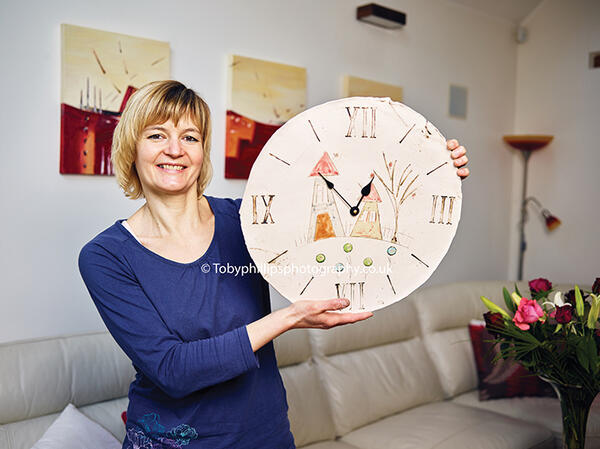 Inspired as a Child
I was interested in pottery as a child growing up in the Czech Republic. My father would often design things and commission local potters to make them, as we didn't have our own kiln. They were expensive to buy in a communist country. He would take me to ceramic galleries in town and I loved looking through the windows when I was little. This sparked my interest, so I attended a pottery class at school and later studied ceramics at college for four years. There, I developed a broad knowledge of creating, decorating, glazing and firing.

Settling in Sussex
It was difficult to find work in ceramics and I could not afford my own kiln, so I worked in animation for a while. I drew cartoons for children's television shows in the Czech Republic. Then, I travelled to England to learn the language and to take a break from work. I met my future husband in Brighton and eventually we settled near Horsham. After having a few different jobs, I decided to start making ceramics again in 1996, initially as a hobby. My first craft fair was at Goodwood, where I took along a handful of my clocks and a few coasters.

Perfect Timing
I have always made clocks. I'm not sure why, although people seem to like them. I still enjoy making clocks, although the pendulum mechanism on the larger clocks can be fiddly! My clocks are distinctive as they are quite unusual. My first one was a free-standing triangle shaped clock. The concept has evolved to the shape that you see now, with curved sides and top. It suits my style, as I don't enjoy making things in a normal shape. Recently, my clocks appeared on a BBC2 programme called The Great Pottery Throw Down, which is like The Great British Bake Off with a pottery focus. The production company asked if they could use a few of my clocks for the episode shown on 9 February, in which contestants had to make clocks. Two of my pieces were in a selection of work placed on the judges' table, which was exciting for me!

A Rustic Style
I like things to look used, so when I add oxides I'm careful not to cover the entire surface of the clay, to maintain some of its natural colour. The drawings that I add are quite simple and the colours I use are very bright, to make them deliberately naive. My work has a consistent style that hasn't changed greatly over the years. If I'm not selling anything, then I may need to do something different, but for the time being people seem to still like it.

The Range Expands
In 2004, this became a business and not just a hobby. Since then, I've expanded my range of items to include tea lights, candle-holders, jewellery, flowerpots, ceramic boats, bird baths for the garden, wind chimes, wall plates, mirrors, pencil holders, vases and glasses holders which come in dog, cat and chicken shape. The first glasses holder was a chicken one, made as a gift for my husband. I took a couple to a craft fair and they proved a hit, so I came back and made more!

Finding the Time
I have two children, so it's very difficult to devote all weekend to selling at craft fairs. I still go to the occasional one because it's nice to meet people and receive feedback on products. However, craft fairs have changed in recent years. Everyone used to make and sell their own items. Now, too many people are selling cheap imported items. When you are making things by hand, you cannot compete with the prices of these imported items and shoppers think you're over-charging. People don't always understand that you can't sell a set of six hand-made coasters for £10. They don't appreciate the work behind each individual piece.

Seeking Galleries
I prefer to sell at galleries across the country. My art is sold at a gallery in Arundel, the Bailey Alexander Gallery in Brighton and The Green Tree Gallery at Borde Hill Gardens in Haywards Heath. Further afield, I have pieces in galleries as far away as Aberdeen and St Ives. I also have a photo gallery on my website and sell quite a few pieces online. Only about half of my time is spent making items, as there is a lot of book-keeping, packaging, delivery and promotion involved in running a business. I even try to send my regular customers a newsletter from time to time, just to show them what I have been doing.

Supply & Demand
There are occasions when things go wrong. I have my share of breakages along the way and items can crack in the kiln. I try to be economical and fill the kiln each time, although some of the bigger items - such as the bird baths - take up nearly all of the space. I need be careful not to make too many. It's not always easy to know what will be popular with customers though. I go to one fair and sell lots of clocks, so make lots more of them and the find the demand dries up and people are buying something else instead!

Looking Ahead
I do occasionally think that I should just find a regular job, because I am working all of the time. I start in the morning before the children get ready for school, during the day, and again at night after they go to bed. I'm always thinking about work and sometimes I think it would be nice to come home and switch off. But working this way has advantages too. Looking ahead, I've thought about making little sculptures of people. I just need to find the time to develop the right idea. I'm also keen to work more closely with local interior and garden designers to create bespoke ceramics pieces. Those jobs always present a real challenge and I really enjoy that.
For a gallery and price list of Iveta's items, please visit www.ivetagoddard.co.uk or email enquiries@ivetagoddard.co.uk

WORDS: BEN MORRIS
PHOTOS: TOBY PHILLIPS