Floral Artist Pam Clarke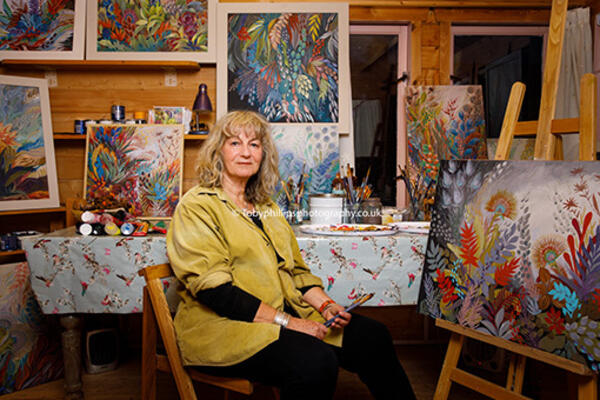 Published: 1st December 2019
At a glance, it's easy to be enticed by the variety and distinctive palette of Pam Clarke's floral images.
It is only upon close inspection that you discover there is nothing botanical about them, merely the suggestion of shapes and patterns that create a striking natural effect. Some scenes are created in only two hours and yet maintain an aura of realism while expressing floral scenes in abstract ways.
Pam, who lives in Horsham, has been painting this way for two years, with her style gradually evolving with every effort. "I am inspired by nature, but my paintings are not botanical," says Pam. "I attended a botanical art course with Leigh Ann Gale, but I don't have the patience for it. It requires precision and that doesn't suit me. Instead, I start a painting with a colour palette in mind and possibly one or two shapes inspired by a garden or flower and see where it takes me. Each piece has a life of its own. I'm always searching for something as I paint but like being spontaneous, not knowing how it will end up."
Perfect Therapy
To create her distinctive effect, Pam prefers to paint on plywood rather than canvas. She uses the Gardner & Scardifield Handyman DIY store on Queen Street, where the staff cut wood to the right size and mix emulsion paint tester pots to prime the wood. "The effect of the plywood suits my work," says Pam. "I prime the wood with several layers of emulsion to create a cloudy abstract, before painting over it with acrylic paint or water-based oils. Sometimes I mix the two, so the painting benefits from the blending of the oils and the quick-drying acrylics."
"My family are very supportive and give me all the time I need to paint. But it's more than just therapy. I don't worry about anything else when I'm painting. All the stress goes and it feels good to be creative. But I still love to learn and attend courses to learn new skills and techniques. I've done life drawing with John Thompson and courses with Rosalyn Mina and Lindsay Pearson too as I want to evolve and improve as an artist."
Adult Education
Like many painters, Pam enjoyed painting at school and has returned to it later in life. She won an award for art in primary school and attended Wimbledon School of Art before working as a graphic designer, producing advertising and packaging for various brands.
A stint working abroad as an illustrator followed, before she settled in Horsham with her family. Over the years, Pam has worn many different hats. She has been a playgroup supervisor, a Horsham District Councillor and worked in Student Services at Collyer's College. It was there that she signed up to an adult education class and took Art as an A' level. I always thought I would go back to art, as I had always enjoyed it. My feeling is that art is something that you turn to after you've experienced other things, as you know it is something you will always enjoy."
Bloomsbury Effect
When Pam did start to spend more time in the studio, it was the floral paintings, as oppose to the portraits which she'd also dabbled in, that inspired her the most. However, every piece is very different and usually inspired by a certain palette.
The colours might reflect the Mediterranean tones of the Tresco Abbey Garden in the Isles of Scilly, or be inspired by the glass sculpture exhibition by American artist Dale Chihuly at Kew Gardens. Other works draws on ideas taken from the Bloomsbury Group of artists who lived at Charleston House near Lewes.
"I don't like garish colours," says Pam. "I like paintings by Vanessa Bell, Duncan Grant and other Bloomsbury artists as they worked with muted colours and a limited palette. With my latest pieces, I'm scratching into wet oils to create layers and textures, as it's good to keep evolving. But I'm still creating these natural narratives in this style, as I can't sit and laboriously paint in detail. People will either like it or they won't!"
http://www.horshamartistsopenstudios.co.uk/2018/04/pam-clarke/