Gordon Rushmer: An Artist At War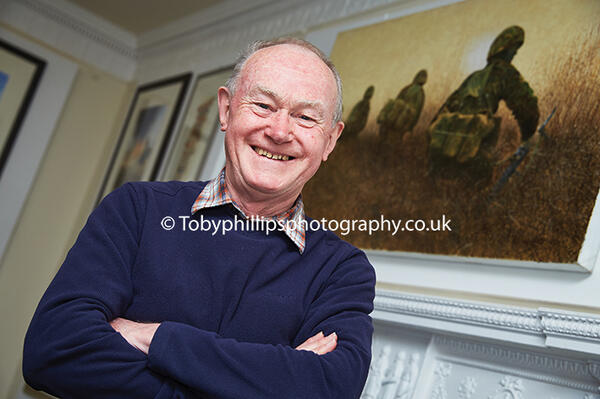 When choosing people to head out to a war zone, the military is looking for people with certain skills.
You need to be in good shape, physically, have some form of firearms training, and be able to cope with the psychological demands placed upon you. And, in the case of Gordon Rushmer, be handy with watercolours!
Gordon, who lives in Plaistow, is currently exhibiting his work at Horsham Museum and Art Gallery.
Whilst his paintings of rural landscapes feature heavily, it is Gordon's work as a war artist that commands most attention.
His 10-year period as a war artist began in 1997, with a trip to Bosnia with Dutch Marines. "At that time, I didn't have a clue about how to fight a war but I learned pretty quickly," says Gordon. "When I returned, the Royal Marines said 'What are you doing working for the Dutch? We could use you!"
ARTISTS AT WAR
You might wonder why the Royal Marines would want an artist among its ranks.
For hundreds of years, war artists have been used by the British Army to create a visual account of all aspects of war. Despite the advances of photography, war artists are still employed.
Dozens were used during the First and Second World War, with several losing their life whilst serving. "The Royal Marines have been buying paintings by war artists since the 17th century to keep a record of campaigns," said Gordon. "I don't know at which point of a war an artist is required, but in terms of the training and level of support, it's well organised."
Gordon was asked to be an official war artist by the Army in 2000. Having accepted the challenge, he needed to undergo training before heading to conflict zones.
Gordon said: "I had to wear an Army uniform with face paint for the training exercises, and was even taught how to fire a gun. I was in my 50s, so it was tough, but they taught me how me how to look after myself up to a point, and eventually said 'Okay, now we can use you."
"My first tour was in Kosovo, followed by five deployments to Afghanistan - starting in 2002 - with Special Forces.
"2002 was of the most dangerous times for Allied soldiers, fighting the Taliban. I've been in situations where the Taliban has fired grenades our way, but I never felt I was put in danger, and found I was able to cope in that situation."
PRESENTING REALITY
You can't stick an easel up in Afghanistan and start painting, as before very long, the Taliban will come looking for you.
So Gordon would take photographs or make quick sketches of anything that grabbed his attention. His sketchbooks form a fascinating part of his exhibition at Horsham Museum.
It is later that he sits down and decides what to paint, which isn't always easy. "I'm always keen to show Joe public what a shitty business war can be," said Gordon.
"Most news coverage of war is like playing a computer game, with explosions and dead bodies. It doesn't really mean anything any more, because we've been bombarded with such images by the media.
"I am trying to find another way in, to get people to stop and think. As a war artist, I feel like a reporter, except I've got more time - months if I need it - to think about what is really important about the things I've seen."
That eventual idea might initially seem fairly mundane. One of Gordon's watercolours depicts soldiers falling asleep in a Chinook. Another pictures the scene of a chaotic car bombing, focusing on a soldier keeping post whilst the blaze rages in the background.
"It's real," says Gordon. "It's not all about death and glory. I think we're past the age of all the 'John Wayne' stuff. I want to present an insider's view."
AN ARTIST'S EYE
"Some of the soldiers were younger than one of my sons, out in Afghanistan fighting a war at the age of 19.
"I tried to think how they might feel. So I would go into a situation not really knowing what, if anything, will come of it. It's not until you are there in the thick of it, watching the boys fighting or taking cover, or lighting a cigarette, that you know what it's really about.
"That really is what it is to be an artist. Once someone can draw or paint to a certain level, then it's down to what they do with the subject matter that's important.
"You have to take the image somewhere else to make it work. That requires more skill than actually physically producing the painting."
In order to create the paintings he wanted, it was important that Gordon gained the trust of the soldiers. That was not easy.
Firstly, Gordon was considerably older than the Marines, and secondly, they were not all enthralled by the idea of looking out for an artist.
"The soldiers are there to do a job and I knew I'd have to work hard to earn their trust," says Gordon. "You can't mingle with the officers all day. You have to mix in with the soldiers. I would help out with guard duty, carry equipment, share food, and they appreciated that effort.
"Perhaps it also helped that I am not the sort of artist that would ask them to pose. Eventually, they knew me and trusted me, so would take me out to show me what was happening on the ground."
CARPET EXCURSION
One of the most iconic paintings from Gordon's tours is of Darul Aman Palace, built by King Amanullah Khan, near the centre of Kabul.
The painting has won the Rowland Hilder Award from the Royal Institute of Painters in Watercolours in London. If it one of several awards from art institutions that Gordon has received, whilst his paintings are hung in major collections including The House of Lords, the Royal Archive and HM Foreign and Commonwealth Office.
"It was reasonably quiet one-day, and some of the soldiers wanted to buy carpets in Kabul," recalls Gordon. "So they did, and afterwards they showed me the King's Palace. I couldn't walk away from it without doing something.
"It looked like everybody had fired something at it over the last 50 or 60 years. Monuments like that become iconic."
COLOURS THAT SING
Whilst Gordon occasionally paints with oils, he is renowned for his watercolours. It is the challenge of the medium that appeals…
"With oils, if you make a mistake, you can scrape it off and paint over it," says Gordon. "With watercolours, you can't You have to get it right, so I think it's quite an intellectual exercise.
"It is a difficult medium. It's like drawing horses - if you get it wrong, everybody's going to know – and I enjoy that challenge. Oils are great to work with, as you can add texture and build layers, but it doesn't have the finesse of watercolour. I know it's seen as being a bit twee and out of fashion, but you can make a watercolour sing."
THE QUIET LIFE
Gordon' last tour was to Helmand in 2007, which he found hard going. He had reached an age where the discomfort of being in a war zone outweighed the enjoyment of being a war artist.
Now, at the age of 70, Gordon is still a full time painter, but his work tends to focus on the more tranquil setting of the Sussex countryside.
He said: "If I'm totally honest, I don't enjoy landscape painting as much as war painting. But the challenge is the same, in that you need to paint something that will sell."
Rural landscape painting may not offer the same adrenaline rush, but it is still the everyday scenes that Gordon likes to capture.
On one occasion, Gordon was advised to visit Shipley Windmill, as it might make for an interesting subject. It did indeed inspire an idea, although the windmill is only just visible in the background of Gordon's painting!"
He said: "I stood there looking at the windmill, read a bit about Belloc, and thought 'Yes, very nice!' "Then I carried on walking and was strolling past Shipley Church where I came across three tombs, side-by-side. They really jumped out at me. "It is often the mundane things - not the showstoppers – that make all of us stop and look."
Gordon Rushmer's exhibition, A Wealden Artist Goes to War, is at Horsham Museum and Art Gallery until 28 May
www.gordonrushmer.com
REPORT: BEN MORRIS
PHOTOS: TOBY PHILLIPS