A Clouded Vision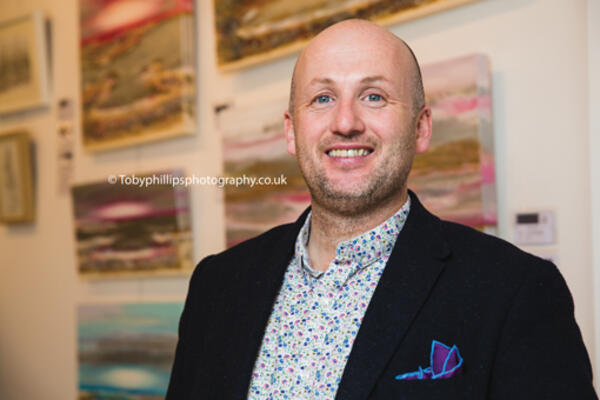 Published 3 March 2015
Horsham has a new art gallery in Bishopric. We popped along to chat with Damian Grady, Director of Cloud Gallery.
Tell me a little about Cloud?
This is our fourth art gallery. We have been in Brighton for a year, our Worthing gallery is in its third year, and our Chester gallery – where we started out – is approaching its fourth year. I moved from Chester to Sussex, which is why we've expanded here.
What attracted you to Horsham?
We already have a great client base in Horsham, because of our galleries on the coast. There is so much happening in Horsham in terms of development, that we thought it would be an ideal location. We came across this shop in Bishopric and loved it. We are aware it is at the quiet end of town, but we quite like that as people tend to seek us out. I think Horsham is a creative town, with a lot of independent artists and that fits in with our mix of independent and published artists.
Has the initial feedback been good?
The feedback so far has been very positive and everybody seems to love what we've done with the space. We are expanding upstairs in March and already we've sold a few paintings so we're constantly hanging new work on the wall. We have a very good website which highlights our artists, so people can log on to see if there's something they are interested in before coming along to see the real thing.
What do you look for when picking art?
We just know when something is special. We do our research, and if an artist is generating a good vibe and their art creates a conversation, you know that you have found somebody. We have a great mix of artists and we like to bring some of the northern artists down to the south and southern artists up north, as it introduces our clients to artists that they probably wouldn't come across otherwise.
Tell us about some of the artists displayed here...
We're a big supporter of Katy Jade Dobson, an up-and-coming published artist. Her wildlife paintings and limited edition prints are very popular and we are hoping to have a show of her work at our Worthing Gallery in June. Katy is not shy about adding striking colour, which makes her work distinctive. Edward Waite is another published artist and he works in original art only, so every piece is unique. We will be welcoming him to our Horsham gallery for a show in June.
You also sell prints by digital artists?
Yes, and this new type of art is proving very popular, particularly the work of JJ Adams, who is one of the great success stories over the last year or so in the art industry. His prints are selling very quickly, and the
originals are highly sought after. We will be doing a show with him at Cloud in Brighton at the end of March to launch his new spring collection. We have a very good mix or originals and limited edition prints here, as well as artists who like to create something very different.
Quickly, as I only have a few lines left, tell us about that neon sign in the corner...
It's by an artist called Courty. He has created his own form of neon artwork and a number of celebrities have been buying his work too recently.
Cloud Gallery is at 8 Bishopric, call 01403 756600 or visit the website at www.cloudgalleryfineart.co.uk