Our exciting abstract wildlife artist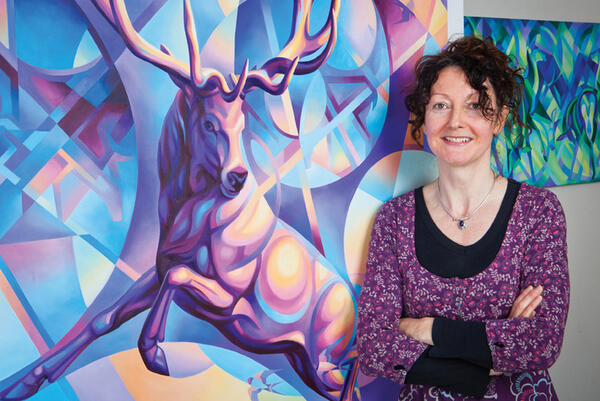 On the living room wall of Alison Ingram's home is a huge painting of Hercules, one of the more dominant stags to have graced Warnham Park. Alison's home on the edge of the village backs on to the privately-owned deer park, internationally renowned for its Red Deer. The animals often come to within a few metres of her lounge window.
It is in this idyllic setting that Alison creates her dramatic and distinctive abstract wildlife images.
Whilst it may be deer on the doorstep, it is puffins that most people associate Alison's art with. Puffins have become the signature bird of Alison's portfolio, and recently helped her win the RSPB award at The Society of Wildlife Artists exhibition at the Mall Galleries in London.
Alison said: "I think puffins are popular because they are comical and they do lend themselves to my style. I do sometimes get bored of painting puffins, but they always sell so I need to have a certain number of puffin paintings in stock. Puffins are also sort of a trademark for me. But then I'll move on to something else.
"I try to get my own reference for paintings whenever possible so I visit Skomer in Pembrokeshire, which is one of the best spots in the country for puffins, and have taken thousands of photographs. I have bought the copyright to a couple of photographs to use in other paintings, but I try to get my own reference when possible."
Whilst Alison's puffin paintings may be popular with the punters, they have not impressed the selectors at the Mall Galleries in London in the past. Having never accepted any of the puffin paintings she has submitted for the wildlife exhibition before, Alison gave them little choice for 2011 and it turned out to be a risk worth taking. Alison said: "I enter six paintings every year to show a consistent style in my work, and they always take one or two paintings. I only entered puffins this year as they've never taken any of them before. I thought I'd put all my eggs in one basket.
"They took a sketchy image as they like to see that artists can create more traditional paintings – in which you can see the whole process of the painting. The other painting featured three studies of the puffins fighting, and it was this image that won the RSPB award."
Alison initially started painting traditionally before she was commissioned to paint a series of dog and cat breeds. These detailed paintings were then placed on to products. But this didn't satisfy the artist's needs. "I got very bored as there is not much in the way of creativity there," said Alison. "If you are going to copy a photograph you may as well just have a photograph!"
So she started to experiment with abstract styles as a bit of light relief from the illustrative work, and showed one painting at an exhibition. It sold straight away and Alison began to develop her own style. Alison said: "I was always inspired by the work of the German expressionist Franz Mark and you could see the influence he has had on my art. I didn't get into Art College as I was being directed down the graphics route and I wanted to go down the fine art route. So it didn't work out but I developed my own style in my own time.
"It's quite a unique style. There are a number of artists that paint very realistic, photo realist, wildlife images, which is very clever and I can't do it. You also get more sketchy work where you see the whole process, but mine is graphic and tidy. This doesn't fit in with the philosophy at The Society of Wildlife Artists exhibition as it's not a very impulsive style of working. You can get some very loose work in the exhibition, but mine is not like that – a lot of design goes into it.
"The painting what won the RSPB award had more of a sketch style. I don't normally draw so loosely, but I did enjoy it and it takes a lot less time to do than the abstract. The small abstract paintings can take a couple of weeks, with drying time in between so I always have three or four on the go. The big paintings, such as Hercules, just takes weeks and weeks. I prefer to work with natural light so winter is a bit of a struggle. I'm not that productive in winter. I try and paint every day, but some days I just don't want to paint and in those instances I don't force myself."
Alison may continue to explore at more sketchy, less technical style in the future, but it is unlikely that her focus will shift away from wildlife paintings. "It'll probably always be animals. I'd quite like to paint landscapes but I think I would always go back to the animals. I would like to put some of the animals into stained glass too. Maybe that's one for the future. I've done a few experimental pieces in glass but it would be expensive, time consuming and there would be a huge learning curve – maybe that's just a pipe dream!"
For more information visit www.alisoningram.co.uk or email Alison.Ingram2@btopenworld.com