West Grinstead Local History Group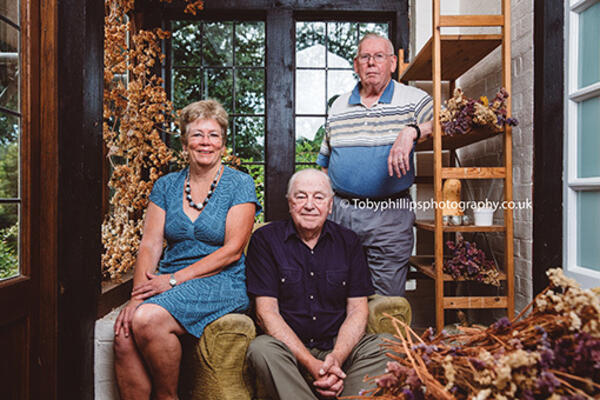 Published on 1st September 2017
West Grinstead Local History Group recently published a remarkable book on the First World War. 'When West Grinstead Went to War 1914 – 18' tells the story of those in the parish who served during the Great War. We went to meet chairman Dorothy Banks, secretary Norman Berry and committee member Colin Rudling to find out more about the group.
Dorothy: In 2006, Jeremy Knight (Heritage and Museum Manager at Horsham Museum) organised a meeting in Partridge Green village hall, inviting people who might be interested in forming a local history group. I previously volunteered to research the history of parish councils in the district, so I went along. Others had developed an interest in local history independently. When we came together, it clicked.
Colin: The parish of West Grinstead is large in terms of area, yet the population is small. The parish stretches up to Buck Barn crossroads and includes Dial Post, Ashurst and Partridge Green. West Grinstead itself essentially disappeared when the modern A24 dual carriageway was built, as it went through the heart of the old village. Even some local people don't know where it is!
Dorothy: The history group is divided in to two main parts. There is a group for the public talks that we organise throughout the year. We also have a research group involving a handful of people, focusing on exhibitions and local history books. The talks that we hold are usually based on a topic of local interest, including the brickworks, watermills and ironworks of the parish.
Norman: When we first formed, we collectively decided that World War Two would be a good focus for our first book. The number of people who had lived through the war was declining rapidly, so we interviewed as many as we could about their memories of 1939 - 45. We knew that if we didn't have those stories documented, they would soon be lost forever. In the 10 years since then, many of those people have passed away. Our first book, When the Whistle Blew, was published in 2008.
Dorothy: We searched news archives and the West Sussex Records Office and gradually the book came together. We spoke to people with memories of major incidents in the parish, such as the attack on West Grinstead Station in 1942 and the Junkers 88 plane crash in Partridge Green which killed its German crew. There were also stories about the local Home Guard.
Colin: The Junkers 88 was shot down by a night fighter and crashed in a field near Lock Lane. The engine landed on the nearbycottage. The woman living there heard something happening so picked up her baby, just before the engine smashed through the roof and landed on the bed!
Norman: One story, which we hadn't been aware of, related to a rehearsal for glider landings in Normandy, which secretly took place in Dial Post. A lady told me about this event, but nobody in the history group had ever heard about it. We visited Knepp Castle, where it was reputed to have happened, and in their archives found a photo of gliders amassed on the ground.
Colin: When we first approached the RAF about it, they claimed no such event took place. Then we spoke to Martin Mace, a military historian who we had met before when he visited the Juncker plane crash site. Martin regularly visits the war archives and knows where to look! He helped us unearth a complete account of what happened on the Knepp estate. It was an American operation and they chose Dial Post as the field pattern was the same as those at Normandy.
Norman: The book was very popular and sold out almost immediately. It also helped consolidate the group, as we had a target to aim for.
Dorothy: Our next big project was education, culminating in a second book, When the School Bell Rang. It features pictures, memories and records of schools including St Mary's, St Thomas More, Dial Post, Cowfold Grammar and Yago College. But what really spurred us into action was getting hold of the records for Jolesfield School before they were submitted to the West Sussex Records Office.
Norman: The early records from Jolesfield were excellent. They kept a detailed log of everything that happened, including disciplinary records! St Thomas More, which was near the Catholic church and is now a housing development, is another school we included. It started as a school for the poor and became an orphanage with a chequered past.
Dorothy: We were fortunate in that many people in the parish have kept hold of school photos that we could publish. We also had a good group of people prepared to be interviewed. Many of them say, 'Oh no, my life isn't very interesting.' But once they've had a drink, they can't stop talking! The book also highlights well-known pupils including Tony Grantham, whose sister Mary still lives in the parish. He was the first Royal jump jockey and won the Cheltenham Gold Cup.
Colin: This area, particularly Partridge Green, is an area where people tend to stick around, which helps when it comes to research.
Dorothy: Whilst the school book was less popular than the war book, there was still a lot of people who bought it because they have an interest in local history. Our next effort, When the Camera Came, was simpler. A member of the group had the idea of producing a 'then and now' book, with old photos alongside new photos of the same location.
Colin: West Grinstead parish hasn't changed much, apart from Partridge Green, which grew considerably because of the railway station on the South Downs line and the brickworks. Even when the railway line closed, the village adapted.
Norman: We've been fortunate, as Partridge Green has grown steadily. We haven't had huge estates built here in the way Southwater has, so it still feels like a village. It has retained its character and there is a good community. We've had companies like Dark Star that have moved here and been community-minded, taking on The Partridge pub.
Colin: Our next project was a small book about Hopit, the war horse. John Forrester "Jack" Colvin, who lived at Shermanbury Grange, served in the First World War and took his horse, Hopit. Jack reached the rank of Colonel and returned home with Hopit in 1919. Hopit has his own gravestone at Shermanbury, engraved with details of his campaigns including Ypres and The Somme.
Dorothy: We organised an exhibition combining the Hopit book with research that had been carried out on the First World War by one of our most active members at the time, Herbie Whitmore. He was involved in most things related to West Grinstead and even delivered AAH in the area. When Herbie passed away shortly after the exhibition in 2014, we decided that his research should form the basis of a book, When West Grinstead Went to War: 1914 - 18.
Dorothy: We researched all the names that we could find in the records and those listed on our War Memorial. We also carried out ancestry searches and went through military records of anyone with a local connection. Then we came across the absent voters' list, an electoral register for people serving who were entitled to vote in the 1918 General Election. That list included the name, address and military service number for local men at war. When we discovered that list, the project took off, as it meant we had another 200 names to research!
Colin: There is a misconception that people didn't move around much in those days; but they certainly did. Young men moved from farm to farm and parish to parish looking for work, so the book includes details of people who may not have settled here for long and probably had no relatives here, but they did have a local connection.
Norman: When it came to research, the war diaries were vital. Sometimes, details of a soldier's death could be very descriptive and at other times might only be a couple of lines. Most local men who signed up for war early in the war served with the Royal Sussex Regiment or the Royal Engineers. However, we had to research dozens of other regiments as when subscription was introduced in 1916, men were posted wherever they were needed.
Colin: Whereas the book on the Second World War was based mainly on the stories of survivors and on local events, the book on The Great War is solely a record of those who served. We needed a different emphasis because of the limited information available to us.
Dorothy: We were driven by the same motivation; to create a unique record for the parish. We knew it wouldn't be as popular as the Second World War book, as none of the people we're writing about are still alive. But we were very thorough and worked solidly on the book for four years.
Norman: We tried to find as many photos of the soldiers as we could, but they are like gold dust. We knew it was important to have them printed, as in another generation a lot of those photos will be lost, as people won't know who they are.
Colin: It is quite a revelation to read about the lives people led after they served. They might have won the Military Cross for bravery, then returned to the village and were quiet, ordinary working men. It is very difficult to equate what they did at war to their life in the parish.
Dorothy: The books can certainly take over your life, but they're fascinating projects. You hear people say that there weren't any young men left after the war. When you do the research, you discover that was true.
Norman: We are thinking about the fire service as our next project. We have a few pictures and stories from our previous projects that relate to it and Partridge Green still has a fire station, so we can hopefully access records. We hope that such a book would serve as a tribute to the work that they do.
Books by the West Grinstead Local History Group are available at Horsham Museum, except the World War Two book, which has sold out. For details of future talks or for information about the group, contact secretary Norman Berry on 01403 710465.

WORDS: BEN MORRIS
PICTURES: TOBY PHILLIPS