ARTS SOCIETY HORSHAM CELEBRATES 50 YEARS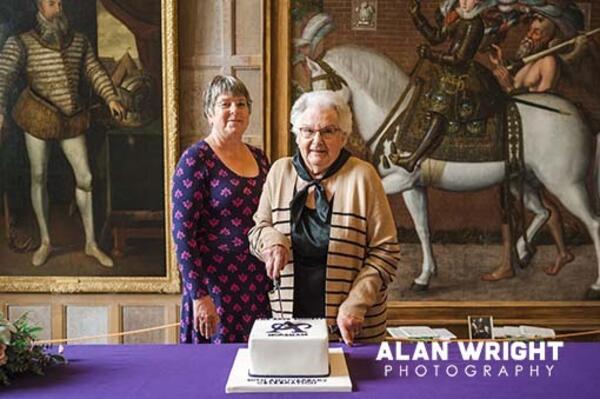 Published on 1st July 2022.
The Arts Society Horsham celebrates its 50th year in 2022. Formerly known as NADFAS (National Association of Decorative & Fine Arts Societies), the local branch organises a monthly lecture at the Capitol Theatre. As Arts Society Horsham marked its anniversary with a visit to Parham House on 23 May 2022, AAH met both long-serving and current committee members to find out about its past, present and future…

THRIVING SOCIETY
With about 420 members, Horsham has one of the most successful Arts Societies in the south of England. Membership once surpassed 500 and numbers are recovering once again after COVID.
The Society's primary function is to provide a monthly art lecture for members and guests. Held at the Capitol, this year's lectures have ranged from an insight into the work of Italian master Raphael, to a focus on Peruvian art and textiles. The current season ends on 13 July with Ian Gledhill's take on The Gilbert & Sullivan story, with a new season beginning in September after a summer break.
Jane Wilcock, Lectures Secretary, said: "Nationally, The Arts Society maintains a directory of lecturers. Once a year, representatives from societies across the country converge on London to hear lecturers present their talks. New lecturers have two minutes to make their pitch and established lecturers only one minute, so we all listen and furiously scribble notes."
"It's not just about picking exciting topics. We must ensure we have a balanced programme, covering a wide range of subjects including painting, architecture, furniture, textiles, sculpture and other facets of the arts. There's only so many lectures you can hear about Michelangelo or Da Vinci, so you have to make it interesting for long-serving members and offer something they might not have read or heard about before. April's lecture was on the depiction of glass in art, which was fascinating as it incorporated elements of social history too. Many members attend every lecture, as they know they'll come away having learned something new. Often, people find they enjoy lectures they didn't initially think would interest them."

SOCIAL HUB
It's not only subject matter that is key to the longevity and success of The Arts Society Horsham; social aspects draw people to lectures too. It is a chance for members with a shared interest in the arts to come together, providing a social hub which may be especially important for those who are lonely or caring for a loved one at home.
Naturally, as friendships formed and the Society grew, lectures alone were not enough. So, the Arts Society also organises visits to places of interest.
Tricia Payne, who shares the role of Visits Secretary with Vivien Smith, said: "This year, we have visited the V&A and also Southwark, touring the cathedral with an official guide. In September, we'll visit the Globe Theatre and Tate Modern, while opera at Glyndebourne is also scheduled. Like the lectures, trips are associated with art and culture, but we usually work in lunch and maybe even the occasional glass of wine too! We've previous organised tours abroad visiting places like Moscow, Istanbul and Sorrento, which helped to forge lasting friendships in the society."
COLLYER'S ART
At Parham House, members reminisced as 50 years' worth of archive material was displayed in a small exhibition. It included photos from trips and tours, press cuttings of outreach work and even posters used to promote Society lectures (see opposite). In recent years, these posters have featured work by art students at Collyer's in Horsham, with a colourful and diverse range of designs representing various mediums.
The annual Collyer's poster competition is just one way that the Society supports young artists, having also hosted lectures for local students and arranging trips to exhibitions. If promoting appreciation of the arts to the younger generation is a growing aspect of a modernising Arts Society, the display at Parham was a reminder of how it has evolved and changed over the years. When it was called NADFAS, the society was closely associated with Church Recording and the Horsham branch recorded items at more than 25 churches in Sussex and Surrey.
Heritage Volunteer Pat Barnard said: "We would record everything in the church, from the stonework to memorials plaques. It involved lots of research, measurements, documentation and photography in order to compile a complete record. Sadly, church recording has declined, with specialist heritage companies usually employed for such work now. However, some members like to volunteer in different ways and several have helped Horsham Museum."

NEW IDEAS
Among those present at the golden anniversary celebration was founder member Jenny Avery, still a regular attendee. It was down to Jenny and a handful of others that the Horsham society was established in 1972, seven years after The Chiltern Antiques Group was founded by Patricia Fay.
Jenny said: "In the late 1960s and early 70s, there was a tremendous boom in terms of our interest in antiques and the arts. There were TV shows about art and we were encouraged to visit places like the V&A. As a nation, we consumed art and embraced new ideas. In the years immediately after the Second World War, everything was very grey and then suddenly we were swept away by a wave of culture and colour, with a little patriotism too."
The Horsham group initially met in the Dominion's Library at Christ's Hospital School. Sally Corvedale, whose husband taught at the School, was the first Secretary and Jay Daw the first Chair. Merlin Hywel Jones was Treasurer and Jenny served on the Steering Committee. With the guidance of the Executive Committee in London (chaired by Patricia Fay) the group formed its first plan of action.
Jenny recalls: "In 1969, I was invited to join Adur Valley Decorative and Fine Arts Society. I enjoyed it, but my problem was the distance and timing of the lectures. I had three children at school in Horsham and the meetings were on Monday afternoons! When I met Sally, she was surprised we had no such society in Horsham. I explained there was no suitable meeting place, so she spoke to the Headmaster at CH and he allowed us to use the Dominions Library, making Horsham DFAS a reality. When the Girls' School in Hertford merged into the Horsham site, making CH co-educational, the library was needed as a study area. Fortunately, the Methodist Church in London Road, Horsham, had just finished building a new meeting hall and we moved there."
BRIGHT FUTURE
When Horsham District Council bought and refurbished the old cinema in North Street, the Society moved to the newly-named Capitol Theatre, where the extra space meant its membership leapt from 250 to over 500. Patricia Fay passed away in 1978. However, Jenny thinks she'd be proud to see how her idea has grown and adapted to changes in society.
Jenny said: "I don't think the society has changed much. I still call it NADFAS and personally don't think much of the name change! But the atmosphere is the same. It's friendly and there's always lots of chat before a lecture. Being here at Parham, 50 years after coming here for our very first outing, shows that we still have the same spirit. I'm sure that if Patricia could see us now, she'd be delighted, as would all those who served on the committee and contributed to the society over the years."
"There are still more than 300 societies around the world and it has amazing influence. It has certainly made my life richer over this last half century. Through COVID, when I thought we'd suffer by hosting lectures on Zoom, we surprisingly did very well. I know many members appreciated that regular contact. It remains a robust group and I'm confident we will still be here in another 50 years, although I doubt I'll be around to see it!"
WORDS: Ben Morris
PHOTOS: Alan Wright
Further information: https://theartssociety.org/horsham