CALICO & CAKE: FREE MACHINE SEWING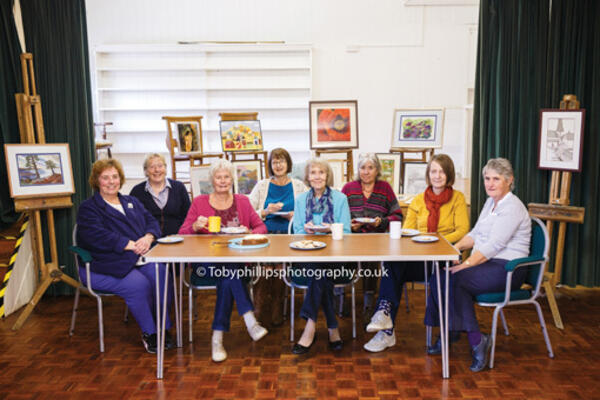 Published on 4th November 2015
Jeanette Stevens, Hilary Husband, Madeleine Loveday, Gaynor Cooper, Jean Hartley, Françoise Vincent-Smith, Heather Shopland, Angela Witherick
Jeanette: I took early retirement and I needed to find something else to do. I went to an evening course at Crawley College, taught by Ruth Blackford, and it went so well that they introduced a full-time course. It was there that I met many of the girls here. When the funding for the course was withdrawn, like many adult education classes, Ruth was made redundant and we were left exploring other avenues.
Madeleine: I attended a different course at Crawley College, which also lost its funding. It was really disappointing, but Ruth had decided to form a new group with some of her class. She knew that I loved sewing so called me and asked if I would like to be involved. I was thrilled! I used to make dresses, but as the children in my family grew up, I had nobody to make them for. So the group felt like a natural evolution for me.
Angela: We looked for a good hall. Some of us had been going to a small art class at Andrew Hall in Shipley for several years so we knew it had all the facilities we needed. We use a lot of calico, which is a plain-woven
textile used as the base fabric for our work. Ruth always used to bring a cake to classes and that was a tradition we wanted to carry on, so we rotate who brings cake each week. We named our group Calico & Cake and formed in 2008.
Gaynor: Like several of the members, I wanted to do something creative after I retired, and joined Calico & Cake soon after it formed. I soon realised that I knew nothing about colour or structure, so signed up for an art course too and now art also plays a big part in my life. Strangely, I wasn't a creative person at all when I was young and I hated art at school! Only in later life did I want to pick up a paint brush.
Madeleine: Ruth has moved away from the area, but when that time came we all had the skills to do as we pleased and carried on. It has been lovely, because we can pick each other's brains and ask for opinions.
Jeanette: We don't have anybody in charge, but we must be doing something right as we gel together well. We all just get on and can do as we please. We are all ladies of a certain age and this fits in well with our lives; it's never a chore. We know it's only every other Tuesday and we all make time for it.
Heather: In a group like this, you can share ideas and techniques and give constructive criticism. If you're working in isolation, you can go around in circles, but with others around you, you might see another direction to go in with your work.
Angela: What we actually do here is free machine embroidery, in which you use a sewing machine to create patterns and pictures on textiles. Each term, we tend to work to a different theme, and this term it is 'nature'. I'm creating a piece based on blackberries at the moment, which are difficult as I like them to have a three dimensional effect. A lot of time goes into each piece, so most of us will work on them at home too.
Gaynor: Today, I'm working on a personal project as I need a new quilt for my living room. We recently redecorated and I wanted to have it finished by Christmas, so the nature themed work is on hold for a little while! Prior to this, I've been creating pictures of Horsham's historic sites and landmarks. I've made one of St Mary's Church, one of The Causeway and one of the Carfax market. The next piece will have a salsa theme, as I saw a local group dancing outside of the Old Town Hall. You see a lot of stitched pictures of Brighton and London, but I thought it was time to feature Horsham!
Heather: I'm working on a couple of pieces with a nature theme. One depicts a harvest scene, which was inspired by a walk on the South Downs. The themes are always a challenge, but perhaps one of the hardest was 'Faces'. Faces can be difficult to recreate in fabric, so it was a real challenge and we all produced very different results.
Madeleine: For me personally, the hardest thing is getting the initial composition right, but once that's in place I find that I work very fast. You'll notice though that our finished pieces are all very different in style and size. My current piece is inspired by a painting that my sister saw at an exhibition. She thought it was created in fabric, but it was in fact a painting. I'm reversing that effect and creating an embroidered piece that looks like a painting. It has strong colours and suits my style.
Francoise: What is nice about Calico & Cake is that you can just come along, have a chat, and concentrate on your own work. We don't have any set rules and nobody is pressured to do anything. I travel quite a lot to see my
grandchildren, so am not always here, but I can dip into my project as and when I can, which is a nice feeling for me.
Hilary: My friend introduced this group to me at an embroidery class, and I became the newest recruit in January. At the moment, I'm making little bowls in all of the colours of the rainbow, with a little pot of gold at the end. I'll give them out as Christmas presents. I think part of the joy of making something is giving it away.
Madeleine: For the amount of time you put into each piece, you could never expect to receive enough money for the work. But that's not why we do it. It is just nice to sell a few for a little bit of money occasionally or pass them on to family and friends.
Gaynor: The main reason I do it is because I enjoy it. I don't care enormously about what other people think of my work. If you start doing it for someone else, you feel restricted. You have to love your art, whether it is painting or sewing or any other medium. If someone likes it, that's nice, but it's okay if they don't!
Francoise: It is a real challenge to translate ideas and pictures to fabric. We all tend to work figuratively, and in some cases it can be quite abstract, so it is very important to find the right materials and use the right method to create each individual piece.
Angela: We do all learn techniques from each other and swap ideas. Sometimes, one of us will attend a workshop, pick up a new method and pass it on to the rest of us to try. We have hosted a few workshops here, with an invited textile artist coming in and talking to us about their work and techniques.
Jeanette: There are some fantastic textile artists around. You have people like Alice Kettle, who has given a workshop here, and Wendy Dolan, who are really working at the top of their game.
Francoise: It is interesting to see how different artists work, although we are getting to a stage now where it is difficult to find people that can really help us improve or show us new techniques!
Heather: Since I started creating embroidered pieces, I have also started painting and that's been interesting. I have found that one influences the other. Painting helps me use materials with more freedom, although I do find when painting that I am overly precise and detailed, which is perhaps down to the embroidery! Many of us in the group paint and have been on art courses, and that has a strong influence on our work.
Jeanette: I do think that gradually free machine embroidery is becoming more popular. I heard Kirstie Allsopp on TV say that free machining is 'The crack cocaine of sewing!' I thought, 'hold on a minute, we've been doing that for nearly 10 years." We are seeing more sewing on television and free machining in particular is picking up in terms of popularity. At the Summer Exhibition, free machining artwork has started to be accepted, so that is an
encouraging sign.
Angela: We have an exhibition next year at Horsham Museum and Art Gallery. It's quite exciting for us, as it's not something we do very often!
For further information on Calico & Cake, email Angela at whitescottages@btinternet.com