HORSHAM CHESS CLUB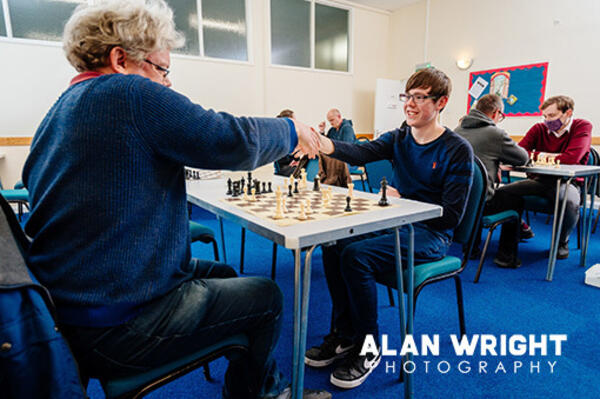 Published 1st June 2022
Horsham Chess Club is one of the oldest in Sussex, having been founded in 1879. It continues to punch above its weight with two sides in the top division of the Mid Sussex League, while also striving to introduce younger players to the game through its junior section. As the club recovers from COVID, faster forms of the game are helping to attract the next generation. AAH attended an in-house 'lightning' chess tournament to find out more…

ONE BAD MOVE
Horsham competes in the Mid Sussex League, affiliated to the English Chess Federation. It is one of the strongest clubs in the county, with three sides across the league's two divisions and two in the 1st Division, where they face the likes of Brighton & Hove, Lewes, Worthing, and Hastings & St Leonard's. At each fixture there are five boards, with players paired based on their ranking.
Ian Comley, Club Chairman, said: "If you make a bad move early on, you may well find yourself resigning your King early and spending three hours sat in the corner waiting for the other boards to finish! Sometimes you can spend the entirety of the game simply trying to survive after a poor move and if you manage to earn a draw, that can feel like a win, which could be the difference between your team winning and losing."
"Horsham is one of the better clubs in Sussex, with a number of good players. We have had more teams in the past, as we entered six in the league at our peak a decade ago, but three is still very good when you consider towns like Crawley have lost their chess clubs completely. We regularly compete with Hastings at the top of Division 1. They have a Grandmaster on their top board, and even though none of us are quite that strong, it's a chance for our top-ranked player to test themselves. One of our strengths is that we're a very friendly club and provide opportunities for people to play at all levels. Then, after a club night, we go to The Malt Shovel and chat about tactics over a pint!"
ROOK CUP
In addition to league fixtures, Horsham hosts a range of in-house competitions and tournaments. The Club Championship has several tiers, meaning players of all abilities and ranking can compete and work their way towards the top tier, the Rook section. There are also various knockout competitions and quick-play contests, including the lightning tournament. In this fast-thinking format, players must move on a buzzer that sounds every ten seconds, or forfeit the game. It promotes both laughter and frustration, as time constraints make it all too easy to make a fatal mistake! While these new formats may inject excitement, they don't usually affect a player's ranking, as Club Secretary Anthony Higgs explains...
"The ranking system has changed so that a player has a rating usually between 400 – 2,000, or more if you're a Grandmaster or near that level. The more you win, the higher your rating. If you draw to somebody of a similar rating, it wouldn't change, but if you beat a theoretically stronger opponent or lose to somebody supposedly weaker, your rating points go up or down accordingly. What is great about this is that the World Champion has a rating and so do beginners. Sometimes, you come up against a promising junior who has a low ranking and is technically underrated. However, the ranking system means that players are normally pitched against an evenly-matched opponent."
"We all take great pride in defeating a higher rated player. It's like the FA Cup, when a non-league team beats a side from the Premier League. Most of the time, result go as expected, but just occasionally the game surprises you, as you see different styles of play. That's one of the joys of it. Chess is easy to learn but takes a lifetime to master!"
TALENTED JUNIORS
Horsham Chess Club was impacted by COVID and sadly club stalwart John Cannon also passed away last year. However, the club is still very popular, more than 140 years after its foundation. Every Tuesday night, the club hosts an hour-long junior session led by Mike Forster, an experienced player who runs the County Under-11s side alongside Anthony Higgs.
Mike said: "We prefer to see players coming here when they're primary age and spending a few years in the junior section before feeding into the adult group. Occasionally, we see some very skilled junior players like Nayan, who we've had to drop into the adult class almost immediately so he could get a good game!"
"We prefer juniors to have a basic knowledge of the game before coming along, as it takes a lot of time to teach absolute beginners. However, we have lost a lot of school chess clubs across West Sussex in recent years, as many dedicated coaches have retired, and those feeder clubs are no longer there for us. Primary and secondary school clubs were a good way of encouraging children to pursue their interest, but these disappeared during COVID. It would make a big difference if teachers could run them again, as we don't have the manpower to offer one-to-one coaching to beginners. On the other hand, it's difficult to turn them away when there's nowhere else for them to learn. What we can do is help teachers get school clubs going again and even run an introductory session for them."
ONLINE GAME
A positive side effect of COVID has been the rising demand for online chess, with many discovering the game in lockdown. Online and traditional forms of the game have subtle differences though. Chess incorporates elements of psychology, with players using body language to give them an edge, while online games are faster with less pressure on winning. However, the format does encourage young people to learn and potentially join clubs.
With the support of teacher Alex Taylor, Collyer's enters a team in both an online junior division and Division 2 of the Mid Sussex League, with students taking part in competitive fixtures. Without an evening venue of their own, Collyer's players are welcomed to Horsham's regular club night.
Ben Hermanns, who is studying A' levels at Collyer's, said: "When I was in Year 11, all exams were cancelled so I had no schoolwork or exams to study for in lockdown. I was bored, so I started playing chess online. There are many websites where you can play against people all over the world, such as chess.com and lichess.org and gradually improve your rating. Now I play for Collyer's in junior and adult leagues. We were expecting to lose every game in Division 2 and although we haven't been brilliant, we did claim a point by drawing one match and every regular member has claimed at least one win during the season, which shows we're making progress."

QUEEN'S GAMBIT
While chess continues to attract young players, the game is still dominated by men and the success of Netflix drama The Queen's Gambit hasn't led to an influx of female players, in Horsham at least.
Alex Taylor feels the game's image makes it difficult to appeal to women. "It may be to do with the environment, as it's natural to feel uncomfortable when you're surrounded by middle-class, white men. If you look at the professional game, there are 16 men for every woman, yet it should be an inclusive game where age and physicality isn't a defining factor. At Collyer's, we have two girls out of a group of 15, so the ratio is a little better, but we'd like to achieve an even balance in future."
Horsham has fared better than most clubs, with members having included former Under-18 British Girls Champion Amy Hoare, and Julie Denning, who has fulfilled many committee roles at local, county, regional and national associations and federations during more than 50 years in chess.
Julie said: "There's never been more than a handful of women at Horsham and that's unfortunately the case at chess clubs generally. I have done a lot of work with the national federation and there's now an emphasis on increasing female participation. Through primary school, there's an even split between boys and girls, but girls tend to give it up in their teens at a faster rate than boys. This may be down to the game's image or perhaps it's down to other pressures and commitments."
"Since the lockdown, we have seen more people take up chess online and some have taken their interest a step further and come down to club nights. Although I prefer the traditional format, faster forms of chess are helping to attract a new generation and after a difficult period, the club is now back to being as healthy as it was pre-pandemic."


Horsham Chess Club meets at London Road Methodist Church, Horsham, on Tuesday evenings (there's a summer break in July and August). Juniors: 6:25 - 7:25pm Adults: 7:30 - 10.30pm. www.horshamchessclub.org.uk