Horsham Model Railway Club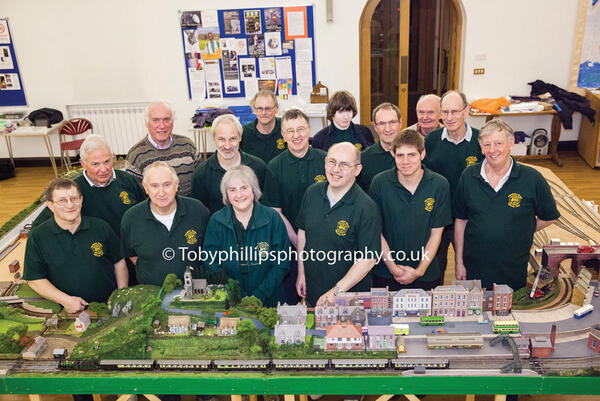 For some people, un-wrapping a Hornby train set as a child will trigger a lifelong passion. There is more than a hint of such nostalgia in the trains and locomotives owned by members of Horsham Model Railway Club, and in the scenery they create for their layouts.
The group was only formed in 2008 when two friends decided to form a model railway club in Horsham. They advertised an inaugural meeting, only expecting a couple of people to express an interest, and were surprised to find about 20 railway modellers attend. Now, members are a mix of all ages, teenage to retired, male and female, all with an interest in trains and/or modelling. Some build locomotives whilst others run ready made trains built by major manufacturers.
The cost of membership is cheap at £24 per quarter, but the trains and layout can be expensive, with locomotives costing in the region of £100. Many of the members make their own scenery though, with buildings, platforms, depots and vehicles.Most members have trains in OO (1:76) and N (1:148) scales but some have interests in HO, On30 and G in British, European and American guises incorporating trains, trams and buses. The club is also an Area Group within the national network of the N Gauge Society.
A large layout called Carfax Junction, that runs both OO and N Gauge, has been constructed and members are now designing and building separate exhibition standard layouts in those two gauges with platforms, sidings and a goods depot.
The club meets at the recently refurbished St Leonard's Church Hall, Cambridge Road, Horsham, on Wednesdays from 7pm and guests are always welcome. They will be holding an Open Day on Saturday, 27th April at 10am-4pm at the hall.For more details visit the website at www.horshammrc.org.uk
Gail Tomsett: "I was never interested in dolls. When I was much younger I played with the boys and not the girls and was into cars and soldiers rather than dolls. My passion for trains was rekindled when I saw an advert in a model magazine about a new club starting up in Horsham and I decided to join.
I have many of my own trains at home and my intention is to put up a layout of my own in my spare room, but at the moment I don't have one, so I can only run trains here. A lot of members do not have their own layouts at home, but we're a very open club and anyone can come here to run their trains. Some members are also interested in buses or trams, as you'll find that gradually your interests change.
I particularly enjoy making scenery for the tracks. Most of it starts with a polystyrene base and you just build it up in layers. I sometimes use horsehair stuffing from a sofa for bushes, and then add clumps coloured with 'scatter'. The houses are built from plastic kits, but you can change things around, and I have one on display that is of a war-time house with bomb damage.
You buy flat packs and put the windows in, paint them and add your own decoration and foliage. Most of the kits are for OO Gauge but there are kits and scenery for the smaller N Gauge scale too. We don't put scenery down everywhere; there's a Fiddle Yard where people put their trains, so we leave that area clear.
We are starting to build a new N Gauge layout which will be complete with scenery, and will be up to show standard, but that will take some time to complete. We are also putting together a new OO Gauge track, so there's plenty to keep me busy."
Tim Shervington: "I've been a train enthusiast since I was a child. I started off with a Hornby Flying Scotsman train set and I loved it until it broke, but many years later I bought a set to replace it. It's mainly steam trains
that attract my attention.
I volunteer at Amberley Working Museum so I have the chance to work on the trains there. I have my dream job but I don't get paid for it! For me, steam trains seem more alive. I know some non-train enthusiasts might think I'm crazy, but the way steam trains move and the way you see everything working together makes them seem like they are like a living, breathing thing. I've been involved with Horsham Model Railway Club for about a year.
I have a OO gauge track at home, but it has no scenery to make it look nice and professional, so this is a nice solution. I don't mind that most of the people here are older than me. In fact, quite a few members were around in the days when steam was dying out so have fond memories of seeing the real versions of the model trains that I have."
Alan Willson: "I was one of the founder members of the club. Reg Hayden and I had belonged to model railway clubs before but we wanted to run a club on a different basis, and we also felt there was a need in Horsham for a model club. Rather than a select few people in the club making the decisions, all of the members sit down and discuss how the club is run and how it should move forward.
We have a discussion each week, sometimes about layouts, sometimes about other things like events. The club was originally based at Horsham Youth Centre on Hurst Road, and we only had one very small cupboard to store our layouts and scenery, so for our first track we put the OO Gauge and N Gauge scales together.
That has been very successful, but now we have honed our skills within the membership and feel we are ready for new layouts. We're building Battledown Flyover and Worting Junction, which is west of Basingstoke on the Salisbury Line. Worting Junction enables trains going west of Basingstoke to change route, either down to Southampton or to Salisbury.
We've been building a model following ordnance survey mapping. Because of the scale of the line, we've
reduced the length, but the Flyover, signal boxes, and bridges will be to scale, as the railway looked in the 1960s.
This plan caters for all of the interests of the N Gauge members in the club. We have a few more OO Gauge members, but we are an Area Group of the N Gauge Society, which is a national club with thousands of members. The attraction of N Gauge is how much you can get in the space.
We couldn't build this new layout in OO Gauge as it would be 36 feet rather than the 18 feet we are building too. Currently we are in the carpentry stage. We started back in June 2012, so we are nine months along and we have spent a lot of time discussing it to make sure we get it right. Hopefully we'll be starting to lay track in a couple of months."
Peter Harwood: "My dad used to own a toy shop, selling Dinky, Airfix, Matchbox and things like that, so I grew up with model railways. Everything used to come in new and I would say 'I'll have that'. My mum gave most of it away many years ago, to someone who lived down the street.
So I've always been into model railways and I've been collecting for years. It's all in a cupboard as I don't have a layout at the moment, so I bring bits to the club to put on the track. I like trains from the 1950's and 1960's. A lot of it is based on nostalgia, and sometimes I find myself seeking out some of the trains that I know I owned as a child. I have a collection of red and cream-coloured British Rail vehicles from the 1950s.
I knew I wanted to put a load of them on one of the trains, as though they were being delivered somewhere, so I've been collecting them as I come across them in toy fairs. You can pick them up for a couple of pounds. It brings a smile to my face when I find one I don't already have."
Ray Hambing: "I joined the club as a result of an Open Day at Horsham Youth Centre in 2009. My interest is
actually trams. I have two tram layouts and the trams are actually motorised old Corgi diecast models. You can cut part of the bottom of the chassis away and simply put a motor in it.
As well as being a member here, I belong to a tram society and they have a modelling section and host an exhibition every year. I was heavily involved in bringing the club to St Leonards Hall as I belong to the church and am in charge of hall bookings. The church needs revenue as well, as it will take some time to pay for the refurbishment.
At Horsham Youth Centre, we were restricted in terms of layouts because we had only one small cupboard. We only really had room for the one layout, and the scenery had to go back to people's houses. This venue is more suited to our needs and we probably have twice the amount of space. We are holding another Open Day on Saturday, 27th April.
We'll have our main layout (Carfax Junction) on display, stalls from second-hand dealers and layouts from members. I will bring a layout with trams, buses and a locomotive running around, and there will be a Thomas the Tank Engine layout for the children. There will be ten layouts in all, and Ian Redman, who makes N Gauge working layouts from things such as coconut shells and briefcases, will be here too.
The Open Day is supposed to be for people to come along and get involved in the club, so if people want to run their locomotives on our layouts, then they can do that."
Andy Peppercorn: "My grandson has a Thomas the Tank Engine track and that led on to me coming along to the model railway club and becoming involved. I was interested in trains when I was a boy but you grow up and do different things, but now I have layouts at my house and my grandchildren come around to play with the trains.
I bring my grandson, who is five-years-old, along to the club evening and he loves it. He comes along for an hour and goes on to the track first with his Thomas trains and his mum picks him up at 8pm. He can do the connections now as good as anyone – he does it for me as I can't get under the table! Thomas is great for introducing children to model railways.
The only train I don't have now is Henry, but tonight we brought Gordon along. I wind everyone up with my own trains, as most people have Southern trains but I'm from East Anglia so I have Great Western trains. I'm now Chairman of the group, and I'd like to push the club on a bit and attract a few members.
I think one day it would be nice to have our own place as we have to take the layouts down each club night and that takes a lot of time. Three of us come along at 6:30pm, and it takes about 45 minutes to set up with the scenery."