Bluebelles are Top Twirlers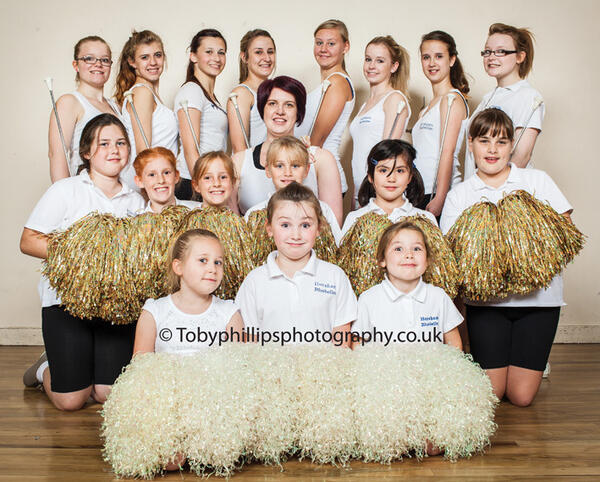 Whilst researching baton twirling on the Internet, I found a question that had been posted on Yahoo, asking why it was not considered an Olympic discipline.
There was a wide range of answers. Some dismissed baton twirling as easy; others claimed it was only used for half time entertainment whilst 'real sports' were being played. "It isn't a real sport!' blasted another. 'Why not add line dancing and burger tossing whilst you're at it?'
Olympic sport of not, the girls at Horsham Bluebelles will tell you that it certainly requires a great deal of skill, athletic ability, discipline and commitment to reach the top level. Some of the members at the Horsham club have been verysuccessful. The Bluebelles are members of the International Baton Twirling Association (IBTA) and regularly compete in competitions across the UK and Ireland that attract upwards of 500 athletes.
During that time the club has secured thousands of trophies and gained a reputation as a winning team, having claimed both Top Team and Top Twirler titles. The club was set up back in 1984 and nearly three decades on
is still thriving with over 40 members aged 4 to 33, ranging from beginners to winners of championship titles. Carol Wray takes on organising duties whilst Dawn Cavanagh leads the coaching.
Baton twirling involves a mix of gymnastics, dance, military marching and baton-twirling, and promotes good sportsmanship, self-discipline, team spirit and co-ordination skills. It is also relatively cheap. The Horsham Bluebelles train at Forest School in Horsham on a Friday evening at 6-8.30pm and the session costs only £4. An advanced baton-twirling class is held on Wednesday evenings at Farlington School, where the ceiling is higher!
We spoke to some of the members of Horsham Bluebelles and gained a new-found respect for baton-twirling. If you would like to know more about the Bluebelles contact Carol on 01403 264662 or email horshambluebelles@hotmail.com
Carol Wray: I've been running the Bluebelles for 23 years. My daughter joined when she was seven and then a couple of years later the board of directors backed out so we said 'do we close the club or carry on?' Four parents, myself included, said we would carry it on. Of course, gradually they all dropped out as children grew up but I'm still here. These days I have teachers who take the classes and I do the organising. We compete at the National Championships at Easter, which is a four day competition with about 500 girls there. Baton twirling has not changed too much over the years, although it's probably more difficult to compete at a high level as there are
more gymnastic moves - they can do somersaults and all sorts of things. I think what makes baton twirling appealing is that is combines many things. It's not just dance, or gymnastics, there is great variety. Hopefully we're a friendly group too, and the girls do tend to stay. They will join when they are seven and stay on right through. All of my girls socialise and they still all go out together. The big ones look after the little ones too and they help teach which is good for them all.
Charlotte Aylett: A teacher at my primary school (St Robert Southwell in Horsham) did baton twirling and part of a dance performance we did required baton twirling. Because she was a twirler she thought she would incorporate it into the routine. She picked me to do that part and saw I got the hang of it quickly so asked me if I'd like to try out at Horsham Bluebelles. The thing I enjoy most is making new friends and being pushed to improve. I like the commitment it needs to improve. Some of the moves take a long time to get right and there is always something to work towards. It helps build you as a person. You feel so good when you achieve something. It's hard work and there are bruises along the way but it's worth it in the end. I've taken part in quite a few competitions. I do all the solo and team competitions but at the moment I'm working towards improving my routines so I can reach Hannah's sort of level. At school some people don't really know what baton twirling is and a few are a little sarcastic about it but I see it as a positive thing and enjoy explaining to people what we do.
Hannah Cousins: I've done baton twirling all my life. My sister was in the club and I used to come along when I was two and take part in the warm up. I started competing when I was four or five. We do all sorts of dancing - sometimes they are jumpy and lively and other times slower and a bit more like ballet. The older you get the more competitive it is and more is expected of you. At the big competitions it is quite nerve-wracking as you've been working for so long on all of the routines and it comes down to just that one moment. But it's a great experience and it feels good to be part of a team. The costumes are all part of it, so you are marked on your outfit, make-up and you have to have your hair neat. It's like ballroom dancing in that way. I won top twirler at the nationals this
year. You have to do all seven solo disciplines and the person who gets the lowest amount of points (one point for first, two for second and so on) is the winner. This year, I won six out of the seven categories. The competition is
all quite friendly as everyone knows one another. I want to go into travel and tourism so I might need to take a break from baton twirling at some point. But it's always been a part of my life so I'd like to carry it on for as long as I can.
Hannah Munden: My older sister had been baton twirling since she was four and I begged to come and she finally let me when I was 13. She wanted it to be her little thing! Now I come here on a Friday to teach and I'm preparing for my teacher's exams. The girls here do exams – it starts at pre-bronze and goes up to gold level and at the competitions you progress as well. When you first join you go into 'First Time Twirl' and when you win you go
up to novice, then intermediate and then advanced. The more you win the higher up you get but you can't reach advanced level until you are 13. The older you start the quicker you catch up, whereas the younger ones can progress at a slower rate. For the team events, there are team twirls, pom-pon routines, and some are set to music. Some team events can involve different props, so as well as batons we've used ribbons, umbrellas, feather boas and fans. At world level you will see no-drops but at this level it's quite rare to have a no drop routine when there are 18 girls. I think when we competed at the nationals we had five drops which is pretty good. This is like my family. We are very close, and all of my lifetime friends are from twirling. It's been a massive part of my life and if this group was not here I genuinely don't know what I would do with my life!
Jessica and Madison Flack: Madison: I started when I was five or six. Our mum has been doing it since she was really little and she still helps us sometimes. I like wearing all the costumes and getting ready for the competitions. It feels scary when you do a competition and you shake about but when you get going you know you're not going to fail. I am very good at doing figure eights. You move the baton by going 'a scoop for you and a scoop for me'. Hannah taught us how to do that!
Jessica: I started baton twirling and the day Madison saw me all dressed up she said 'Oh, I want to do it too!' I like baton twirling because it's a nice hobby and I've made lots of friends. I play football as well so it's a very big difference! I have done a few competitions and I've won four of five trophies. We look at the older girls like Katie and we want to be like that one day!