Horsham Repair Cafe: Sustainable Growth!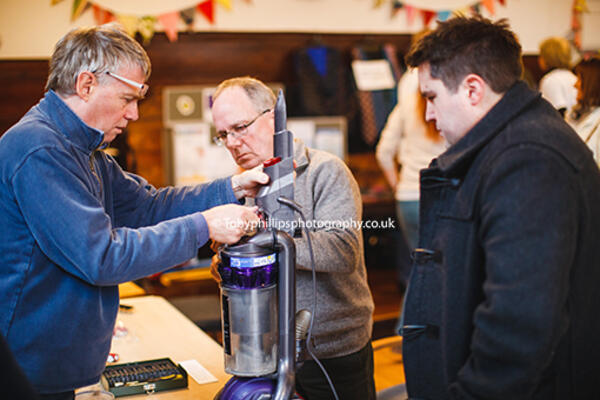 Published on 1st February 2019
A project that promotes environmentally-conscious living is proving a remarkable success in Horsham.
The Horsham Repair Café, held at the Quaker Meeting House on Worthing Road, is a free monthly event that enables the public to source sustainable household essentials at low cost, gain information on energy saving and even have electrical devices repaired.
By offering practical expertise as well as information on climate action, the Repair Café has proved to be a success, with hundreds of people using it for a variety of reasons.


Quaker Roots

The Horsham Quakers established a refill service several years ago, inviting the public to refill plastic bottles with household necessities including washing detergent, fabric conditioner, shampoo, shower gel and dishwasher tablets. All the products available are supplied by environmentally-friendly brands including Ecover, as well as British companies Faith in Nature and Bio-D. But the demand has grown substantially since the introduction of other services at the Meeting House.
Helen Whittington said: "The Horsham Repair Cafe ties in with the sustainable ethos of what we do as Quakers, so when they asked to share the space, we were delighted. More people are coming every month and it's reached the stage where it's becoming harder to fit everything in. We now have organic wholefoods from EarthKind too, offering pasta, rice, pulses, dried fruit, seeds, chocolate chips and olive oil, so we need to expand into the afternoon. In the morning, our focus will remain on repairs, refills and energy saving, with a new fabric and textile swap shop, as well as upcycling, moving to the afternoon session."
Can You Fix It?

Both the Repair Café and the refill service is entirely run by volunteers, giving up their time once a month to support the scheme and help others.
With a team of experienced engineers and handymen on board, word has spread about the service, attracting people who might not otherwise have been drawn to the community scheme.
Paul Airey has been volunteering in the repair team for six months. He said: "Throughout my life, I've always tried to fix something rather than throw it away. Now, I can do that for others. All sorts of things come through the door. Today, I've worked on a hedge cutter with a sliced cable, a toaster with a wiring problem and a 45-year-old radio that didn't work. The clock wouldn't set as the button was constantly suppressed, so we took it apart, changed the button and it worked fine!"
"The concept of the Repair Café is to stop people throwing things away if they have a minor problem. We need to be sending less to landfill and although there is a skip for small appliances at Hop Oast Recycling Centre, it's better to save what we can. Occasionally, I need to take something home. It might not be strictly within the rules, but I can't spend two hours on one project when there are many people needing help. But I don't mind, as this is my hobby!"
"When we successfully fix something, there is a bell that we can ring, which always raises the mood. People leave us a donation and that has helped fund new tools for the café."
The IT Crowd

From the very first café, there was a demand for computer expertise, with people bringing in PCs, laptops and tablets. Whilst there are some problems that cannot be easily resolved and need the attention of a professional, volunteers have solved countless IT-related issues.
Cliff Jackson trained in the 1970s as an electronic engineer, becoming an intercom and public address system expert until the recession saw his business evolve into computer engineering. Now, he uses his expertise to help people at Horsham Repair Café.
"I met the organiser of the Kinder Living Show in Horsham, helping them out on the technology aspects, and that led to my involvement with the Repair Café.I attended the first one and initially we were only expecting to offer a computer repair service every six months. But demand was so high that we continued on a monthly basis!"
"As we only have a couple of hours, I mainly give tips and advice regarding software and security. Lots of people are concerned about disposing of old equipment properly and wiping hard drives. There are issues that we cannot deal with quickly, but we do also have problems like faulty buttons that can be resolved."

Blue Planet Effect

Carrie Cort, a well-known local environmental campaigner, has been a key figure in establishing the Repair Café, where she encourages people to switch to 100% renewable energy. Others, including volunteer Jacinta White, run the refill stands.
"Programmes like Blue Planet has increased awareness of climate change and motivated people to reduce plastic waste," said Jacinta. "Some of that comes from the younger generation, so we're seeing more families wanting sustainable products, which is good for the future."
Having been encouraged by its early success, Carrie hopes more people will be inspired to live a sustainable lifestyle. "The next area we'll be looking at is fabrics and textiles," she said. "Fashion retailers used to change its lines with the seasons, but in this era of fast fashion, styles constantly change and subsequently, the industry has a hugely negative impact on the environment."
"We will be bringing back seasonal fashion with quarterly clothes swaps, as well as a monthly clothes repair service and textile upcycling. I support a charity called The Purple Community Fund, which provides work for people in poorer communities in The Philippines. We have been donating fabric to them and they've been experimenting with ideas, like waistcoats made entirely of ties. It's just another way of raising public awareness of problems within the fashion industry."
"People give little thought as to where clothes are made and it has reached the point where every item is travelling thousands of miles, as the fabric is sourced in one country, made in another and then sold on the opposite side of the world. It's a ridiculous scenario."
"This is going to be a busy year. We all know about the IPCC (Intergovernmental Panel on Climate Change) report that warns that the clock is ticking when it comes to saving the planet. There is much to be done. So, in addition to the Repair Café, we'll be organising an Eco-Ocean Art Project in the community, focusing on plastic use, culminating into a public exhibition at our Share, Care, Share and Repair Fair in Horsham on 6 July. I've also arranged the District's first World S.O.S. Climate Emergency Day meeting on 2 February."

WORDS: BEN MORRIS
PICTURES: TOBY PHILLIPS

Horsham Repair Café is held on the first Saturday of every month at Horsham Quaker Meeting House, Worthing Road, Horsham, from 10am - 1pm, with clothes repairs and upcycling at 1.30pm – 4.30pm. For details visit www.horshamrepaircafe.org.uk

The Repair Café will form part of the Kinder Living Show at County Hall (Parkside), Horsham, on 2 - 3 March, along with Sussex Green Living. www.kinderliving.co.ukFor more on the Community Eco Ocean Art project visit www.sussexgreenliving.co.uk/event/oceanbombed/

INTERVIEW: BEN MORRIS
PICTURES: TOBY PHILLIPS

Visit Horsham Forge at Hillier Garden Centre, Brighton Road, Horsham. Open Tuesday - Saturday. Call (01403) 272894 or visit www.horshamforge.co.uk