Horsham's Men's Shed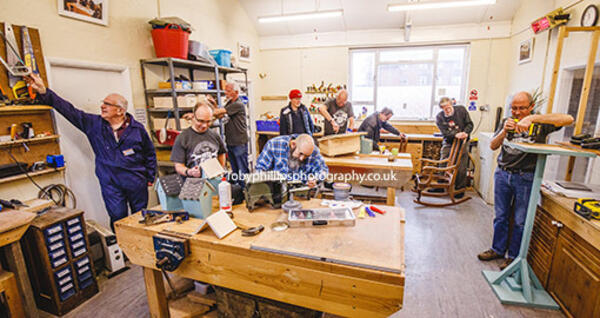 Published on 1st May 2019
Horsham's Men's Shed offers a place where people can pursue their hobbies and interests in a safe, sociable setting. We meet Founder and Chairman Ben Pickstock, Greg Charman (Health and Wellbeing Manager at Horsham District Council) and regular 'Shedders' Chris Avery, Ray Jackson, Roy Steele, Kevin Baum, Doug Poynter and Peter Arthur...

Ben: The Men's Shed movement started in Australia but has proved a huge success in the UK, with about 425 locations now established. Lots of people think about what they will do after retirement and a Men's Shed gives them a place to meet like-minded people. It also helpsmaintain occupational skills or develop new hobbies. I've always been an active person, so I wanted to help establish a group in Horsham.
Chris: I met Ben through another community project and he told me about the Men's Shed concept. It sounded great – a place where we can indulge in hobbies like carpentry, metal work or gardening in a social setting. So, a small band of us started looking around for an ideal location.
Ben: Over the course of several months in 2016, we formed a group of Trustees and gained Charitable Trust status. But we still didn't have our own premises.
Chris: The Shedders briefly met at a different venue, but it didn't work out. Then, whilst on a scouting mission, Ben stumbled this old drill hut, owned by the Ministry of Defence.
Ben: The building was in a horrendous state! It was boarded up with cracks in the walls. It hadn't been used in over a decade. The rear of the building had been consumed by ivy and none of the electrics worked, but it was the perfect size and location. We had already held discussions with the Health and Wellbeing team at Horsham District Council, who supported our idea from the outset. That support made a difference when it came to contacting the MoD, who thought the Men's Shed was a great idea. So, we secured the lease.
Greg: From Horsham District Council's perspective, the Men's Shed concept ties in with the healthy, social lifestyle we promote. It gives people of all ages a sense of purpose and helps them keep active. It's a community asset, as people can become lonely and isolated, particularly in later life.
Chris: It took us six months to tidy the place and have it ready for opening day in 2017. We were inundated by people donating their old tools and machinery. The community was so generous that we inherited far more than we could ever need!
Greg: There is a generation of men that acquired a huge collection of tools during their lifetime and want to see them going to a good home. They are happy to donate tools, knowing they will be well used by the Shedders.
Roy: We even had a circular saw machine donated, but moving it inside the building was a nightmare! We used a lorry to transport it here, then had to take the machine apart and remove the interior doors to squeeze it inside. But it has made a big difference. We also have a lathe in the woodwork room, drilling machines in the metalwork room and several work benches, made from old pallets.
Ben: From the beginning, we've been fortunate to have members with invaluable knowledge. Roy Steer has built stunning grandfather clocks and pianos, whilst 'Young' John Borley, who is 82, can turn his hand to anything. As well as working on their own projects, they regularly help others with problems they might encounter.
Doug: When I retired last year, I didn't know what to do with my time. I had previously worked in a factory, operating electronic equipment, but I wasn't physically making things so my woodwork skills are limited. I've been making hedgehog houses, but some of the guys can make anything! I'm envious of people with such skills, but it's great to learn from them!
Ben: We see a mixture of projects here. Someone has brought in a rocking chair for restoration, but we also make things like bird boxes, which we sell to the public. We do get involved in community projects. Several Shedders went to the Springboard Project in Horsham and created a new walkway, with materials donated by Wickes. We have also done work for Syrian refugees and replaced a fence at Horsham Age UK. The beauty of the Men's Shed is that we're flexible. We're still learning and we're careful not to be a repair centre; but certainly we welcome ideas for community projects.
Peter: We see all sorts of timber being donated. I take great pleasure in bringing something that might have been thrown away back to life. I'm currently carving cheese boards, which is fitting for someone who spent most of their working life as a chef and caterer. I sand them down and give them five coats of oil to produce a lovely finish.
Kevin: My main interest is electronics and I have several projects on the go. I've built a huge R2-D2 robot, designed a drone, and am also putting together a remote-controlled Land Rover. All sorts of interesting things come in; recently, we fixed a projector dating back to the 1940s!
Ray: I was a woodturner and later manufactured agricultural machinery in my working life, so I feel at home here. I've been coming to the Men's Shed since it started and am always happy to help others, if I'm needed. Sometimes, I make sculptures or ornaments for homes and gardens, but currently I'm drilling a hole through a bolt for my nephew, who is converting a Campervan and needs the bolt to install a rotating passenger seat!
Ben: There is a strong social side to the group. We have organised trips to the Bluebell Railway, Brooklands Museum, Amberley Museum and Dark Star Brewery. But it is just being here that people tend to like the most!
Kevin: The Men's Shed has had a hugely positive effect on my life. I had a car crash that left me with significant spinal damage and other health problems that will always be with me. But coming here keeps my body and mind active.
Chris: I'm not highly skilled like some of the other guys, but I bought into the Men's Shed philosophy straight away. When I moved away from the District, one of my major concerns was leaving the Men's Shed behind. For a year, I've been driving from Rye and staying with a friend, so I can spend a couple of days here. I missed the social side as much as anything. When I moved away, I also left behind the church that I loved. Now, this is my church!
Ben: Everyone has their reasons for coming. We have one member who sadly lost his wife but he comes here for the friendship and to pass on his skills to others. Some care for loved ones at home and use the shed to take a break and pursue a hobby. Some come simply for the camaraderie.
Ray: We have a nice group but there's scope for others to join us. We're currently active on Tuesday, Wednesday and Thursday, but eventually would like to be operational from Monday to Friday and Saturday mornings as well. You don't have to be an experienced carpenter or engineer. Some people chip in by painting bird boxes or hedgehog houses, which are very popular with children.
Ben: Sometimes, I see a new face around and they'll say something like, "my wife sent me!" We're open to new members, but it's a two-way thing. Those who come need to contribute, any way they can. The Men's Shed is not for everyone, but great friendships can be forged here.

WORDS: BEN MORRIS
PHOTOS: TOBY PHILLIPS

Horsham's Men's Shed is located in Dukes Square, Denne Road, Horsham and is open Tuesday - Thursday, 10am - 4pm. For more details, visit www.mens-shed-horsham.org.uk