Horsham Bridge Club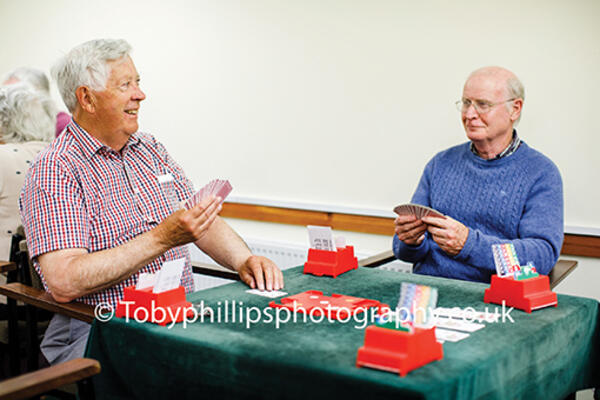 Published 2nd July 2018
Horsham Bridge Club is one of the most popular in the district,with over 300 members playing the notoriously difficult game for four people. Bridge is played throughout the week at the club's town centre base, with courses available to newcomers to the game. We met chairman Jane Handley, president Keith Norman, long-serving members Mick Carrington and Gerry Stanford, and bridge teachers Jim Downes and Gini Phillips.
Jane: We have just over 300 members with new people joining all the time. The appeal comes from bridge being such a sociable game. You meet new people and it's an affordable way of being part of a vibrant club. We meet every weekday evening as well as two afternoons, with a social session on Sundays. Even if you don't have a playing partner, we will find you one. If you enjoy games, bridge is wonderful, as it requires strategy and keeps your brain active.
Keith: There is a great social side to our club and many friendships are formed. Smaller groups come together as friends to play bridge at home or organise other social trips.
Jim: Bridge is complicated. People often assume that they will learn the game quickly, but that's not the case. It's not just a card game with others around your table. You're playing against everybody else in the room, which increases the element of competition and strategy. A reporter once asked a world champion, 'How long does it take to learn bridge?' He replied: 'I don't know, I'm still learning!'
Mick: Most members take it very seriously. Bridge is fun and sociable, but there is a huge element of competitiveness and that never fades, no matter how old you are. We have cups and trophies for different club nights, as well as a cup for the player who accumulates the most points over the year. Players all want to come out on top.
Gerry: Bridge isn't a game for those interested in money. That may be a reason why younger people prefer games like poker. For me, bridge is the card equivalent to chess, albeit with even more possible scenarios and combinations.
Jane: Players can and have represented the club at county, regional and occasionally national level. Just a couple of years ago, one of our pairs won a national inter-club knockout competition. We organise competitions for players of all levels, from beginners to experts and from mixed pairs to senior classes. As we're affiliated to the English Bridge Union (EBU), players earn points from every game.
Jim: The EBU maintains a record of your last 2,000 games, so members can see how they are faring not only within their club, but across the country. It's an incredible system.
Gini: When it comes to learning the game, the EBU has produced useful lesson plans for us teachers. The method gets people playing cards very quickly. We start by teaching people about the bidding process, but we immediately relate this to game play. It used to be the case that new players would have several lessons before a deck of cards was even opened. Naturally, people would get very bored. It's better to learn as you play.
Jim: We run classes for beginners. Our next beginners' course starts in September, on Tuesdays. Most new members tend to be newly retired and have more free time. One lady had recently lost her husband and bridge helped her get out of the house. She met new friends through the club. That's one of the great things about bridge; once you know the basics, you can play against anyone. You might not win, but you can play!
Jane: In terms of difficulty, bridge can be as simple or as complicated as you want it to be. You can stay at a more basic level if all you want is an enjoyable evening with friends. At the other end of the scale, the game can be extremely complex. But our club, and indeed all those affiliated with the EBU, has evolved to give players of all levels the opportunity to earn points.
Keith: The social side is great, but most of us are playing to win! There are different forms of the game, but the most common way is to play in pairs with four people on a table. There is an element of luck involved, but the experienced partnerships don't get it wrong very often. The best players make their own luck.
Mick: The club has seen many changes. I joined in 1973, when there was a lot of younger members. Sun Alliance was employing young graduates and because of their mathematics backgrounds, many enjoyed bridge. The demographic has changed over the years and now bridge is perceived as a game primarily for older people. Young people have a wider range of interests; the most obvious being computers. They don't want to sit down and learn how to play bridge.
Gerry: There is a drive to encourage young people to play, but it's a tough sell. For several years, I've been offering beginner classes at Collyer's College. I might get 10 turn up for the first session, but after six weeks, I'm usually down to three or four! Those that are interested often go on to university and although we might lose them, hopefully they come back to the game in later life.
Mick: There has certainly been an expansion in terms of the club's overall membership. In the 1970s, we had about half the number of members, with a wider demographic. Now, most members are retired. There's nothing wrong with that, although it's a shame that younger generations aren't so interested.
Gerry: It's a frustration to me that people come to bridge in later life, when perhaps their ability to pick up the game has faded. Bridge is testing on the brain and players need to develop numerical skills. That's second nature to me, because I've been playing for so long that little compartments in my brain are trained for it. I don't necessarily remember people's names, but I remember cards! It's like going into a supermarket and remembering the aisles for your regular shopping items.
Keith: For a long time, members used to be able to smoke here. There would be a huge fog across the whole room! We banned smoking before it was compulsory to do so, but for decades, every table had ashtrays. We had a licensed bar too. The other big change has been the way bridge has embraced technology. There was a time when pairs had to fill in their contract and results with a pen and paper. We'd collect them all at the end of each evening and half a dozen people would stay behind to calculate scores. The data would be written on a paper spreadsheet and we'd have to add up the totals. The results would eventually be posted on the wall, so you couldn't find out how you'd done until the following night. Now, the information is transmitted to a computer and the results are ready within minutes.
Gini: Lots of players go home and review games to see where they went wrong. It gives us all the chance to learn from mistakes.
Jane: Computers have transformed many aspects of the game. It's not just the results, but the way we generate hands. The computer will select random numbers and tells the automatic dealing machine which cards to place, so there's no way that players can anticipate the deck. The machine likes to have a bit of fun too. It might produce eight hearts without a single club, for example, which makes it far more interesting.
Gerry: Bridge has been my companion ever since I went to college. I've played the game wherever I've worked, all over the country, playing tournaments in America, France, Italy and all over the country. I've always maintained that a pack of cards is one of the greatest inventions of all time, which goes some way to showing my passion for the game.

For information visit www.horshambridge.co.uk