Horsham Bowling Club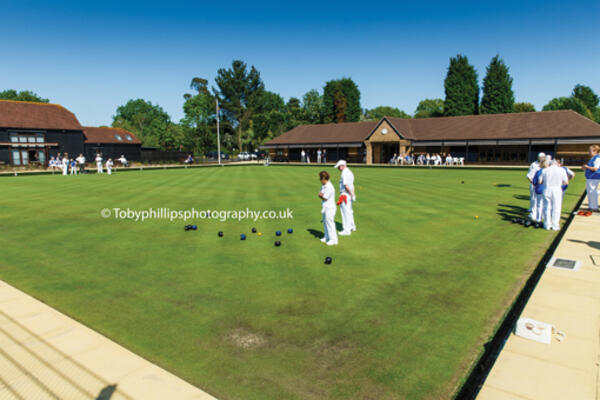 Published 4th June 2015
Mike Power (Club President): "I've been a member here for 28 years. I've been men's captain several times and now I'm half way through a three year term as President. I still play several times a week, but my arthritic shoulder needs a rest sometimes.
Bowls has given me great satisfaction over the years, as well as a wide circle of friends and acquaintances all over the county, as we play teams from Sussex and the lower end of Surrey. The bowls community is very friendly, so playing is always enjoyable but it is that bit more enjoyable when you win!
Some of our members compete in County competitions, but as a club we play in the Border League. It is competitive, but like everything the main point is to enjoy it. The club has existed for 110 years, yet last year saw the most significant change as we moved from The Bishopric, where we had played for 108 years.
Our founder members had great foresight and bought the freehold at The Bishopric for £500 in 1926, which in those days was a hefty sum. Because of that, we were in a position to negotiate the acquisition of this facility on Pondtail Road. Strictly speaking, I don't think many of our members really wanted to move, but the council wanted to develop the land commercially for the benefit of the town and we couldn't stand against that.
Fortunately, we were in a strong position to build this wonderful new facility. We regretted leaving the old site, but we are jolly glad to be here! There were the remains of a bowls club that the council tried to establish here 15 years ago. It was never a success as the green wasn't up to standard and there was no clubhouse. Essentially, this was a derelict bowls club which was completely demolished so that a whole new green and clubhouse could be built."
Fran Baillie (Ladies Captain): "I've been a member of the club for 10 years and I've loved every minute of it.
When we moved to Southwater to be near our grandchildren, we didn't know anyone in the area and needed something to do.
I had played some bowls on holiday in Tenerife, so we went along to Horsham Bowls Club and never looked back. Bowls is very addictive. I also play indoor and am Ladies Captain at Broadbridge Heath too. I do shout at the bowls. I've been told that the bowls are deaf and blind and they can't hear a word you say, but I yell anyway!
We have two teams in a ladies league, the Nellie Mercer League, playing different clubs from across the county on Thursday evenings. We also play friendly games against other local teams.
We probably have about 35 playing ladies members, although only six or seven play in the league games. This year, we've seen a lot of new players and we encourage them to play in friendly matches to begin with.
The new facility has made a big difference, but it is the people that make the place, not the buildings. We are open all year round, as we have short mat bowls, which is very popular during winter. We play inside, on mats six feet wide and 38 feet long with a wooden block in the middle that you have to bowl around. It is mainly new members who have grown that side of the club."
Barry Baillie (Men's Captain): "We were sailing people, so when we moved to Southwater we wanted to join a club. We chose bowls because of the social side, which is unbelievably important here. Now my wife is Ladies Captain and I am Men's Captain and bar manager!
On a Friday night, you will see a good crowd here for the quiz, and during winter there is strong demand for the short mat bowls.
The beauty of bowls is that it has nothing to do with physical strength or age. You will see the tiniest people play very well and you can play bowls until you are very old. My grandson passed Level 4 Bowls when he was just eight, and at the opposite end of the scale I was recently thrashed by a 94-year-old. He walked with two sticks and had miniature opera glasses around his neck so he could see the Jack. He threw the bowls to the side, almost overarm, and I thought 'this will be easy.' But he beat me!
Fran and I have umpired the World Championship for blind bowlers and we came across many players who would easily defeat us. One blind Malaysian woman had three of her four bowls touching the Jack on one end, which would be remarkable at any level.
The cost of membership here is only £90 a year and you can have access to the club and you play whenever you want to. As well as playing for Horsham Bowls Club, I play for Sussex in the County league, in which we do quite well. I am soon playing my 'badge match' in which someone is recognised as a County level player which is important to me on a personal level."
Tony Bacot (Men's Secretary): "We have about 150 playing members and social members - usually the wives or husbands of players – on top of that. We play bowls seven days a week, although on many days it is only friendly games.
In the Border League, comprising of clubs just within the border of Surrey and in Sussex, you send your best team and try to win. In the friendly matches, you can give everyone a chance to play, so we mix up the teams
accordingly as it important to give every player game experience.
In the final match of last season, we played to win the Border League, but we lost and consequently ended up fourth! But we were right in the mix. We have won the league on several occasions,although not for a few years now. We are in Division One, so we have a respectable team.
Bowls is generally orientated towards older people but the best players tend to be younger people. This sport is one of the few where all ages can play equally, as so long as you can get the wood to the other end of the green, you have a chance of winning.
Usually, there are four players on each team, playing on a rink, with six rinks on a good bowls green. Each player has two woods, so 16 woods will be in play, all trying to get closest to the Jack. Each bowl has a bias, so it will start to turn to the right or the left when it slows down, depending on how you deliver it. That means you can roll the wood around the side of other bowls towards the Jack.
The nearest wood to the Jack scores, and if you have four nearer the Jack than any of the opponent's woods, you get four points. If you get all eight woods closer than any of the opponent's woods, they call that a 'hotshot' for eight points. You receive a special badge for that. There are so many combinations of achieving a score that it is like a game of chess!"
Chris Holmes (Treasurer): "I've been here for 40 years and am now just about the longest-serving member. I am 71 now, so I was a mere baby when I joined.
I still have my acceptance letter from June 1975. It reads 'Your application for membership was considered by the committee yesterday and that a vacancy having occurred I'm glad it is been possible to omit you as a playing member.'
It's nothing like that anymore. We are a community amateur sports club now, open to all, but when I joined it was a men only club. The ladies were tolerated and were allowed to play on the outside rinks at certain times of the day. Of course, it is a far better club nowadays.
I'm still competitive, and bowls is still the most frustrating game ever invented! I go home some days after a brilliant game and say to my wife 'I've mastered this, there's nothing to it!' and the next day I play like a novice!
Part of the joy of bowls is the friendship that exists, not only in the club, but around the County. We play super clubs such as Lindfield and Steyning, where we have many friends. The trouble with bowls, of course, is that we're all getting on and some fall off the perch.
We are here to enjoy ourselves and what better thing is there to do on a nice day than being outdoors playing bowls with the sun on your back? My wife says to me 'How long have you spent on the bowls green in your life?' but I wouldn't change it. I wouldn't say I've mastered the game, but I have my name on the Honours Board a few times.
I was club captain in our centenary year which was an honour, and that year we achieved the double in the Border League. That was all down to pure luck of course, but was still a feather in our cap!"
Simon Felton (Club Secretary): "There was an Age Concern scheme back in 2001 called 'Grab a grandchild' which was aimed at encouraging young players to get involved in bowls. My two daughters came and that led to them taking up the game.
One daughter still bowls and was part of the Sussex U-31's team that won the national double rink title last year, so we are very proud of that. When the U-31's play there are people watching all around the green with drums beating. The atmosphere is phenomenal, very much like darts, but it all goes quiet when a player is ready to bowl.
My children were treated as grandchildren by all of the members of the club and I actually had to say to people 'Please, no more coke for my children!' They were treated so well that they fell in love with the place.
It has been hard for Bowls to attract younger people, as it is regarded as an old person's game. Yet it is younger players who win the big competitions. Now we have qualified coaches and we are looking to encourage younger players along. The older members help them so much, as they know how important it is to keep the club going."
For more visit https://horsham-bowling-club.co.uk/