Enforcing a Paralympic Legacy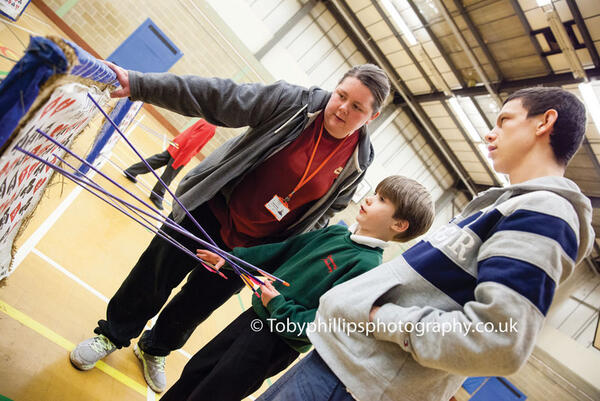 Excitable television presenters and newspaper journalists were quick to dismiss the achievements of the 13 previous Paralympic Games as they declared London 2012 to be the 'best ever'.
This may well be the case, although it would appear such boastful claims had more than a hint of patriotism about them. But for many of us, it was the first time we had witnessed sports such as Wheelchair Basketball, and certainly the Paralympics was much more than a hastily-organised support show to the Olympics.
After its undoubted success, it was assumed that the Paralympics would inspire many more people with disabilities or additional needs to take up a new sport. But is that really the case?
Aiming High/Reaching Higher provides inclusive sports and arts courses in Horsham. Its busy weekly calendar
includes dance, trampoline, rebound therapy, table tennis, athletics, cricket, badminton, cycling, DJ workshops, drumming, archery and video production, with wheelchair basketball starting soon. They also run sensory days and multi-sport days during the school holidays in partnership with QEII School in Horsham and Manor Green Primary School in Crawley.
Most participants are aged between 5-18, but a few people are a year or two older, and venues include Broadbridge Heath Leisure Centre, QEII School, Collyer's, Forest School and QM Studios. Most of the schools provide the facilities free of charge.
What makes Aiming High/Reaching Higher unique is that sessions are available not only for children and young people with additional needs, but also their friends and siblings.
Helen Crooks, AHDC Project Co-ordinator, said: "We've been running for about four years. It started when a group of parents who had children with a variety of disabilities or additional needs were finding that they could not
access after-school sports clubs.
"Some were going to mainstream schools but were turned away from school sports clubs because the schools could not provide the extra staffing the children would often require. When this happens, the children don't feel included in society.
"The parents came together to establish 'You Can Do It!' The group organised activities and did a terrific job, but because they were a parent-led group they struggled to take it to another level. Gradually, with the backing of local authorities, Aiming High took those sessions on.
"We are trying to evolve each activity to create a totally inclusive group where the children with disabilities or additional needs are skilled enough to integrate into the mainstream group. Our table tennis group started off as a disability session run alongside a mainstream session, in the same venue at the same time. Now we are able to integrate the two.
"It was never about keeping disability in its own, isolated bubble. It's about supporting the young people, allowing them to engage in activities that their mainstream siblings and friends can do, and provide them with access to sport and equal opportunities. But when they can move into the mainstream group, additional support staff will
be provided.
"I thought that integration may be problematic, and perhaps more of a concern for their parents of children who do not have special needs, but it has been very successful. One parent told me that she felt it helped her child
become more accepting of children with disabilities."
Despite the success of the Paralympics, funding continues to be a concern. Helen runs Reaching Higher under the umbrella of Horsham District Council's community development and Leisure Link programme, but funding comes from West Sussex County Council.
This covers highly experienced support workers who can support the children and young people we work with in
all aspects of their care. Helen said: "We have staff trained to handle any situation that may arise. The whole idea is that we give the parents a break, so we can take total responsibility for the children.
"We do charge for sessions, but we only charge what you would pay for a mainstream event. So it's only £3 or £4 per session, and with a Leisure Access Card it's cheaper still. There is a much greater level of staffing so it's never going to be an activity you can break even on, financially. But it would not be fair to put those costs on to
parents. You shouldn't pay more because you have a child with a disability."
What of that Paralympics legacy? Helen said the Games hasn't led to an influx in the number of participants, but it has put new sports in the spotlight. "We have a young girl who wants to do wheelchair athletics and there's already a waiting list for the new wheelchair basketball sessions. That has all come about due to the coverage those sports had in London.
"I think as a society we did the Paralympics very well and we've given ourselves a pat on the back, but it does take a lot of follow up work to keep that light burning."
If you wish to obtain a booking form or book a taster session, or for details on how businesses can support the sessions, please contact Helen Crooks on 07734 231052 or emailhelen.crooks@horsham.gov.uk.
AAH spoke to several people with a variety of disabilities, as well as support staff, about their experiences with Aiming High/Reaching Higher...
John Bird, 17: "My Nan put me forward for the Aiming High sessions about two years ago. As well as the drumming session at QM Studios I do the DJ session, and I've done video production too. I've always loved music – it means everything to me. I'm a drummer myself, and drumming with the samba group is different to the standard drum beats I am used to. I like the DJ sessions too as we mix tracks together and that gives me an insight into what it is like on a radio station as.
"I've performed with the Boom Tribe (a community samba band run on a Tuesday night, with close links to Aiming High sessions) and we've been to London, Brighton and the Isle of White too. We were given the chance to play at the Olympic Park last summer. Playing there gave me a great sense of achievement. We were playing to
thousands of people and they were stopping and filming us on their phones. I actually got to lead the band for a while which was a proud moment for me.
"It's a good friendly group here with fully qualified staff and everything runs smoothly. The projects are amazing and to be a part of it is very helpful to me."
Chloe Dicken, 15: "I like the drumming sessions as I like the beats! I've been coming here since September and I go to the trampoline sessions too. At trampoline I play 'Crack the Egg' and if you get cracked you are out. I have two friends at trampoline and they are both in Year 11 at school. They are lovely girls as they are so giggly. I have friends here at the drumming too as everyone is very nice, and it's not always like that at school. I want to do the DJ sessions too as I like music!"
Nicola Gardner, mum of Louis, 12: "Louis has Autism, and he makes a lot of noise but cannot talk. We attend the drumming session together and Louis also goes to a few other Aiming High activities. He also attends dance, athletics and trampoline sessions, where he has a support worker helping him.
"He learns just as much outside of school as he does at school, and it's important for him socially to come somewhere different. It's difficult to gauge how much he is enjoying an activity as he cannot tell me, but I can tell when he is distressed and unhappy. I can judge by his body language and mannerisms, but I know he likes music, so drumming is great for him. I speak to the support workers and they give me good feedback from the other activities.
"He seems to get a lot from all of the sessions, and they are important to me too as I have the chance to meet staff and other parents. I have a daughter too who does not have a disability, and it's good for her to have some
free time at home whilst Louis is out of the house."
Jamie Lee, 19: "I play table tennis and cricket with Aiming High as well as archery and I like them all. I've just scored 28 with is my highest score so far (in an archery game called 'Bow Poker' where playing cards are randomly placed on the target and your score depends on the cards you hit). I go to QE2 School in Horsham and these sessions are really good for me as I make new friends who are not at my school. I'm good at archery and I'm good at table tennis too.
"I like cricket and do both batting and bowling, but I like to bowl as I can do spin. I struggled with archery initially but now I've got the hang of it. I have been here for two terms, and it took a couple of weeks to learn properly. It was quite frustrating at the start as I was annoyed when I missed a shot. I said to my mum that I would like to join the tennis club as well, so that is next for me I hope!"
Amy Jode, Support Worker: "I work as a support worker for the drumming sessions and assist at the rebound therapy sessions too when I am needed. I really enjoy the role because you feel you are giving parents a break. The Friday group of drumming and DJ skills is especially nice as everyone socialises together and people of all abilities feel equal. They are all friends and there is a really good vibe to the group.
I'm also a member of the Boom Tribe. It's a community samba band that is funded separately and meets on a Tuesday, also at QM Studios. Some of Friday's group are involved in that too. Last year, we did some amazing work with the Boom Tribe and joined a big parade in Hackney. We were also in the Blue Touch Paper Carnival on the Isle of Wight. We hold a film workshop each Saturday too.
"When we did it last year, we gave each member of the group a camera to take home and film whatever they wanted before we showed them some basic editing techniques. What was great was that some of the people we work with will generally be non-verbal, but give them a camera and a whole story comes out. It was brilliant as it gave them an opportunity to communicate in a different way. This year, we are making a film which will be entered into an international film festival which is open to everyone."