Horsham Scottish Country Dancing Club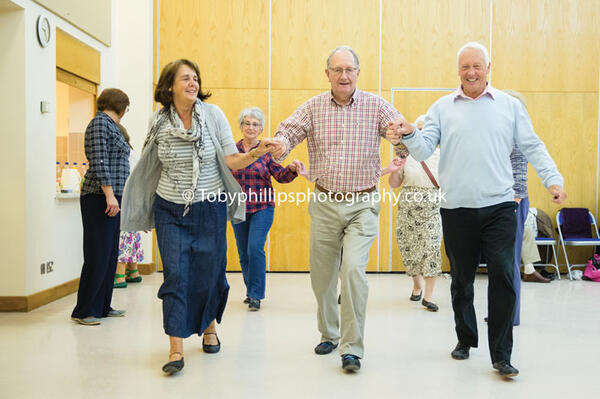 From a visual perspective, I was a touch disappointed by the Horsham Scottish Country Dancing Club. That's because all of my preconceptions were based on a brief scene from Four Weddings and a Funeral. So I was hoping to waltz into joyous, drunken cluster of tartan, shout 'It's bloody brigadoon!' and promptly collapse.
As it transpires, there's a more reserved, gentle pace to the club evenings, held on Monday evenings at the Millennium Hall in Roffey.
The club has been existence since 1951 when Miss Stubbs, a PE teacher at Horsham High School (where
Tanbridge Park is now) started a Scottish country dancing club. When Miss Stubbs retired, members including
Rosemary Goring, Joy Wholey and Peggy Dyke took it on.
But gradually the membership dwindled, to the point where they could no longer afford to pay the club pianist. It was saved when West Sussex County Council stepped in and the class became affiliated with Adult Education evening classes. New teacher Margaret Ogilvie taught for three nights a week and numbers continued to grow as the club moved its base to Trafalgar Primary School. Children's classes also proved popular.
But sadly, the children's classes have died out as tap and ballet schools became more appealing to young dancers. After Margaret left, a teacher from the Royal Scottish Country Dancing Society taught the Horsham group, but there came a point too where the club could no longer fund her teaching.
Despite its rollercoaster history, the club is still going strong. Now in Roffey, there is no teacher, but the club is run by three Master of Ceremonies (MCs). Tricia Bell (nee Goring), who was there when the club was founded back in 1951, alternates duties with husband and wife Chris and Lee Pratt.
Lee said: "Tricia and I took over in 1999, when Joan Woods, who ran the class, sadly died. If we hadn't taken over it would have just gone. Then a couple of years later Chris joined us as well as an MC. We have been at the Millennium Hall since 2002. It has a hard floor, which is unfortunate as we would prefer a sprung floor, but there are very few about in Horsham.
"We do follow a certain style. Many years ago, the Royal Scottish Country Dance Society was formed to preserve the dances for the future. They tried to pull on all the old manuscripts together. Scottish country dancing involves quite precise footwork, compared to English folk dancing. People often associate Scottish dancing to Ceilidh dancing, which is often performed at weddings, but we follow routines set out in these Scottish dancing manuals.
"We're often not what people expect."
There are many other Scottish country dancing clubs around Sussex, including Crawley, Rustington, Brighton, Eastbourne, Hurstpierpoint and Hasting. The clubs each host a special event on a saturday night, and members of other clubs are welcome to attend. This gives the dancers a good chance to dress up!
Lee said: "When it's your turn you send out a programme of dances to the other clubs and there are websites where you can learn all of the routines. We tend to dress up for those nights, and they are nice social occasions for the members."
AAH joined in the fun on a Monday night and chatted to a few members...
Chris Pratt: "Three of us share the MC duties on a three week cycle. When it's my turn I just pick which dances we are going to do on the night. There are a number of clubs throughout Sussex, and every Saturday a different club hosts a dance and welcomes members of other Scottish dancing clubs.
We don't go to very many, but we will go to the events organised by the clubs near to us. There is a Crawley dance coming up, and we will go along. There are about 12,000 Scottish dancing songs in existence, all catalogued by the Royal Scottish Country Dancing Society (RSCDS). New dances are created all the time; there are a lot of individuals who have been very prolific over the years. For for my sins I have written a new dance recently for one of our members' 90th birthday."
Tricia Bell: "I was still at school when I started Scottish dancing in 1951. Our PE teacher, Miss Stubbs, took the class at Horsham High School and after we left school it just carried on. If you enjoy it you should just keep going, because at my age if you stop I think it's harder to get going again after a break.
It's very energetic and I love dancing. Over the years, our membership has gone up and down, and we've had several different teachers. Nowadays we run the club ourselves as a social group. We don't ever profess to be dancing teachers, although we do go through step practice if people need it and want it.
We used to have an excellent teacher, Margaret Ogilvie, who used to be very particular and taught us to dance precisely. Now I take the classes with Chris and Lee and we are really just MCs. We do it to keep the club going. The membership is very steady at the moment and we are still one of the biggest clubs in Sussex.
We used to run a children's class, but it is not something they would normally want to carry on doing. There are more exciting things to do when you are 15-years-old!"
Janet Taylor: "When I was at school, we did all sorts of different dancing from countries all over the world, including Scotland. We had exercise every day at school. Now, that's not the case at school and young girls now like different kinds of dancing. We would like some younger members but people have such busy working lives now. They work long hours and if they have children they just can't come out in the evening.
After I married, I moved to Crawley when it was a new town. Some expats started a Scottish dacing club there so I joined. We moved to Horsham and so I came here instead. When we have our Christmas party, the men wear their kilts. The traditional outfit for the ladies is a white dress with a sash in clan colours, but we just tend to wear any dress with the sash.
I enjoy it; you have to learn movements and it involves a lot of footwork, so you're always having to think. I like the challenge of the harder dance routines. There are some very complicated routines."
Dick Gray: "I've been Scottish dancing since the 1970s. My wife had tried it and so I went along with her. When my wife died, at least I had something to do.
For a time I came here on a Monday night, went to another club on Thursdays and danced on Saturday evenings too. But I can't do that now as I'm 90. I do the slower dances and it's interesting light exercise. There is a huge range of dance routines. Our club will not do the same dances as clubs in other parts of the country, so when we go to events hosted by other clubs you have to do your homework and practice new routines.
The social side is as important as the dancing. Chris put together a new dance called 'Going Strong at 90' for my birthday. We do need some younger people as us older folk are dying off and need to be replaced. But seemingly, the younger people don't want to know. When I joined there were four sets of eight, and some extra dancers, but now there are two sets of eight."
Helen Skipp: "I joined with my husband, David. My daughter married a Scotsman, and wanted a Ceilidh dance during her wedding, so we thought we had better learn how to dance! We both came here to learn and it helped a lot, and we have been coming here ever since.
"There are some dances that are fairly easy and you can pick them up quickly, but some are more difficult. When we try a new dance we always walk through them first, before we dance to music. The experienced members are
always very helpful. They pull you about and put you in the right direction!
"Even if you are new to the group there will be dances that you can try straight away, but we have more challenging routines for those who have been here a long time. David has some Scottish ancestry in his family and he looked into his family history to see what Tartan he should buy for his kilt. He is entitled to wear the Keith clan tartan. He brings his kilt out on certain events such as the club's dance in May."