Horsham School of Dance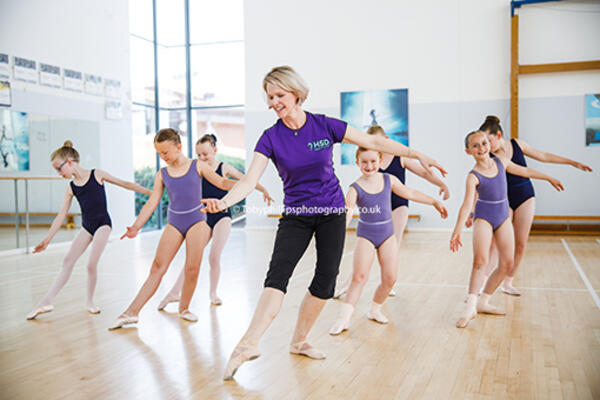 Published on 1st September 2019
Horsham School of Dance was founded back in 1925. But for only the fourth time in its longhistory, it has a new Principal.
At a time when young people are inspired by contemporary dance styles they've viewed on social media, it helps to have a Principal who can call on a wealth of experience. Annie Dunkley attended the Royal Ballet School before moving into the world of pop music as a member of Hot Gossip. She then went on a European tour with Bombalurina, which had a chart-topping hit with Itsy Bitsy Teeny Weeny Yellow Polka Dot Bikini. To Annie's horror, it's still on YouTube!
Annie describes in her own words her journey that led back to ballet, and tells how Horsham School of Dance inspires healthy, well-rounded young people...

Stuttering Start
My mum took me to see a production of Beatrix Potter by The Royal Ballet when I was little. Afterwards, I leapt around the garden like Jeremy Fisher, so she took me to a ballet class. I found it boring initially and didn't want to go back. But the teacher felt I had potential and I was gently encouraged to keep going.
I was fortunate to live close to a very good dance school, where experienced teachers guided me to a career in dance. At the age of 10, I was accepted by the Royal Ballet School. At the time, I was certain I wanted to be a ballerina. In my early years there, I was selected for many lead roles as I'd come from a good ballet school and was already well-trained. However, others caught up with me and as the years went by I was offered fewer roles. I came out low on confidence and by 18, wasn't so committed to a ballet career. Then, I met Arlene Phillips...

Hot Gossip
Arlene was in Hot Gossip and she liked ballet-trained dancers, as they were technically competent. So, I joined the group towards the tail end of its existence. It was strange coming from a ballet background and suddenly performing different styles of dance to accompany pop music. Arlene is a brilliant choreographer and everyone in her group had great ability. I was out of my comfort zone to begin with, but gradually, I found my feet.
I lived the life of a freelance dancer and had a great time, constantly auditioning for work. I filmed pop videos with the likes of Freddie Mercury (Made in Heaven), Whitney Houston (How Will I Know?) and was even an animated ghost in Queen's It's a Kind of Magic. I also danced in videos for Cliff Richard and Tina Turner songs and danced at the BRIT Awards and the Royal Variety Performance.

Novelty Hits
However, I'm best remembered for the Timmy Mallet song!He was approached to make a novelty record and they needed two dancers for the video, choreographed by Arlene. The other girl, Dawn Andrews, married Gary Barlow. Andrew Lloyd-Webber was behind the song's production. To my surprise, the song took off and reached No.1. We went on Top of the Pops and toured around Europe.
As Bombalurina, we had another hit (Seven Little Girls Sitting in the Back Seat) and went back on Top of the Pops for the Christmas edition. We had fun, travelling to Germany and France for TV appearances. We were picked up by limousine in Paris. A couple of years later, Lloyd-Webber was also behind Doctor Spin, releasing a remix of the Tetris theme tune. I was on Top of the Tops, pretending to play the keyboards while wearing a ridiculous costume of blocks. It was great fun, but it was freelance dancing. We gave the impression of being a band, but it's one quick job and then you're auditioning for the next one!

Back to Teaching
Later, I filmed a series of commercials for Peugeot, loosely based on Thelma & Louise, with an actress called Julie Graham. We were depicted driving around America in a 106. It was great work, as by then I was married and had a daughter, so commercials allowed me plenty of time to spend at home.
I started teaching a dance class at my daughter's primary school in Wimbledon. It wasn't sure I could teach as it requires different skills, but I became more comfortable with it and took teaching qualifications in ballet. Having not thought about ballet for years, I'd gone full circle and had a new appreciation for the skills involved. When you're young, you take for granted what a skill it is.
We moved to Horsham, where I wanted to continue developing as a teacher. So, I called local dance schools and asked if they needed help. Horsham School of Dance replied and I started teaching in 2011, developing a programme following the Royal Academy of Dance (RAD) syllabus. Simultaneously, I was teaching for the English National Ballet's outreach programme.
Modern Styles
Every other year, we stage a show at The Capitol, which in recent years has been my responsibility. We create a story for part of the show – The Lion, the Witch and the Wardrobe was perhaps our most successful – and the rest of the evening is a combination of tap, modern, ballet, street dance and musical theatre, showcasing the singing, dancing and acting talents of everyone in the school, from the ages of three to our teenage dancers.
Rosemary Walters recently retired as Principal, although she still runs a school in Dorking. I have now taken the reins as only the fourth Principal, and am looking to rejuvenate the school, becoming more involved in festivals, competitions and community events.
Contemporary dance was introduced recently and is already becoming popular. Television shows like The Greatest Dancer inspire children and social media shows the scope of contemporary dance. It can be emotive, occasionally dark and follows a narrative, which is why it's so popular with today's teenagers. Ballet is governed by technical rules, whereas contemporary dance bends the rules, making it more creative in that respect. While my focus is predominantly ballet, we have three other teachers that specialise in tap, modern, contemporary and musical theatre. So, as a school, we're well placed to guide young people, wherever their passion lies.

Dancing Careers
It's important to remember that 90% of our dancers will not want to pursue it as a career. They just want to enjoy themselves and benefit from good teaching. We see boys and girls of all abilities and want them all to be happy, well-rounded, self-disciplined and confident. That is what dance can do when it's taught properly and with empathy. It's not healthy to have an environment where only the best dancers matter.
We hold dancing exams, following the syllabus for the Imperial Society for the Teachers of Dance (ISTD) and the RAD. These run from pre-primary school exams to Grade 8 and vocational qualifications. We always encourage those students who want to pursue a career in dance, even though they must go beyond what we can offer. We're proud that one of our members has recently been accepted by The BRIT School and another has graduated from the Central School of Ballet. Even for those not planning a dance career, progression through the grades is still important.
We do have an adult class, which has been popular with parents. Most were nervous initially, as they thought they'd have to wear a leotard and tights! Learning as an adult is a very different skill, but they enjoy it. I have experience of running a Silver Swans class for people over 55, so I've seen how dance benefits people of all ages. Of course, you're not leaping all over the place at that age. There's gentle music and movement, but the classes still provide people with the freedom to move with music which is not only fun, but reduces stress levels and improves balance and physical fitness.
Our children see a lot of photos on Instagram, with dancers raising legs and doing countless spins. It is impressive at first glance, but often their technique is lacking. It's more like watching a circus act or a gymnast perform. Personally, I feel dance is about expressing emotion through movement of a narrative or music. It's not how high you can flick your legs or how many times you can spin around. It's about moving an audience by telling a story. That is a far more difficult skill...

INTERVIEW: BEN MORRIS
PHOTOS: TOBY PHILLIPS

Horsham School hosts an Open Day on Sunday 8 September at North Heath Hall, St Mark's Lane, Horsham, at 2 - 5pm. There will be taster sessions for modern, tap, musical theatre and a family ballet workshop. For more details visit www.horshamschoolofdance.co.uk