HORSHAM GREEN GYM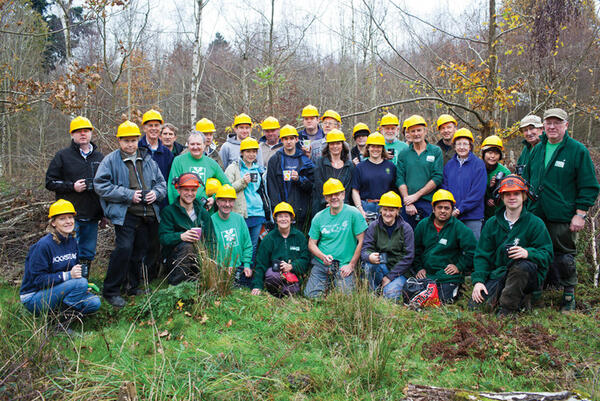 On a drizzly Tuesday morning, hidden behind trees well away from the public footpath around Warnham Nature Reserve, a team of volunteers are busy chopping down Silver Birch trees.
They come from all walks of life. Many are retired and want to give something back to the community whilst keeping in shape and enjoying the fresh air. Several are there on rehabilitation programmes following injury, while others are simply gardening fanatics who like to get stuck into a project.
Together, they form Horsham Green Gym (HGG), an independent, volunteer nature conservation group formed in 2005 by the British Trust for Conservation Volunteers (BTCV). There are about 70 such groups in the UK but the Horsham group is known to be one of the more successful
The Green Gym volunteers work alongside Horsham District Council's small team of Countryside Wardens, who manage sites including Owlbeech Woods, Southwater Country Park and Warnham Nature Reserve. The work of the volunteers has proved so important that the Green Gym has now needed to establish a second group in order to carry out work at various sites in the district.
So in addition to the Tuesday morning meeting, a second Green gym group meets on Thursday mornings from October to March. Recent tasks have included stream clearance, rhododendron, holly and silver birch clearance and reducing the numbers of Alder trees which were clogging up a stream. All tasks are related to nature conservation but some, such as bench installations and creating a new path over muddy areas in Leechpool and Owlbeech Woods, for instance, help others enjoy nature.
One of the group's main tasks has been helping to return part of Owlbeech Wood to heathland by pulling up young Silver Birch which smothers other plants if left unchecked. By opening up the heathland, rare species such as Nightjar, Woodlark, Adder and Green Tiger Beetle have been attracted back to the area. Horsham Green Gym currently has about 50 members and membership is free and open to all ages.
For more details about the group visit www.horshamgreengym.org.uk