50+ GROUP: A WAY OF LIFE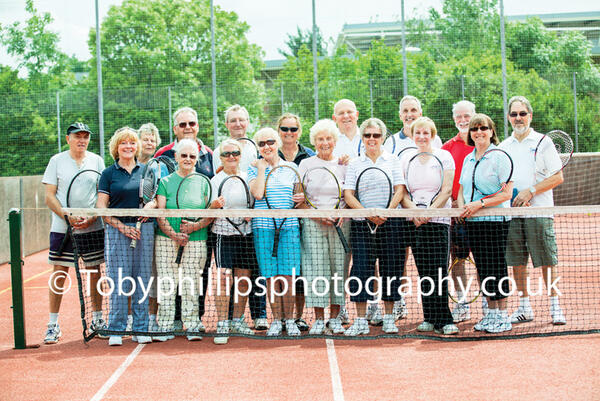 Paul Kornycky, 50+ Member
I've been coming to 50+ for about ten years now. We meet at Broadbridge Heath Leisure Centre every Thursday and you only pay when you attend. We can do aerobics, yoga, tap dancing, archery, badminton, trampolining, table tennis, Pilates, Tai Chi, tennis, bowls and you can use the gym too. Membership is completely free. If you come along for a half day it's £3.80 and if you do a full day (9am-4pm) then it costs £5.25.
Fred Wicking, Founder Member
We've been coming here for 21 years, since it started. (My wife) Jeany was one of the youngest back then – she was just a schoolgirl! I'm 85 years old, and Jeany is 75. It's so much more than just a club. We go walking
together, we've been to see shows, and in the summer we sometimes go to a country pub afterwards.
Stephen Allen, Archery Coach
I was asked some years ago to come along to run the archery sessions. That's not what I do full time – I actually restore antique clocks. The archery is very popular and we've had as many as 17 people turn out for the 50+ session. It's a huge advantage to be able to shoot 30m indoors. Venues of this size are extremely rare. As far as I know it's the only one in the south of England.
Liz Hatcher
We have a core group of about 20 for the advanced tennis, but there are only 16 spaces so they don't all come every week. There is a changeover at 11am, so we have two groups as the tennis sessions have become so popular. I could do with five courts so I can accommodate everyone. There's more demand for it now than ever before.
Veronica Nash, 50+ Member
I come here to play tennis and I do aerobics afterwards. After that I stay for a cup of tea and a chat and then do the yoga. I don't drive so I have to use public transport or ask my husband to drive me. It works out well as my granddaughter uses the trampoline facilities here on a Thursday so I get to see her too. I also do classes at Holbrook on a Monday, and on a Tuesday I go tenpin bowling. It was through joining the 50+ group that I heard about these other clubs.
Tim Harrison, 50+ Member
About three years ago (my wife) Ann had a brain tumour and went to Hurstwood Park Neurological Centre in Haywards Heath. She was there and then at the Princess Royal Hospital for about five months. She came home to Slinfold but was wheelchair bound so went to the rehabilitation centre at Kerwin Court. Ann was there for six months and Kerwin Court brings people here during the week – they are in the gym as we speak.
Ann Harrison, 50+ Member
I didn't think I would ever walk again and I was only in my early 60s. After the operation I was in a coma for about ten days. When I was doing the Tai Chi I found that there were people with Parkinson's disease, arthritis, and all sorts of reasons for being here. We came in twice a week and after six months I could walk. As well as using the gym, I have started Tai Chi and Tim plays table tennis.
Paul Kornycky
Initially it was my wife Sue who was referred here for back problems by her GP. She came along a couple of times to the gym and told me how good it was and I managed to persuade the GP to refer me for my bad back too! The idea was that you feel the benefit and after the programme was completed you would want to carry it on yourself.
Fred Wicking
I've been playing tennis here for many years. I broke my leg on court two - I jumped for a smash and it went as I landed. I was 75 then but I came back and it's never bothered me since. I've also snapped the quadriceps muscle in my other leg on the same court. I'll stop when I'm 95!
Stephen Allen
Archery is one of those sports where there is no age limit. You can do it if you're aged eight or eighty. I have a few people here that shoot long bow who are still going into their eighties. The 20m distance is a good starter point. Most of the people who take part in the 50+ sessions have all got their own equipment but I do have bows here for
beginners and people are welcome to come along and try. One of my best ever pupils was one of the ladies who was in the tap dancing group. She thought she would try archery, and within a year she won a medal in the county championships. She was my star pupil!
Veronica Nash
I'd never played tennis before I came here at the age of 57. I've just enjoyed it so much and I even won one of the championships. One of our ladies, Jean Stuart, turned 80 so we started a competition to celebrate. It had been running a few years and lo and behold I won it! All I had done before I came here was hit a ball on the beach.
Paul Kornycky
The 50+ group was ideal for (Sue and I) because you could use the gym and the other facilities, but you also have the social benefits. You meet people and it becomes an enjoyable weekly day out. In the last six months, with all the activities and the campaign (to save the leisure centre) going on, my wife and I have made more friends than we had done in the previous six years.
Jeany Wicking
For me, coming here is the highlight of the week. Nobody takes appointments on a Thursday. If we have a medical appointment on that day we change it!
Paul Kornycky
We initially came along just for the afternoon but increasingly we're coming along in the morning and spending the whole day here. I attended the Tai Chi class for the first time today and enjoyed it so I think I'll carry that on. I do an hour in the gym, then aerobics, and I've started to play badminton which I haven't played for 20 years. I remember when I first came here I was doing a minute or two on the treadmill before getting terrible cramps in my legs. Now I can do it for ten or fifteen minutes.
Fred Wicking
For us it's a nine to five day. We have got friends here from Partridge Green, Billingshurst, Pulborough, Ashington, Steyning, Henfield, Cranleigh, Ockley – they are coming here rather than using the other centres that we're supposed to go to if this leisure centre were to close.
Stephen Allen
When the hall (the indoor area known as The Tube) is all clear, we can use it as a practice venue and set 50m targets, but the sessions sometimes overlap with trampolining or table tennis. Some very good competitors have used the facility during the winter to practice, including a junior who made it in to the Great Britain squad and two members of the Paralympic squad. It would be a tragic loss to lose Broadbridge Heath Leisure Centre. We could manage with a 20 yard venue but it would be an anti-climax.
Paul Kornycky
(The Broadbridge Heath Leisure Centre Joint User Group) have put forward the 'people's option' as a reasonable proposal for a district sports facility and that is what we are campaigning for. The council's proposal is for a facility that does little more than cater for the new housing that is being built. If we had a new leisure centre that has been proposed in one of the four options that the council has put forward then the 50+ group would fold. It would be a real shame if it were to die.
Liz Hatcher
We still get new members - it's busier than it's ever been and here they are talking about closing it. There are people who need this club – some have lost husbands and wives – and they can come here for the whole day, meet people and socialise. They love it. It is like a family here and it's unique to Horsham. I speak to coaches working in different areas and they don't have anything else like this.
Veronica Nash
I live in Billingshurst and the (village leisure centre) has plenty to offer but not a club like this. It is daytime activities that we need. It keeps us young!
Fred Wicking
(The Council) keep on saying that we can go to Storrington for one sport, Southwater for another and so on. But you can't do that. Many are widows or widowers that are living on the state pension and cannot afford to travel around all the time. When we finish tennis, we have a coffee, a sandwich and a chat here – dozens of us – and then we go and play badminton and enjoy that. It's not just a sports club - it's a way of life.
Tim Harrison
There's a great social side to the 50+ group. We've got to know quite a few new people. What they are proposing is going to destroy that. I can't believe what the council has done and how they've just tried to close it. Last November, the plan was 'knock it down, don't replace it and pocket the £20million'. I'm disgusted by what they've done.
Ann Harrison
I have benefited a lot from it. I would dread to think how my rehabilitation would have been without the 50+ group – it's been wonderful! It's good for you mentally and physically, and it's been life changing for me.