Horsham's Town Twinning Story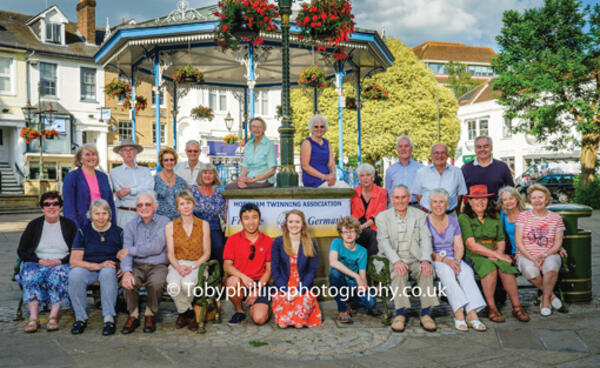 At St Mary's Church in Horsham, there is a framed picture of a brick outhouse on the wall of the Gentlemen's bathroom. Underneath the picture is the caption 'Twinned with a toilet in Buyaga, Burundi.'
Whatever the intended impact is of this charitable twinning idea, I'm afraid it may have been lost on me, as personally I found the idea of toilet twinning amusing. I wondered if the Burundi toilet had a picture of the church's back-to-wall ceramic unit, with sink and scented hand soap, within its own walls. Perhaps not, but then that's not the point!
Anyway, unless you're a regular church goer or happened to have visited St Mary's Church for a feature article, it's unlikely you'll know about Horsham's link with a toilet pan in the small African republic.
But you may well know about Horsham's more significant twinning links with the towns of St-Maixent-l'Ecole in France and Lage in Germany.
The twinning is marked by a small sign at gateways into the town centre, and there's also a plaque near to the Carfax bandstand. But far more significant is the active links maintained with people in our twin towns by the members of the Horsham District Twinning Association.
We sat down with some of the 97-strong membership of the association...
Ray Welton: When I played rugby for Horsham in the late 1970s and early 1980s, we would go to St-Maixent on tour every other year. The first tour had been in 1974. The idea was that all of the players stayed with the families of the French team, and we built up friendships, some of which still exist today.
Jan Taylor: The original Town Twinning Charter was signed in 1982. When it came to establishing the twin town, Horsham District Council held a public meeting in the Town Hall as there was so much interest. The intention was that there would be a discussion and vote as to where Horsham should twin with. Horsham Rugby Club turned up with its entire team and supporters, and so St-Maixent won. This was a very good thing though, as the links were
already in place, so our association very much evolved from the rugby club's links.
Roy Bayliss: The first contact with the German town of Lage was through the football team at Brighton Road Baptist Church. The Twinning Charter was signed in 1985. The late Henry Sheldon was one of the founder members of the Twinning with the German town, and was awarded the Silver Medal of the Town of Lage.
Oliver Farley: When it comes to twinning, towns usually have an established link of some kind, be it a shared industry or in our case a sporting association. It's something of a secret, but in 1995 we did link with a town called Lerici in northern Italy. It is the nearest town to the port where Shelley drowned. However, we do not have an official Twinning Charter with Lerici.
Roy: A party from Lerici actually came over for the opening of The Shelley Fountain (indeed, the mayor of the Italian town described the sculpture as 'very brave'). However, all of us involved in the Twinning Association are volunteers running on behalf of the council, at no expense to the taxpayer. The Chairman of Horsham District Council is our President, and the council must decide on a Twinning. In the case of Lerici, the council decided not to expand on the link.
Gaby Lothian: The Twinning Association has 97 members, with a separate committee for both the French and German connections. Every other year we will visit either St-Maixent or Lage. We usually charter a coach or two and travel to our twin town where we are entertained by our German or French hosts. You can either stay with a host, or you can at your own expense choose to stay in a hotel. We stay for three days, and there will be a programme provided by the host town. Often this involves us visiting nearby places off the beaten tourist trail. It's not the 'Kiss Me Quick' hats of the tourist hotspots! The following year, people from our twin town come to us and we provide a similar programme for them.
Jan: Whilst a handful of people opt for a hotel, the majority like to welcome people into our homes as we feel that is an important part of Twinning.
Gaby: I can tell you that unless you stay with a family in a town, you don't know what really makes them tick. It is really an eye opener to hear what they think.
Oliver: We try to share the common problems we have. The last time we went to St-Maixent we were in the middle of a wretched recession, and it was interesting to see how a rural French town had been affected in the same way as Horsham by these bigger economic forces. The problems were shared, and it's interesting to see how these challenges are faced in a different way in a different country.
Roy: I'm pleased to say that there is quite a bit of interest in Horsham from both towns. The people from Lage and St-Maixent both like to come here and take a look around town. We have taken them on excursions and they have said 'That was nice, but let's go back and have a walk around the shops in Horsham.'
Oliver: St-Maixent is a very pretty town in western France. It dates back to the 5th Century and is well known for its tourist attractions, including its magnificent Abbey and Saturday market. It looks as though the countryside surrounding it is imitating an impressionist painting.
Jan: The town is also notable in that it's the biggest training centre for non –commissioned officers in France. So it is bringing in lots of military families, and when they have their town festival the military is usually well
represented.
Oliver: Lage is a smaller town than Horsham and has grown at a slower rate. It is very much an old medieval town that has managed to maintain a lot of its old buildings. It's also known as Zuckerstadt, or Sugartown, as it is the main provider of sugar in Germany. It has a lovely centre, with plenty of traditional pubs where you can enjoy a local beer. It is like the Carfax is some ways, with an old church and a fantastic market.
Jan: They have a very big abattoir in Lage. The pig goes in one end and German sausage comes out the other!
Oliver: Both towns have extremely nice people, very hospitable and embarrassingly generous. If you speak fluent language it does help, but it's a fantastic opportunity to develop your language skills. The Germans in particular are always keen to speak English when they visit us.
Roy: As well as our members, a number of local groups, clubs and associations are involved in twinning. We took (Horsham choir) The Pleasure Singers with us to France last year and they were very well received. The
Horsham Joggers have links with Lage and they have been out to a running event in the German town. A group of runners from Lage then came over here for the Barns Green Half Marathon.
Oliver: We see our role as facilitating connections, linking people together and let them get on with it to a degree. Things flow better that way.
Gaby: Because there can be big gaps between visits, we run a programme of events for our Horsham members. At Christmas, we have a carol concert in the Unitarian Church and sing in French, German and English. It started about six years ago and now we see a packed church and everyone has a fantastic e evening, followed of course by mulled wine!
Roy: We are also trying to involve more young people in Twinning. Kingslea School in Horsham has links with a school in Lage, and next year the German school is coming over to visit. We also run a French and German language competition for all of the secondary schools in the area, which is extremely successful.
Oliver: Many children have an interest in learning a language, so we receive a lot of entries. This is encouraging, and we hope to expand and develop this idea in the future as it's important that young people embrace the links we have in place with our twin towns.
If you are interested in becoming a member, contact membership secretary Janet Saunders at dennissaunders888@btinternet.com