Lights and Bushels Theatre Company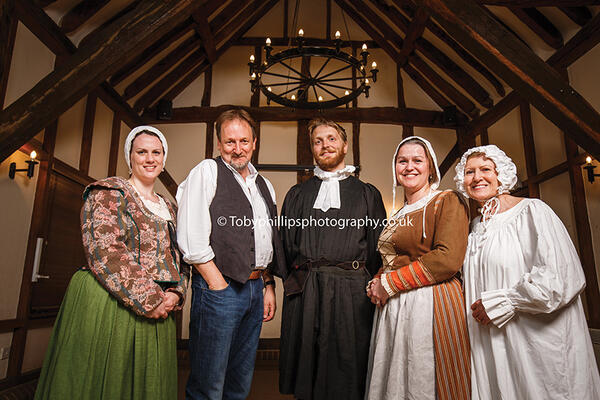 Published on 1st July 2016
Lights & Bushels is not interested in big, dramatic productions of Gilbert & Sullivan standards or West End smash hits.
Instead, the small Horsham theatre company enjoy writing original work, perhaps for a more discerning audience. Currently, the cast is busy rehearsing for the company's third play, My Second Best Bed, written by Barry Syder and based around a single line from Shakespeare's last will and testament.
As well as writing and performing their own plays, Lights & Bushels is inviting all local writers to send in their scripts and – perhaps – help them see it performed. We met Barry and fellow founder member Kathryn Attwood to find out more…
How did Lights & Bushels come about?
Barry: Kathryn and I have both been involved with other local societies. I was chairman of HAODS for a time and Kathryn has been a member of Guildburys Theatre Company. Individually, we reached a point where we didn't want to keep doing the same shows that everybody else is doing. We wanted to bring new writing to the stage, so we set up Lights & Bushels.
Are you more of a traditional theatre company?
Barry: There are not many Companies making 'serious' productions anymore. That may sound pompous, but most amateur dramatic groups tend to play it safe because they need to put bums on seats. They produce surefire winners – hit musicals or Agatha Christie plays – in order to generate revenue. There's nothing wrong with that, but there are people who want an alternative.
Which plays have you performed so far?
Barry: We're currently rehearsing for our third play, a One Act called 'My Second Best Bed.' It'll be performed during the inaugural Horsham Festival in July. So far, every production has been entirely new, and we like to perform at different venues around Horsham too.
What inspired the idea for your first play?
Kathryn: I had written an original play called The Locked Room, which was performed by The Guildburys. Barry had adapted Pride and Prejudice for HAODS, so we were already keen writers of theatre. I had written a script for Lady Susan and at the same time Barry was looking to stage a different kind of production here in Horsham, so the timing was perfect.
Tell us about Lady Susan...
Kathryn: It is a Jane Austen novel that is not very well known. I don't think there are any theatre adaptations out there and I've never seen it performed for television. Coincidently though, there is a recently released film called Love and Friendship, based on the Lady Susan story. We performed our adaptation at Arun House, which is a beautiful Georgian-fronted property in Horsham.
It was an outdoor production?
Barry: Yes, so the house made for a beautiful setting as the audience could sit on the lawn, enjoy a picnic. We had a 12-strong cast for Lady Susan, so the atmosphere was excellent. We ran the play on four nights over a two-week period in the summer, and we were very fortunate to have beautiful weather throughout.
Where do you find actors?
Kathryn: As was the case in Shakespeare's day, we use local actors who are often associated with other theatre groups or dramatic societies. In this new play, we have Emily Hale as Judith, Shakespeare's youngest daughter. Emily has appeared in productions by HAODS, Storrington Players and Wick Theatre Company. The curate Tom Hounsham has acted with The Haven Heavenlies and Cuckfield Dramatic Society, whilst Gill Sutton, who plays Anne Hathaway, was in the Pride and Prejudice production which Barry adapted for HAODS.
Have your plays been well received by the public?
Kathryn: We've had great feedback from audiences, which has been nice. Lady Susan sold out even before the first show. That demonstrates that there is a demand for different forms of theatre in Horsham. We've also been encouraged by recognition from NODA (National Operatic and Dramatic Association). Lady Susan was nominated for Best New Show and Best Dramatic Entertainment at the NODA Awards.
And Barry wrote the group's second production?
Barry: I was browsing the bookshelves in Waterstones when I came across The Chimes, by Charles Dickens. I had never heard of it, so I read the blurb and it sounded interesting. Immediately, I thought there was a play idea within it. So I read the book, and it was crying out to be adapted, as it's very theatrical in its writing.
But not very well known?
Barry: It's a book most people don't know about. It was published in 1844, the year after A Christmas Carol. At the time, The Chimes was really popular and sold well, but it was A Christmas Carol that became a classic whilst The Chimes was largely forgotten.
When was this play performed?
Kathryn: The Chimes is classed as one of Dickens' Christmas books, but it's actually about New Year and has a winter theme, so we performed it in February at The Barn in The Causeway. Following on from our sell-out run of Lady Susan, we sold out the Friday and Saturday performances, helped by a large number of local bell ringers.
What was their interest?
Barry: The Chimes is centred around a haunted belfry. The bell ringers at St Mary's Church were very helpful as they allowed us to record the church bells to use in the play. As well as that, many of them came along to the show. There was a lot of Horsham connections in that production.
Now the third Lights and Bushels production has a Shakespearean theme?
Barry: It's a One Act play called My Second Best Bed. So little is known of Shakespeare's life, and facts are few and far between. But we know that in his last will and testament, Shakespeare left his wife Anne Hathaway their 'second best bed.' It's normally assumed that this is a punishment for her adultery. But I read a poem by Caroline Duffy, the Poet Laureate, which offered a fresh interpretation of events. After reading different perspectives on Shakespeare's relationship with his wife, I thought that there was scope for a play.
So you're interpreting it as a more playful, witty remark for his wife?
Barry: I don't want to give too much away, but we explore the possibility that the remark of leaving his second best bed to his wife in his will is a positive gesture.
This play forms part of the Horsham Festival?
Kathryn: We'll be performing the play on 15 – 16 July at The Park Barn as part of the Horsham Festival. A student of violinist Andrew Bernardi, who is involved with the festival's organisation, is part of a string quartet before the play too. They'll be playing music from the Shakespearean period, so it'll be a great evening.
Do Lights and Bushels specialise in adapting unknown stories by well-known authors?
Kathryn: It is not intentional. It's just the way things have worked out. We are open to doing all kinds of original works and would very much like to encourage other writers to submit their work. A play is not a play until it has been performed to an audience and we want to make that happen for people. That is why we called ourselves Lights and Bushels. Don't hide your light under a bushel; get your play out there!
Which is difficult for writers, I suppose?
Kathryn: It is hard for people to get a script published, particularly if it's a play that has never been performed. Even if a play has been performed at an amateur level, it can help. You see things that do and don't work on stage and they're not necessarily the things you expect. So writers need a friendly group to help put a script out there, and that is what Lights and Bushels intends to be.