Extinction Rebellion in Horsham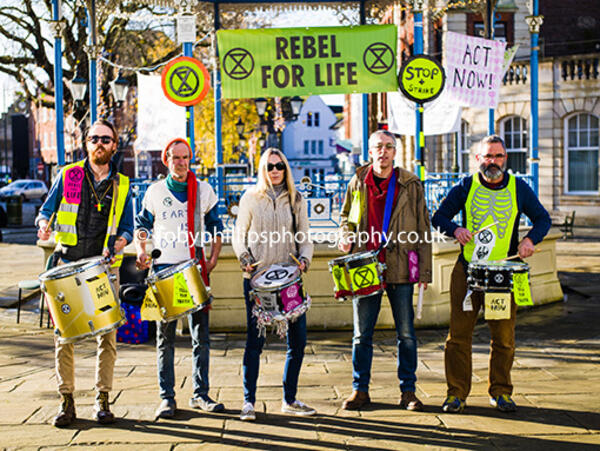 Published on 1st January 2020
This time last year, Extinction Rebellion (XR) was a determined if little known contingent of climate change campaigners. A year later, there are over 600 branches scattered across the world, including Horsham. Its cause is one that's virtually universally acknowledged as vital, yet XR divides public opinion.
For some, it shines a light on an "unprecedented global emergency"and applies pressure on apathetic governments. For others, its actions too often have a negative impact on ordinary people. This was most famously evident in October 2019, when commuters turned on XR protesters disrupting the Underground.However, members of Horsham XR continue to fight for positive change in climate policy.
AAH spoke to several members and other climate change activists as they gathered in the town at the end of November, days before the General Election. We started by interviewing Horsham XR figurehead Luke Berry...

How was Horsham Extinction Rebellion born?
We initially formed a network of people from within Sussex Green Living and the South-East Climate Alliance (SECA), both of which have provided a lot of support. From a group of about five people, we quickly grew as XR is good at linking people interested in joining.
When was the local group formed?
The Horsham branch was formed in late summer. The movement continues to grow around the world and at Horsham XR we now have about 150 people on the mailing list and a similar number in our Facebook group. At least 50 people attend each meeting.
Why is XR popular?
Because people car about climate change. A recent poll revealed over 80% of the British public is concerned about climate change (Ipsos MORI, August 2019) so it's a massive issue. Speaking for myself, I saw that Extinction Rebellion was achieving results that haven't been seen in the last 30 years of activism. That success inspired me and many others to get involved.
Why has XR had more impact than other campaign groups?
History has taught us that governments don't listen to petitions and ignore marches until they blow over. But peaceful, non-nonviolent acts of civil disobedience work. We have seen it with the Suffragettes, the American Civil Rights Movement and with Gandhi's Non-Violent Resistance (NVR) in India. It gets people asking questions.
What is XR looking to achieve?
Extinction Rebellion wants action from governments. If everyone who cares about climate change decided immediately to make positive environmental choices in every aspect of life, you would still see planes flying overhead and oil drilling. The actions of individuals are a drop in the ocean. What we is trying to do is trigger a conversation between a grassroots movement, world governments and international corporations.
Can you succeed?
Human nature being what it is, it'll take time. I am comforted by studies that show that the civil action of 3.5% of the population makes change inevitable. In this country, that's about two and a half million people. I hope we can reach that figure before it's too late.
Are young people more willing to engage?
There has been a march through Horsham, as part of a global climate strike (20 September 2019). Many children took part in that. XR Horsham is also engaged with schools as we want to support teachers and parents willing to empower young people. Allowing them to follow the example of people like (Swedish activist) Greta Thunberg helps, as pressure from children can be powerful.
The XR protests in London were initially very effective...
After the protests last April, there was a big increase in people signing up to XR. As a group, we have three key aims, the first of which was to demand that the government declare a state of climate emergency (the other two are for a legally-binding policy to reduce carbon emissions to net zero by 2025 and for a Citizen's Assembly to oversee this work - Ed). Even within XR, there's not total consensus on the demands. Some think it's a case of 'aim for the stars and we might reach the moon'. However, we all recognise it's a step in the right direction.The government did declare a state of emergency…Which was a success for XR, but it soon became apparent that it was a token gesture. It wasn't acted upon. So, having shut down most of London in April, demonstrations later in the year focused on Westminster, targeting the government. We didn't want to disrupt people's lives too much but when that happens, it's with the aim of raising awareness.
But disrupting the public isn't going to win people over, is it?
There have been actions taken by individuals that XR did not sanction. Even Roger Hallam, co-founder of XR, was arrested at Heathrow Airport for flying a drone. His actions were not sanctioned as it was deemed too disruptive and hurt ordinary people. Sometimes, Extinction Rebellion can be more political than political parties! Members are often sceptical of actions as we're all engaged in a critical way. However, we are united by a shared vision for change. If that vision doesn't work for you, then you can walk away. There may come a day when I do that, but right now, I see XR as the only hope.
How do people respond to the group in Horsham?
We have lots of people say they're supportive and engage with us. Others mutter when you hand them a leaflet as views are polarised. Some have pre-conceived ideas of what kind of people we are. They think we haven't got jobs, but we all work hard and try to fit this into our lives wherever possible.
For details about Horsham XR group meetings, 'like' the Facebook Page (xrHorsham) or follow the group on Twitter @XRHorsham