THE OLIVE TREE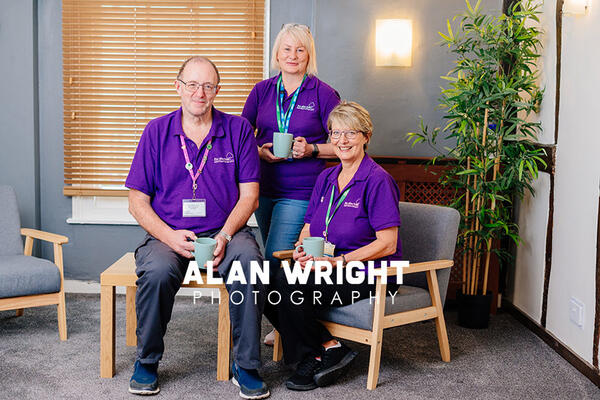 Published 1st November 2021
Olive Tree Cancer Support Centre has played a vital role in Crawley's community for more than 30 years. Now, the centre has expanded into Horsham, supporting all those affected by cancer. With the charity having recently received the Queen's Award for Voluntary Service, AAH met Marilyn Drury (Information and Support Centre Manager), Terrie Stephens (Care Support Worker), Sarah Dover-McCarthy (founder of Total Therapy Studios, which supports the Olive Tree), Kerry Cameron (Holistic Therapist) and volunteers Kevin Murdock and Sarah Brocklehurst, both volunteers in remission.

Marilyn: The Olive Tree was founded by Heather Goddard, a breast cancer patient, more than 30 years ago. Heather was a Horsham resident who was involved in a pilot study at the Bristol Cancer Help Centre, which pioneered alternative and complementary therapies for cancer patients. Upon returning to Horsham, Heather formed a group that embraced the same concepts. It was called Crawley Cancer Contact, even though it was based at her house. After two years, it applied for charitable status, became the Olive Tree and has been based within the grounds of Crawley Hospital ever since.
Marilyn: In recent years, it has become apparent that there's a similar need in Horsham. The town has a slightly older age demographic without an abundance of cancer support services. We approached Macmillan, proposing to offer what we do in Crawley in Horsham too and their support has been important.
Terrie: I am a Cancer Support Worker and my job at the Olive Tree is funded by Macmillan Cancer Support. Because of this, people sometimes assume we receive all our funding from Macmillan. But that isn't the case. The Olive Tree is an independent charity that relies on donations, fundraising, grants and corporate support. However, Macmillan's support is invaluable as they fund volunteer training, as well as my role here for three years.
Marilyn: Our services break down to three main areas. The first is emotional support, provided through our counsellors. We then have complementary therapies, an addition to chemotherapy and radiotherapy treatments patients receive through the NHS. These include massage, reflexology, acupuncture, hypnotherapy and yoga and can be vital to a person's wellbeing and recovery. We also offer general information that can help. Rather than clinical and medical material provided by the NHS, this could include pension advice or how patients can get travel insurance.
Terrie: I first got involved with cancer care after my nephew was diagnosed with leukaemia when he was six. Sadly, he passed away and I had some counselling. My sister has secondary breast cancer and uses the Olive Tree too, so I volunteered to help in any way I can. Once you're involved, you want to do more, as you can see the difference it makes.

Kevin: I was diagnosed with cancer five years ago and underwent 18 months of chemotherapy. It was scary, as I didn't know what to do and was bombarded with things to read. I was referred to the Olive Tree and the support they gave helped a lot during a very emotional time. When you hear the C word for the first time, it knocks you off your feet and chemotherapy takes over your life. So just to talk to people who've been there and done it was important to my recovery. That's why I volunteer now. Two days a week, I do whatever needs to be done, whether it's talking to patients to offer reassurance, or just making the tea. It's my way of giving something back.
Sarah B: My father-in-law died of cancer in 2003, followed two years later by my mother-in-law. Then in 2007 my father had cancer and passed away. So when I was diagnosed with breast cancer in 2010, I thought that was it; I was going to die. Like everybody in that situation, I feltoverwhelmed. I was given lots of information and among it all was a leaflet on the Olive Tree. I spoke to a volunteer and it was good just to be able to talk and get things off my chest. It can be hard speaking to family and friends about cancer, so it's good to speak to someone who's been through it.
Terrie: As a support care worker, I speak to patients one-to-one, which can be very emotional. Some come to us with a very positive outlook, determined to beat cancer. Others don't know who to turn to for help. As well as counselling, we offer hypnotherapy and other complementary therapies run by volunteers, some of whom have worked with the Olive Tree for years.

Marilyn: We were looking for our own space in Horsham for therapy sessions. We came close to a deal but it fell through. Then out of the blue we were called by Sarah and Dom at Total Therapy Studios, offering exactly what we wanted! We've been working together since June and they've been a joy to work with.
Sarah D-M: I founded Total Therapy in 1999 and moved the business to Denne Parade in 2012. Dom joined the business six years ago, when it became too big for me to manage alone. Having started with physiotherapy classes, we expanded to offer holistic treatments including reflexology and acupuncture. We found a second premises in the Carfax, which would allow us to separate strength and conditioning classes from meditation classes. We were due to open in April 2020, but COVID struck. It has been challenging because a lot of our therapists had to seek employment elsewhere. We're building back up now, but for a long time we were restricted in terms of what we were allowed to do. So I contacted the Olive Tree and it has blossomed into a wonderful partnership. Several of our therapists volunteer for them, including yoga instructor Annja. The Olive Tree are here on Tuesdays and Thursdays and we're already talking about doing more in future.
Kerry: I'm a holistic therapist by occupation and provide voluntary massage and facial treatments for the Olive Tree. I'm hoping to offer foot massages and maybe nail cutting soon as well. One of my best friends died of cancer when I was 35 and I looked after her for five years. I had to get myself in a good place and find volunteering helps me. It feels good to give back something back.
Sarah B: What's nice is that people find different ways of helping the charity. I'm now 11 years in remission and having seen how the Olive Tree transforms lives, I've used my experience to help in any way I can. I've helped organise fundraising events, contributed to the redesign of the website and helped build a presence on social media as we try to spread word through the Horsham District about what we offer, not just for cancer patients by also their family, carers, supporters and even close friends and colleagues. It's important that we work closely with GP surgeries too.
Marilyn: Everyone knows GPs are frantically busy, but we can help ease the burden. When people are diagnosed with cancer, they move from the primary care sector (where they see their GP) to the secondary sector (where they go to hospital). When they no longer require acute care, it can be difficult for patients to access the help and support they need, as they no longer have that close connection to their GP. They've been under the protective care of the NHS and are suddenly left thinking, "Who is looking out for me now?" When they have a problem, they go to their GP, which often isn't necessary. That's where the Olive Tree can help.
Terrie: When people finish chemotherapy, they do experience different side effects and every little thing can make you think that the cancer has returned. Although we're not medical professionals and will refer people straight away if necessary, in many instances can provide reassurances and prevent the need to see a doctor.
Kevin: I'm now in remission, but what I wasn't told about by medical professionals is the side effects. I suffer from peripheral neuropathy in my feet, to the extent that it sometimes feels like I'm walking on Lego bricks. The Olive Tree provides me with reflexology treatments which relieves a lot of the pain.
Kerry: Coming here on Thursdays is a highlight of my week. I see it as a privilege to offer therapy and like building a rapport with patients. You end up chatting a lot, so there's an element of emotional support too. Although I don't understand cancer from a medical point of view, I can share my own experiences of caring for someone and that can help. It's a lovely environment too, as they're a great team. Kevin comes in with a cup of tea every hour and they're all a pleasure to work with!

INTERVIEWS: BEN MORRIS
PHOTOS: ALAN WRIGHT
Further information: www.olivetreecancersupport.org.uk
01293 534465