Horsham In Bloom: Going for Gold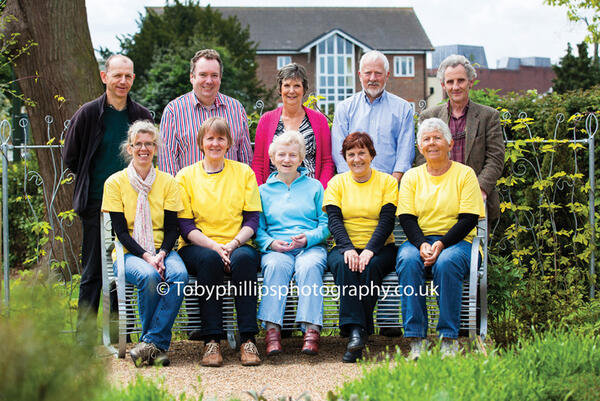 We've read so many newspaper articles over so many years about Horsham in Bloom's accolades that it feels as though the group is as old as the town itself. It's as though the group was founded by the town's very first inhabitant – a man who swiftly invented the hanging basket.
When King Eadred's land charter made the first reference to Horsham in AD 947, it must surely have noted the
stunning floral displays lining the gateways of the town centre. And then during The Blitz, there was presumably great concern for the gold award winning turnips at the Bennetts Road allotments.
But this is not so. Horsham in Bloom was only formed in 1995, but in just 17 years has made a huge contribution to the town.Not only is the group responsible for brightening up Horsham with floral displays and encouraging gardening creativity for both individuals and businesses with its annual competitions, but it has also brought national recognition to the town by winning a Gold Award in the 2007 Britain in Bloom competition.
In addition, the Horsham in Bloom committee were the driving force behind two of the town's most popular attractions – the dragon's maze in Horsham Park, and the colourful and educational Human Nature Garden, which opened in the park a year ago.
Horsham in Bloom is an independent, not-for-profit charity organisation that works closely with Horsham District Council. It is a very small group which works with groups of volunteers across the town on floral displays as well as environmental and horticultural projects.
For example, Hills Farm Conservation Group, which has about 25 members, looks after the entire Riverside Walk, while the North Horsham Volunteers maintain the Holbrook neighbourhood. Horsham Green Gym, already featured in AAH, also work on projects with Horsham in Bloom. At an open evening for volunteers held by the In Bloom committee last year, no less than 127 people attended, meaning there are plenty of people helping to make Horsham a cleaner, more pleasant town.
There are also a number of local businesses, including Novartis, Newbridge Nurseries and Hilliers Garden Centre, which provide financial support to the annual In Bloom competitions which remain popular. Soon, the Human Nature Garden – which has its own amphitheatre - will host a series of musical concerts.
However, on 19th May it played host to a plant and wildflower seed sale. It seemed a good opportunity for us to talk to some of the committee…
Stephanie Carter: I've been involved with Horsham in Bloom for ten years. My father, Brian Cave, was the treasurer, and one day when he was unwell he sent me along to the meeting and I've been here ever since! I'm heavily involved in the Human Nature Garden. Aside from the Horsham Park Maze, has been our biggest project. The (former putting green) was an ideal place for a garden as it was a defined area. Every plant that is in the garden is used by us in some way. This year we have plants that can be used for food, so we've got barley, oats and wheat, quinoa, buckwheat and amaranth which are all made into flours of some sort. We also have a tree stump that is over six foot tall, and that will be carved into a shepherd with a sheep dog and a couple of sheep coming towards the other flock. That'll be a nice little area for the children.
Lynda Cheeseman: Evan Giles and I started up Horsham in Bloom in 1995 and I've been involved ever since. I work as an administrator for Park Services at Horsham District Council and I also act as secretary for In Bloom. There was a big push by South and South East in Bloom (which is part of Britain in Bloom) to improve towns, make them more of a visitor attraction and get the community involved in improving their neighbourhoods. We do this by working with volunteers and holding different competitions that involve people and businesses. We rely on the work of volunteer groups – we have one team, the Hills farm Conservation Group, that looks after the whole of the riverside walks in Horsham and they are the unseen and unsung volunteers of the town. The In Bloom helps find a champion for each area or neighbourhood, and then helps establish a group. These groups can come to us for funding for plants and tools. Obviously the council does not have the staff to look after the town in this way, but we can support the committee and the conservation groups. I think the money that the council gives to In Bloom offers terrific value for money as all of this work promotes community spirit. It's very rewarding for all of the volunteers and for us as a council, as it keeps the town looking nice. There are things like the Human Nature Garden the new display in North Street that the council would not have been able to fund and wouldn't have wanted to be seen to fund.
Sue Brundish: I was looking for something worthwhile to do and something that interested me so became involved with in Bloom. Eventually I became vice chairman and this year became chairman after Anne (Bellringer) died. It was very sad for everyone, as Anne died three weeks before the garden opened and she was very much involved in the lengthy planning process. The opening was a great occasion. Evan had stood in this garden ten years ago when it was an old putting green and had this vision of what could be done and from that it developed as a concrete idea. I get immense satisfaction from the work we do. For me, not only is it an interest, but it's good to feel your contributing something to the community. It also keeps you learning about horticulture and keeps your brain active. Some members of the committee do a lot of 'hands on' work and say they couldn't do what I do – make speeches and talk to various people and authorities – so we all have our roles to play. We try and identify strengths and make the most of those. Our biggest problem for the future will be finances – at the moment it is healthy as Novartis is our main sponsor but who knows what is going to happen in the future.
Rita Ginn: I got involved with by entering the front garden competition for Horsham in Bloom. I won bronze, then silver and eventually won gold. I didn't want to keep entering, so instead thought I would get involved in the committee. The competitions had given me an incentive to do my garden, so they had given me something and I thought it would be nice to do something in return. If you can get people to enter these competitions, be it for their gardens or allotments or businesses, it's important as each person is making their own area more attractive. For some people, entering the competitions is one of the highlights of their year. I especially like seeing the allotments – when you enter and have a look they are amazing. It's great to go and have a look around as some of the people spend hours on them. Horsham is a nice place but you do need to keep the people coming, and this helps a bit.
Margaret Rogers: We received funding for the Human Nature Garden from the Lottery. The whole garden is educational for the children and everybody else of course, as it tells them about the plants that they come across in their daily lives. A lot of children don't realise how bread is made. I think it's helping to introduce young people to gardening and plants and we certainly see a lot of children come in when we are here working on a Friday. They come in with their mothers and ask us questions about the flowers and they smell the herbs. This garden has given Horsham in Bloom a new lease of life. For many years we've done the local competitions and we've entered the South East in Bloom contests, but this is something new. It's been good for the council too as they've had spending cuts to deal with in recent years and we've been able to provide this garden as well as displays on North Street which benefit the town. I think the people of Horsham are proud of the way the town looks, and we have a lot of people talk to us and thank us for our efforts.
Liz Timmer: As a former Primary School teacher, I was asked if I was interested in involving local schools in Horsham in Bloom competitions. We've run five competitions for schools, changing the theme each year, and in 2012 schools have two options for their gardens - the Olympics or the Diamond Jubilee. As time has gone on, I've become more involved in the organisational side. The more time you can give the more involved you become. I love coming here and learning about the plants and getting ideas for things I could grow in my own garden. We come down to the Human Nature Garden every Friday and we do weeding and help maintain it. This garden has been entered into South east in Bloom competition as a small park and we hope it'll come away with a good result. I won't say gold, but we do aim high as we've done very well in the past and we even won Britain in Bloom in the Towns category in 2007. A bench was recently unveiled in Anne Bellringer's memory by her husband, Paul. Anne was our chairman but died shortly before the garden opened. The bench says 'For the love of flowers' and there's a dedication too as Anne helped make the garden a reality. This year another focus of our funding was the new Jubilee Ribbon planting in North Street. We have also just started a Facebook page as we would like to connect with more people on a business and sponsorship level.