Broadwood: Upholding Traditions in Horsham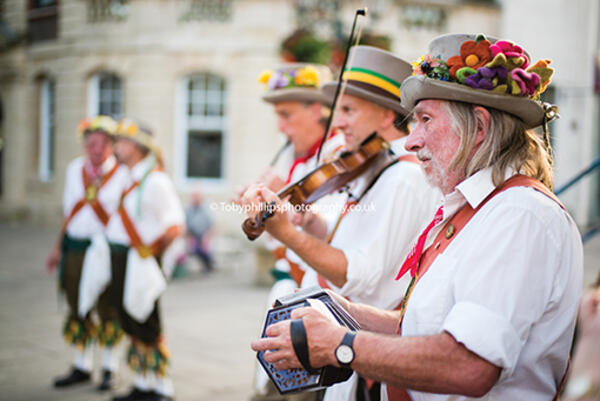 Published on 3rd August 2016
White handkerchief? Check. Wooden stick? Check. Merry men with fiddles and melodeons? Check. We must be in the company of Broadwood, Horsham's oldest Morris dancing side.
Here, we speak to a handful of the Morris men about traditions, dances, music, and the difficulty in finding green corduroy trousers.
We hear from Jeff Swann, who as Squire helps organise events, as well as Reg King, a member of Broadwood for 33 years, and Mick Phillips, who entered the Black Horse Inn at Nuthurst in the early 1970s and left as a Broadwood member! Dick Streeter is responsible for teaching dances and maintaining a good standard as group foreman, whilst melodeon player Andy Ward, who joined in 1975, is one of a number of fine folk musicians in the band.
A TRADITIONAL STYLE OF DANCE
Jeff: I danced with a different side initially, but moved to Broadwood in 2000 as I prefer Morris dancing that is more traditional and less 'amateur dramatics'. Some sides like to involve a bit of theatre within their performance, which is fine, whereas Broadwood is a traditional Cotswold Morris side.
Mick: Not much has changed since I joined Broadwood in 1974, two years after the side was founded. We have about 50 dances in our repertoire and we usually pick 20 or so to perform over the summer. On any given night, we perform about a dozen songs. There are standard routines to most Morris dances, and ours are Cotswold standards.
Jeff: Cotswold dancing is essentially the 'hankies and sticks' style of dance that you see in many villages around the country. We do not use face paint, as that is a tradition of the Border sides which have their roots in mining towns. There are many different types of Morris dancing around the country.
Reg: As well as Cotswold style, we do Long Sword dancing, which is popular with the crowd. It involves creating a sword lock with metal swords. Some sides use 'rapper' swords which are more flexible. They were historically used to 'dust off' the backs of pit ponies.
ORIGINS OF MORRIS DANCING
Reg: The most common theory is that Morris dancing was brought back from The Crusades in the Middle East, and was initially called Moorish dancing. Over the years, different regions developed their own traditions and Morris became the popular term. The hankies are said to wave away evil spirits.
Jeff: Morris dancing is strongly associated with begging. Even today, we ask people if they would like to make a contribute.
Reg: David Cameron sparked a debate a few years ago by talking to a member of a Border Morris side wearing black face paint. The newspapers didn't seem to understand the reasons why face paint is traditionally worn. It stems back to the Enclosure Acts of the 16th century when farmers were evicted from 'common' land by landlords. As begging was illegal, the poor turned to dancing for money, but they would darken their faces so they would not be recognised.
FOLK AT THE HEART OF MUSIC
Andy: I started out dancing for Broadwood, but a friend owned a melodeon so once day I tried to pick out a tune. I found that I picked it up fairly quickly and just progressed from there. I find it helpful to be able to dance, because now when I'm playing, I know how to how it feels to dance to the music. Across the board, we have some fine musicians in the band.
Mick: The musicians involved in Morris sides are often excellent and can be more entertaining than the dancers! Broadwood, has nearly as many musicians as dancers. Some dances only involve three or four men, although most involve six or eight. Tonight, we are dancing with the ladies from Magog and Sun Oak sides, which are both wonderful local sides.
A TOWN OF MORRIS MEN
Jeff: Horsham is a hub for Morris dancing. Over the years, there has been more sides in the Horsham vicinity than perhaps anywhere else in the country. Horsham Folk Club, which many of our members are associated with, is also among the oldest folk clubs in England, so there are strong folk roots here.
Dick: We have lost a couple of sides over time, yet we still have Mythago (a Border Morris side), Magog (a Ladies side who enjoy Cotswold, Stave, North West Clog and Garland dances) and Sun Oak Clog (a traditional clog step-dance side in Copsale) as well as a couple of others.
HORSHAM'S DAY OF DANCE
Dick: Initially, the Day of Dance was my idea, and it really came to fruition when the town was pedestrianised. The first Day of Dance was held on our 21st anniversary, but it was also held to celebrate the new look town centre. The original intention was to invite local Morris sides, about 11 in all, although funnily enough we ended up with 21, which was far more than we expected!
Jeff: The day is one of the pinnacles of the dancing year for Broadwood. It's always held on the first weekend of May and we invite other teams to participate, filling the town with dancing.
Dick: The council has since tried to build up The English Festival around it, with concerts in the Carfax and even some classic cars and motorcycles on display. It's been nice to be a part of that.
Andy: The Day of Dance goes down really well and we have really positive feedback. There are many different sides here on the day, so it is not all Morris but is folk dancing in the broadest sense. As a result, the casual passer-by doesn't become bored with seeing the same dances as we have sides from Sussex, Surrey, Kent and Hampshire.
Jeff: We organise other events throughout the year, such as this dance as part of the Horsham Festival, and as Squire I look at ways to raise funds. It costs about £1200 a year just to keep Broadwood Morris going. Traditionally, we visit St Mary's Church in Rusper, where Lucy Broadwood is buried, and commemorate the Broadwood family with a dance in the village.
KIT INSPIRED BY LUCY BROADWOOD
Reg: Our kit is based around the Broadwood family emblem. Lucy Broadwood, who lived at Lyne House near Rusper, was a founder member of the Folk Song Society, and the family were famous piano makers too. We were granted permission to use the emblem - featuring a pine tree with nine gold pine cones and crossed arrows on the tree trunk – on the front and back of our baldricks.
Reg: From there we have britches, long white socks and bells, a white shirt, grey hat and white hankies of course. Most of us wear green corduroy trousers for britches, but they're difficult to find! I used to buy mine from the gun shop in Reigate, but that's long gone. We can decorate our hats and most of us use flowers. Some of the band wear waistcoats decorated with Morris badges and one chap has imitation fox tails in his hat.
MUSIC...AND A PINT OR TWO!
Andy: After we've finished dancing, we like to have a drink and continue playing. Tonight, we'll all go into The Stout House and sing folk songs for an hour or so! We have a good time and other people in the pub often enjoy the music too.
Mick: The social side of Broadwood is great. I have never learned to play an instrument properly, so I just enjoy the dancing, particularly the sword routines. It's nice to be part of something so positive.
Reg: People think that Morris is about music and dancing, but there's more to it than that. For me, it's about friendship and community. If I was to go anywhere in Europe, I could find a bed for the night because there is that kind of community in Morris dancing.
WHERE ARE THE YOUNG MEN?
Dick: In terms of numbers, Broadwood Morris is doing fine with about 20 active members. But in terms of age, we are getting on a little bit. When I joined, I was 20-years-old, and many others were also in their twenties. Now, there are a lot of people like me who have been around a very long time!
Andy: Morris dancing is one of those things that, if you have a few younger men involved in the group, they may attract others watching in the crowd, because they don't just see a load of old codgers! Broadwood has been unlucky in that whilst Horsham is a lovely area, there's not much tourism, so we only attract small crowds. Also, there is no university that might help feed younger men in to the group. So over the years, we've all got older and there have not been enough younger people joining to keep the balance.
Mick: When I first joined, it was a younger crowd involved in the folk scene. I'm 72 now and I can see that we do need some young blood to ensure the side keeps going. I don't know why Morris dancing isn't more popular, because if you go to folk festivals there are hundreds of young people. It's a mystery why Morris dancing hasn't been able to tap into that.
Andy: Broadwood was formed at the peak of the folk revival and at the time the music was attracting a lot of people, young and old. That revival has faded to a degree, and I think it's more difficult for most sides to attract new people now.
TRADITIONS WORTH KEEPING
Reg: If I was to describe England in a few brief words, I would say 'Sunday lunch, watching cricket, Morris dancing at the pub.' I'm a great believer in keeping traditions alive.
Dick: We have welcomed new members in their 50s or 60s and they often say, 'I wish I had done this years ago.' Morris dancing is a great way of meeting people as it's very sociable. You travel around the country, visiting pubs, playing music and having a pint here and there. What's not to like?
For more details visit www.broadwoodmorris.info