Depot Road Allotments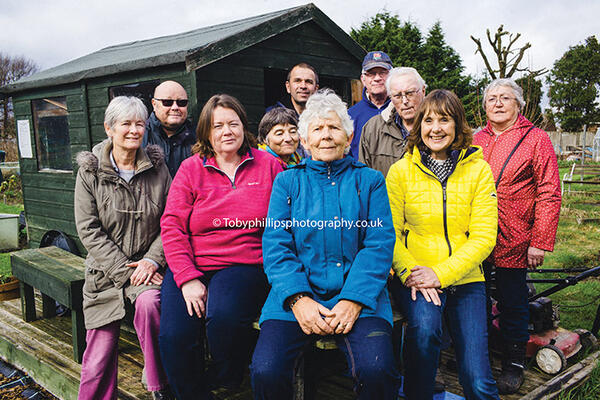 Published on 1st April 2017
Spring is an exciting time of year for the many gardening enthusiasts who rent allotments in Horsham. We visited one of the busiest in town, along Depot Road, to find out about growing plants and how others can also get involved.
We meet Margaret Rogers, chair of the Depot Road Allotments committee, treasurer Caroline Cann, site regular Tony Howard, professional gardener Robin Garner, wine producer Lawrence Brookman and Lorna Noyes, who brings a touch of continental styling to proceedings…
Margaret: Several years ago, we formed a society at the Depot Road allotments. Horsham District Council wanted to pass on the running of local allotment sites to the users and there has been a gradual process towards that. They simply didn't have the resources to manage every allotment, as there are about a dozen in Horsham. Now users manage their own site and pay rent to the council.
Caroline: I think that the situation is better for all now voluntary committees run most local allotments. Here at Depot Road, we have our own bank account and use money from plot rents for repairs, grass cutting, insurance, improvements and additional costs such as membership to the National Allotment Society.
Margaret: We charge £7.80 per rod per annum (one rod is about 16 feet) which is very reasonable. When the weather is nice, it's lovely to spend the day here as you're out in the fresh air meeting likeminded people. We have a table where we put surplus plants and vegetables down and others can help themselves and we all chip in where we can. There was one chap who was ill and was worried that he couldn't maintain his plot. We know he much he loves gardening, so some of us managed the plot until he recovered. Ever since, his wife has been bringing up cakes!
Tony: I moved to Horsham when I was about six-years-old, during the middle of the Second World War. My grandfather, Chris Buss, had an allotment here, so I've been running around this site since I was a boy. He had a huge plot, about 28 – rods if I remember, so grew many different plants. When he gave it up in the early 70s, I decided to take on part of his plot and I'm still here. I still find fragments from my grandfather's old clay pipes after heavy rain!
Robin: I started growing on my own plot 33 years ago at an allotment in London, when I was only 19-years-old. I'm a gardener by trade, so people know me as Garner the gardener. It was my interest in allotments that led to me doing it as a career. My great-grandfather had a plot at Depot Road and it's been in our family for generations. My dad still comes up occasionally too and it's nice for us to spent time together.
Margaret: Most of the people here are retired. However, we have eight young families and 22 middle-aged working people amongst the 83 people that currently rent plots.
Lorna: I have a daughter at Millais and a son at Forest School. They come here to help me occasionally on weekends. They're not so interested now, but whenthe fruit ripens, they'll be here. When I was growing raspberries last year, my son was helping me pick them. There didn't seem to be as many in his basket as I was expecting!
Margaret: I lived in Colgate for 35 years and had a big garden, but after my husband died, I moved into a smaller house in Horsham with a tiny garden. I really missed gardening, so I put my name down for an allotment. Now, I've remarried and we have two allotments. It's something we can do together, although I don't mind if it's raining, whilst Neville is a fair-weather gardener! There is a pleasant social side here and we see people of all ages.
Lawrence: My allotments are a joint effort with my wife, Maria. We've rented allotments for three years now and really enjoy it. After the first year, we decided to take on a second five-rod plot. Maria does a lot of the seed preparation and often we cultivate in the greenhouse before moving plants to the allotment.
Caroline: There's a lot of preparation in greenhouses and people bring plants to the allotment once they are strong enough to be placed in the ground. My broad beans germinated at home and once they start poking through, I bring them here.
Lawrence: A lot of the food I grow here is for us to enjoy at home. When I was working, I didn't cook at all. Now I have the time, I love cooking. I recently made a 10-vegetable curry and eight of them were from our allotments. I've just picked Brussels sprouts for dinner and I'm also growing leeks and parsnips. It's a wonderful feeling to eat food you've grown. Your own produce tastes different to that you buy in the shops, because it is fresh and it's not been processed.
Margaret: I have an eight-rod plot and grow soft fruit and vegetables. I'm currently growing cabbage, broccoli, sprouts, leeks and herbs. I like to enter shows through the Horsham Horticultural Society and I grow plants too as I also enjoy flower arranging.
Lorna: I have four separate rows, growing rhubarb, wildflowers for bees and pollinators, strawberries and various other plants. I also grow runner beans, mange tout, broad beans, leeks, courgette, onions, garlic, potatoes and cucamelon, which look like watermelon but are only the size of a large grape. They taste like cucumber with a hint of lime. Cucamelon is popular in Mexican cuisine and is very good served with gin and tonic.
Lawrence: I have a lot of different fruit bushes and trees. You can make wine out of nearly anything, so I grow blackberries, redcurrants and other fruits to ferment wine. My wine has a bit of a kick to it! I used to make wine many years ago, but when you have a family other things take priority. When we took on the allotments, we weren't quite sure what to do with all the fruit we were growing, so I thought wine making would be fun.
Robin: I grew vegetables initially at another allotment, but I became a little disillusioned because they were always being attacked by pests. I didn't think the effort was worthwhile, so I decided to grow flowers instead. I grow dahlias, chrysanthemums and iris among many others. I like to see everything flowering beautifully and thinking 'I did that.'
Lorna: Your allotment is very much what you make of it. My site was overgrown with long grass when we took it on two years ago, so our first job was to clear the site and lay down new membrane for weed control. Then, we contacted a tree surgeon who dropped off a load of wood chippings for free. We then painted the shed and started growing. My approach has more of a continental style, with wicker edging to each row. It is vegetable gardening but it is more decorative and modern.
Caroline: You are always learning and never quite know what will grow well. Last year, because of the rain in the spring, a lot of my potatoes drowned, but the rainfall was good for other plants. Some people take on a plot not realising how much hard work is required. When we first came here, our plot was heavily overgrown and we needed 16 trips to the tip just to clear it!
Margaret: There was a long waiting list for plots, although some have changed hands in recent years so we currently have about nine empty plots on Depot Road. We'd love to hear from people interested in renting one.
Caroline: If you compare the cost of an allotment to gym membership, it is very affordable and offers more benefits. You are outside and you have beautiful vegetables or flowers to enjoy at the end of it. Yes, some work is needed, but if you have a small plot it's not difficult to manage.
Lorna: For me, the allotment is a peaceful place. It clears your head and it's nice to grow your own food. If you buy green beans from the supermarket, you will see that they come from overseas and it must have been a few days since they were first picked. Here, we will pick our beans and eat them the same evening. We know exactly what has gone on them and where they have come from and it's good for the environment too!
For more information about the Depot Road allotments, email Bob at drallots@gmail.com
For other allotment sites visit the Parks and Countryside section of the HDC website at www.horsham.gov.uk