Horsham Cycling Club: Something for Everyone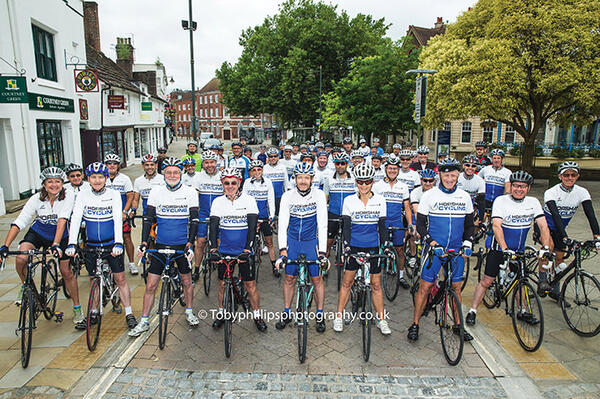 Published in September 2016
The blue and white Lycra -clad army of Horsham Cycling Club are a familiar sight on the district's roads. The popular club attracts people of all abilities with its welcoming 'cycling for everyone' ethos, and members are hopeful of another boost following Team GB's success on the Olympic velodrome.
We met Honorary President Stewart Forbes, Membership Secretary Malcolm Curtis, veteran racer Dave Manders, sporting group cyclist Alan 'Alfie' Ramsay and social group rider Fiona Ordidge, to find out more...
Stewart: Keith Russell and I started the club back in April 2005. There hadn't been a cycling club in Horsham since the demise of Horsham Unity in 1968, and we felt the town was big enough for one.
Fiona: I've been a member since the club was founded. I went into AD Cycles in Queens Street to buy a bike and mentioned that I was interested in joining a cycling club. Keith Russell, who worked there at the time, happened to be starting one up! A couple of weeks later, we met up in the Carfax and haven't looked back. There was only about 20 members initially, so it's grown over the years.
Stewart: We wanted a club that catered for everyone. At the time, a lot of clubs around were race-focused. If you joined them for a club ride and couldn't make the grade, there wasn't a lot you could do other than to train harder and try again. Our idea was to have slow, medium and fast groups. Over time, that's been stretched out to seven or eight groups, yet we've stuck by our motto of 'cycling for everyone'.
Dave: We all meet in the Carfax every Sunday and set off at 9.30am. We have two Social groups, then Intermediate One, Two and Three, and then two or sometimes three Sporting groups. Every step up brings a slight increase in speed, so there are some very fast boys in the top group.
Alfie: The two Social groups cycle about 20 – 25 miles, and the Intermediate groups cover around 40 miles. The Sporting groups will ride anything up to 60 miles. Because we all ride at different speeds, you can drop down into another group if you ever need or want to.
Fiona: I ride in the Social groups and we normally stop for a coffee somewhere along the route. With all of the coffee and cakes I have along the way, I sometimes wonder if I've consumed more calories than I've burnt off! I've never really progressed beyond Social One, whilst everybody else seems to have got faster. I'm happy where I am!
Malcolm: At the moment, our numbers are very healthy in terms of membership, with about 230 people in the club.
Stewart: Anyone can join, although they require a degree of basic fitness as even the Social groups ride about 25 miles.
Alfie: I've been a member for three years. A friend of mine brought me along and I joined the Social group, gradually working my way into the Sporting group. Now, although I'm a big lump, I have the fitness in my legs to do much longer rides. Before I joined, I took part in the London to Brighton bike ride, which is 53 miles. At the time, it absolutely killed me, as I wasn't fit. Now I ride that distance every Sunday. I've cycled 115 miles quite comfortably. If you told me that three years ago, I would have laughed at you.
Fiona: Cycling is great for fitness and it's just nice to be out cycling along beautiful lanes. Even though I've lived in Horsham for a long time, there are still lanes around the town that I've never been down. Also, from a safety point of view, I'd rather ride in a group that on my own. Motorists are more careful when dealing with a group as they have to wait until it's safe to overtake. So there is safety in numbers.
Dave: We're all back from our Sunday ride at about 1pm and quite a few of us go to the café in Horsham Park afterwards. As well as the Sunday rides, we also hold time trials on Tuesday evenings around local roads. As a club, we host a 10-mile time trial every year, welcoming riders from other clubs. Some of the Horsham Cycling Club members take part in the occasional road race too.
Fiona: We also visit the Isle of Wight for a weekend every September. We've organised quite a few trips over the years, to places including New Forest, Winchester and Mouscron in Belgium for weekend rides.
Working Your Way Up
Malcolm: When people contact us and are interested in joining, I point them towards the website, as it has information about the speed and distances travelled by the various groups within the club. That gives people an idea of where they might fit in.
Fiona: Social One is the first point of contact for new members, so just about everybody starts here, even if it's just for one week.
Alfie: I'm usually one of the first people here on a Sunday morning, so I often speak to people interested in joining. They all start in the Social group and then improvement is gradual. It's like any sport; the more you ride, the more you build up your muscles and strength.
Stewart: Currently, we don't have a Junior section. It is something we have considered, but it's difficult, primarily for safety reasons. There is a Horsham Youth Cycling Club, run in conjunction with Horsham District Council, and we are linked so riders can progress from there when they're ready.
Dave: It's good to see youngsters coming through. They come into the Social group initially. It can be quite hairy riding within a group. You need to learn how to ride at speed with other cyclists before you can ride with the Sporting group. It's always nice to see them progress.
Olympic Inspiration
Malcolm: You don't see swarms of people wanting to take up cycling because they've been inspired by the Olympics, as it doesn't really work that way. However, one chap did come along a couple of weeks ago and said exactly that! The success of Team GB does have a positive impact though, and we have seen a few new faces.
Stewart: Certainly after London 2012, we saw more people joining and it was noticeable that more cyclists were on the roads. Cranleigh formed a cycling club about three years ago and another club has started in Dorking, so cycling is certainly more popular. On a Sunday, you probably see double the number of cyclists that you would have seen a decade ago.
Fiona: I do think that Team GB's success in London and Rio has made a massive difference, as it's made more people want to cycle. That in turn has helped Horsham and other cycling clubs.
Basic Starter Kit
Alfie: Everyone starts off by buying a cheap bike, because they want to see if they enjoy cycling first. As you become better and enjoy it, you see people spending thousands of pounds, because cycling is their passion.
Malcolm: Most of the members have road bikes, although hybrids are used too. People have turned up to the Carfax on a mountain bike, thinking that they can do it, but there's so much resistance on the tyres that it's much tougher and I wouldn't recommend it! Hybrids - a cross between a mountain bike and a road bike - are popular for new members, and if they enjoy it, they might go for a road bike later.
Stewart: We do have an off- road group for mountain biking, which meets once a month. They go to places like Roosthole in St Leonard's Forest, and occasionally along the Downs.
Malcolm: Cycling doesn't have to be expensive. For a bike that's fairly decent, you're looking at around £600 - £700, so you don't have to spend huge amounts of money. If you go to The Cycle Room in Horsham, you will see some good models available at a reasonable price.
Dave: Cycling is for people of all ages. I've been with HCC for about five years, having ridden for other clubs in the past, and although I'm now 74, I recently started racing again. There are various championships for men and women, including a veteran's championship. The problem for me is that in cycling you become a veteran at the age of 40! It is very difficult for me to compete with 40-year-olds. However, at the big events they are very fair, because you are given a handicap depending on your age. So you may be in peak condition, but I still have a chance! That's fantastic, as it gives me something to aim for.
Stewart: A lot of clubs across the country are now following Horsham's lead, with different groups for different levels of ability, which is a good thing. It helps encourage more people into the sport.
Dave: It is a lovely club; the best one I've ever belonged to actually.
You can find out more about Horsham Cycling Club on the website at www.horshamcycling.co.uk
REPORT: BEN MORRIS
PICTURES: TOBY PHILLIPS