Stage Set For a Good Future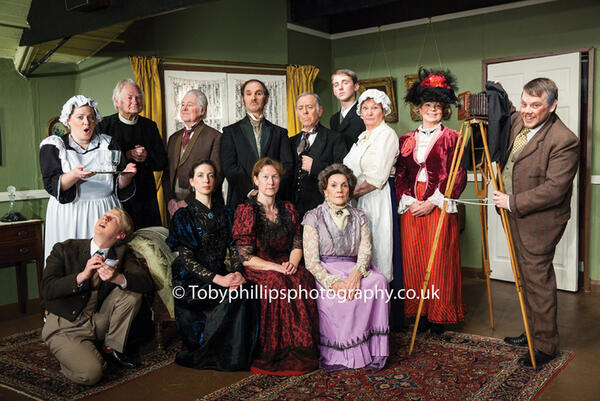 Much has changed in Billingshurst since the Second World War, and few communities have had to find maintain its identity to the extent that Billingshurst has.
But for about 70 years, Billingshurst Dramatic Society has been ever present, putting on plays then as they do now in the Women's Hall on the High Street. The Hall had initially been given to the village by two ladies who felt women needed a sanctuary free of men and alcohol, but during the Second World War men were reluctantly allowed inside.
In 1941, the Workers Education Association organised some drama classes and this led to a production of The Rivals in the spring of 1942. The success of this show led to the transformation of the Society, which held its first
production, Tobias and the Angel. With most of the men at war, Frances Crisp dressed as a man to take the lead role.
A decade later, the Society had developed into a successful village group, boasting fifty members. They included some very talented performers such as Doctor Challis (Bill) Bousfield, Jack Leaman and Ron Oulds. Frances produced most of the plays and would be a familiar face at the Society for decades to come.
Throughout the 1960's the Society continued to prosper, with Pamela Leaman, in particular, raising the level of performance. Once a professional actress, Pamela produced and acted in many of the Society's plays, starting with The Deep Blue Sea in 1959. No, not the shark movie with Samuel L. Jackson, but a play by Terrence Rattigan. The Society was even known to cause controversy – not everyone agreed with their decision to
perform the contentious play, Alfie, in 1968.
In the 1980's, the Society broadened its production spectrum to include musicals for the first time and even performed pantomimes, but as time has developed the group has returned to its roots of putting on predominantly plays. They have recently performed When We Are Married, a period comedy by J.B Priestley, for three nights at the Women's Hall.
Whilst some have been with the Society for many years, a number of younger members are now involved and it is hoped that they will carry on providing good quality amateur dramatics for the village for many years to come. We caught up with the cast during dress rehearsals for the latest play, When We Are Married...
Benjamin Howarth: "I've been with the group for about a year. I joined because Tom and Kate Rollings at Fishers Farm were in a playcalled Sweet Charity. When I went to work for Tom at the farm he asked me where I could see myself in five years' time and I told him that I had wanted to become an actor. I was trying everything I could do to get in to acting and he recommended Billingshurst Dramatics Society. I came by and I found it a lot of fun, as it involved acting and singing in a variety of different parts. I've been here ever since.
We work well as a team; we get a text message from Giles (Jackson) to say we need to do shed repairs or that there are sets to be built and we all come in to sort it out. I like that side of the Society helping on all sides of theatre work. At the end of the day, you feel like you've put a lot of work in to each show.It's not just been arriving, stepping on the stage and acting; you've helped make it all possible too."
Jackie Charman: "I've been with Billingshurst Dramatic Society for about 33 years. When I moved to Billinghurst I didn't know anybody so I joined the Society and have been here ever since. It's a great way of meeting a whole range of people from across the community. The Women's Hall has always been our home and we have costumes, props and scenery all hidden away here.
We do two productions a year, in October and February, and we also do a review for our patrons at Fishers Farm. If it's a show that might be a real crowd-puller we might put on four or five shows but it's typically three nights and we don't normally have a problem filling the seats. We're always on the lookout for new members who are willing to be active, roll up their sleeves, build sets and be involved.
We are not so concerned about attracting people with the sole ambition of treading the boards. We want carpenters and people prepared to build scenery and lift heavy items. What we are lacking are people in the 30-50 age group, particularly men, as we often find we have to use the same leading man! People are so much busier and consumed by work and commitments these days and cannot spare the time. That's modern life I'm afraid."
Sue Pollard: "This is the second time I've been involved in a Billingshurst Dramatic Society production of 'When
We Are Married. The last time was 40 years ago and I was Ruby Birtle, and this time I play Mrs Northrop. It doesn't seem so long ago. I've been in many shows, and I even directed the first musical we ever did in this hall,
Jorrocks (in 1986). In the past I have written pantomimes too, such as Aladdin (1980) and I also write pantomimes for Fishers Farm, where I work.
The group goes through phases. It's been difficult lately as it's hard to attract new, younger people to come and join, but that's starting to change. People used to stay in the area they lived in and work locally, but now they go to University and never come back. We still have a good community feel, but it's the old part of the village which supports us.
The 'new' parts of the village all seemingly stay inside and play with their iPads. When the new estate was built we triedto invite them in and we had one response, which was Claire. I think every society is going through the same problems but we manage to keep going."
Nevin Davies: "I've been here since 1958 and I've probably acted in or directed 150 productions. When I first came here, it was a typical village society, but it has blossomed. At about the time I came we had three or four really good people who were enthusiastic and very capable of taking on lead roles. There were people like John Farmer, and John Humphreys who was quite the most talented actor you could see and could surpass most on the London stages.It was a crime he never got there.
Another one of the very best we've had was Pamela Leaman who really raised the bar here. Hopefully, the
Billingshurst Dramatic Society is getting back to its best. If you have a few keen people, the standard goes up, and we now have a few young people coming in.
When only one young person joins, there is a real difficulty to keep them interested as of course they are isolated. You do not want a clique of old people who have known each other for years. I have made some wonderful friends and it has given me much happiness, but I am knocking 83 and I'm just delighted when there is a part for me. Most of us older ones are feeling like it's time we sat back a bit and let the younger ones take it on."
Claire Hiley: "I joined in 2005 and this is my eighth or ninth production. I came to the Society when I arrived in the village as I was self-employed and didn't know anybody. I hadn't been in a dramatic society before, but I was involved is putting on productions when I was at University, mainly doing backstage work.
I joined to help backstage, but people here were so welcoming and I ended up on the stage too. You see Midsomer Murders and you have visions of all these actors going around killing each other for main parts! But it's been great and I've never looked back. I've taken on lot of different roles. In one production I was slapped on stage as I played a women abused by her husband, and in the next show I got to slap the same man
back!
I've written a bit in the programme for 'When We Were Married' about how I joined. I have two small children and I'm at home all day, so just being able to get out and do something different is great. There are times when it is hard work, when the shows are approaching and you're constantly rehearsing and learning lines, but for me it's a
release to come out and do this."
For more details visit https://billingshurstdramaticsociety.webs.com/