Warnham Bell Ringers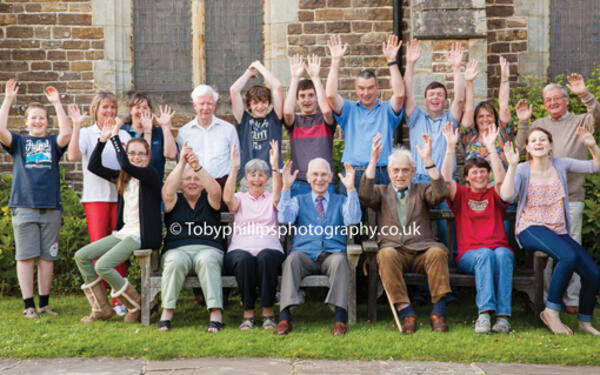 The Bell Ringers at St Margaret's Church in Warnham are amongst the very best in West Sussex. The group meets every Thursday evening, as well as ringing the bells on Sunday, with the band also competing to a high standard in friendly competitions.
In recognition of their skills, the band has been invited to ring the bells at Westminster Abbey in the New Year.
Warnham Bell Ringers also provides young enthusiasts with opportunities to develop their skills. One of the band members, George Francis, teaches younger members to play on a smaller set of bells at his home, allowing them to practice before they can become integrated with the church band.
The bells in the tower at St Margaret's were rehung in a new steel frame in 1997, to commemorate the centenary of the bells and to celebrate 750 years of Ministry at the Church. A ladder many hundreds of years old leads to the bell tower and young ringers have the chance to climb the ladder and look at the bells.
The ringing room is decorated with a number of accolades and awards, as well as a plaque in remembrance of a peal rung on Saturday evening 26th October 1867. It comprised of 5040 changes on the method of Oxford Single Bo and was the first ever rung in the Warnham tower.
It was composed and called by H. Burstow of Horsham and was rung for just shy of three hours. We met some of experience members of the band, as well as some of the new faces, to find out more about bell ringing in the village…
Will Alford, 16
"I've been bell ringing for about three years. My Granddad and Granny, my mum and dad and my uncle are all bell ringers, so it's always been part of family life. It's good that there are a few of us younger ones in the group.
We competed as an eight-strong Sussex team in the national competition last year and finished second, so that has to mean something. Last year the competition was held in Birmingham, and this year it will be in York and three of us from Warnham tower are in the county team. "
Louise Woodwood, 18
"I've been bell ringing for about seven years, and I also have parents who come here. But of course I had to enjoy it in order to keep coming. We have a young bell ringers' day for people under 20, and that is good for bonding and socialising with ringers at other towers. We'll go on an outing and ring at other towers and sometimes welcome them to Warnham."
Sandra Alford: "People do not think of the bells as being somebody pulling on the end of a rope. They think it is done with the touch of a button or that it is all mechanical. Each bell there has somebody on the end of the rope and we play what are called methods. For each method, every bell has to ring in a certain place otherwise it's just one big crunch noise and it sounds horrible.You have to learn these methods, and some people pick it up very quickly and for others it takes a while. People start by learning how to handle the rope and simply ringing the bell. Once you've mastered that the rest slots into place.
I was only 13-years-old when I started. My parents were both bell ringers, so it was in the family and I've carried that tradition on. I've now been ringing the bells for 30 years. What I enjoy about it is that it keeps your brain going and you meet lots of people as you ring at towers all over the country. Our home tower is Warnham, and we ring here every Thursday and Sunday evening, as well as Sunday morning. But there is a county association and this allows us to ring at other towers and meet other people all over Sussex.
Sometimes, striking competitions are held too. We are a good team here at Warnham so we compete very well. We are one of the most thriving towers in Sussex. Bell ringing is an art form that, if we are not careful, might stop or die out, so we always need to attract new people. There is a good community here in Warnham and they like to hear the bells, which is important."
George Francis: "What other people might call tunes, we call methods. What we are ringing is permutations on whatever the number of bells we are ringing, so that we don't repeat a change. To learn each method we have to learn what we call a blue line, which is our path amongst all the other bells. There is a repertoire that the majority of experienced bell ringers will be able to ring at the drop of a hat. Then there are a good number of other methods that are more advanced and and some that are rung infrequently.
We have names for changes on the various numbers of bells from 4 to 12. So four in Minimus, then you have Doubles, Minor, Triples, Major, Caters, Royal, Cinques and finally Maximus, which is 12 bells.There is a lot of focus needed to maintain your path. There's not so much brawn to ringing as brains. It's a good thing to keep the brain active.
When each ringer goes through a sequence and at the end comes back to where we began, then that is called plain course. But a conductor can put in calls for variations in the course. That might mean that a couple of ringers swap paths for one change before resuming the normal pattern. The most common calls are for 'bobs' and'
single's and normally change what two or three bells do.
There is a lot to it. Here at Warnham, most of our ringers can ring methods such as the Cambridge Surprise Major, which is quite tricky as it is on eight bells. But you can have methods such as the Glasgow Surprise Major which is more advanced.We will sometimes ring a new method and we can name it. You have to ring a peal, which is at least 5,000 changes, in order to name it and that involves about three hours of ringing."
Graham Cannings: "I've been ringing here for about eight years since moving to the village, and I was ringing for ten years before that near Epsom. There was a band near Leatherhead running an evening class as an Adult Education service and I went along. At the end of the course they made sure that you left with the phone number of the band captain at your nearest tower.
I enjoyed the course and that's how it started. I found I could do it, there's a certain amount of co-ordination required and a sense of rhythm helped. One of my tutors at college20 years before that was a bell ringer and we visited his church, and that may have sown the seed.
When we were looking for a new place to live, we were hoping to be within walking distance of a church that had bell ringers. It was only after I arrived that I realised that there was some high class bell ringing going on here, and I've been trying to catch up ever since. We are one of the better bands in the area and that is self-reinforcing. If a band has been good for a while then people coming in to the band tend to progress more quickly. We also have a very good group of young people here. I don't think they appreciate how good they are as they do not have a wide experience of ringing at other towers.
Fundamentally we are here to ring for the church and to call people to prayer and promote the church in the village. But for us there is always a temptation to ring methods which are technically more difficult and stretch the band. Part of my job as conductor is to make a call on that balance. On a Sunday we will try and ring methods that are safe, even if they are not too demanding. Bells should not clash together or have lumpy gaps. We go over to the Sussex Oak after ringing on a Thursday and there is a chap over there who often gives us his views on what we've been practicing!"
Andrew Alford: "I'm 13-years-old and I've been bell ringing for three years. When I started out I used to stand on a box, and it was hard to learn the methods to begin with, but you just keep trying. I used to make mistakes, and the older ringers used to tell me what I did wrong and tell me what to listen out for. My friends take the Mick out of me at school, but it is in a fun way. They joke about the Mars Bar advert with the monks! What I really want to do is to try and encourage other young people to ring as it's great fun."
Ian Holm: "We are linked to the Sussex County Association, and this covers the same area as the Chichester Diocese. There is a central body called the Central Council of Church Bell Ringers, which I have been on the committee of for about eight years. The council meets once a year and takes representatives from each county association.
Committees are created to look after particular areas, such as education, public relations, technical matters and bell restoration. They are the people who do the work of the central council. It costs a lot to restore bells, and it is down to individual churches to fund these restorations. Often the success of any restoration depends on just one enthusiast who enthuses everybody else.
The bells here at Warnham were restored in 1997. The original bells had long been re-cast but the current bells had reached 100-years-old and it was also 750 years since the first priest had come to the village. With those two factors, we thought 'this is the year to go for it'.
The bells use ball bearings and so do not require much upkeep. The best thing for them is to just ring them. You go to some towers and find ringing hard work, then find out they haven't been rung for six months. Ropes on the other hand do not last as long. There's only really one proper church bells rope manufacturer now as it is a specialised job."