Gaming with South Downs Siegebreakers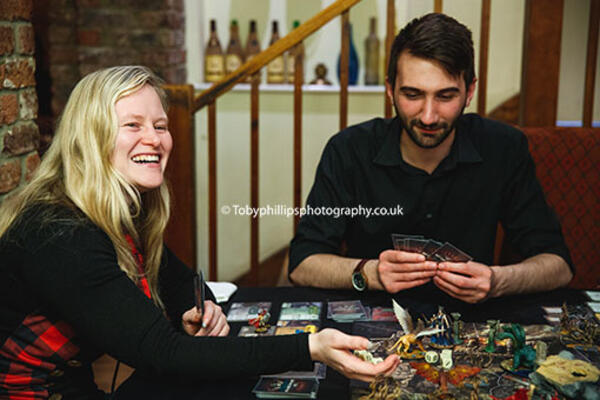 Published on 1st June 2019
South Downs Siegebreakers is a gaming club, with enthusiasts meeting once a week for war games, board games, card games and a little role play! AAH meets Chairman Liam Young and long-serving members Jerome Roberty, Becky Sayers and James Mallock to find out more...

Liam: The South Downs Siegebreakers was founded seven years ago. I was previously Chairman of a games group in Eastbourne, but formed Siegebreakers with a couple of friends when I moved closer to Horsham.
Liam: We always meet at The Moon in Storrington High Street. Pubs are ideal, as they offer a venue free of charge and in return the club brings people in. We buy food and drink from the pub, as it's very good and helps create a vibrant atmosphere. It's a win-win situation, particularly as Tuesday nights are traditionally a quiet night for pubs.
James: I live in Storrington and came across a flyer on the village noticeboard, about a new games club. At the time, I loved playing Warhammer 40,000, so decided to pop along.
Jerome: Most people tend to develop an interest in painting models and gaming individually. It is only later that they look to join a club where they can play games with like-minded people.
Liam: Initially, there were three or four people attending our weekly meetings. But it grew, mainly because of Warhammer 40,000. The game was played so prolifically that it was an easy sell. I met Luke Alderson, who is now Treasurer, and he coerced some of his friends into joining. Gradually, membership expanded through word-of-mouth and new gaming enthusiasts turned up. Members come from Horsham, Crawley, Haywards Heath, Brighton and across Sussex.
Jerome: We are proud to have three or four females among our members. I can promise you that is a lot for a games club! That creates a more pleasant atmosphere. Some clubs are very competitive, hosting tournaments all the time, but this is more like a social club.
James: For those of us with families, the social side is vital. I have less time to paint models or build scenery than I used to have. For me, it's more about meeting up with friends whilst still maintaining a hobby.
Liam: Warhammer has been largely dropped on club nights, as interest has waned. There are good reasons for that. Most games we play have affordable starter sets.
Jerome: With Warhammer, spending can escalate quickly as you build up armies. It is brilliant for introducing young people to gaming and Games Workshop stores are great, as they host demonstrations which encourages the social aspects of gaming. But with new books and armies continually being introduced, the costs involved can really add up!
Liam: As our membership numbers have increased, we've drifted more towards skirmish and cooperative games, as we can get more people around the table. We can't cater for two-player battle games that take up half the space. Members will often bring in a new game to try out. Some prove a hit, others are played a couple of times before disappearing forever!
James: Tonight, we have several games underway. The Walking Dead is based on the TV series. Players can work together or fight each other as they avoid being eaten by zombies. Tanks is a simple war game where players take command of a tank platoon with the aim of destroying an opponent. Gaslands is a post-apocalyptic, Mad Max style game. Players modify Hot Wheels or Matchbox cars and they can ram and race their way around the track. We also have Mythic Battles, a card game based on Ancient Greece.
Liam: We have a strong Guild Ball following at the club. It's a skirmish game played with miniature figures, like football, but you can beat up opponents!
Jerome: The games industry has changed dramatically over recent years. Games Workshop and Warhammer used to dominate, but other more affordable games have entered the market. Star Wars X-Wing was the one that really altered the landscape by breaking into the mainstream. Its success was followed by games like Infinity and Malifaux. This has made it far more exciting.
James: As we don't pay for a venue, we invest membership money on days out. This year, we went to Salute, the biggest board gaming convention in the UK, run by the South London Warlords. There were hundreds of stalls, allowing us to try out new games. But it can be hard to generate a following. Most games are run by small companies, supporting just one or two employees. They create amazing games, but don't have the marketing power to properly promote them.
Liam: The level of detail in some of the games is remarkable. We've just backed Pacific Rim, a game based on the films, and the models are just phenomenal.
Jerome: One of the good things about skirmish games is that the models can be used for longer. It's soul destroying when you have spent months painting an army, only for it to be destroyed with one roll of the dice!
James: Miniature model painting will always be an important part of gaming. For some, creating scenery and painting characters for a game is where their passion lies. The detail of Chris Holt's set of The Walking Dead is incredibly authentic, with lots of fake blood!
Becky: As well as board games, I arrange role play games on club nights, usually played with cards and dice. I spend a lot of time creating different characters and scenarios. Role play can be as strange as players want to make it, although there are tactics involved to reach the best outcome, so they help develop gameplay.
James: There is a huge gaming community. There are other clubs like Wargames in Crawley and 1066 in Hastings, and come shops rely on a games community. Unfortunately, Battlequest closed in Horsham, but we still have Gobsmack Comics, which has taken on Warhammer, as well as A and B Gaming in Worthing and Games Workshop in Crawley.
Jerome: Computer games like Fortnite are popular, but the physical world can't be replicated by online game play. You cannot recreate the enjoyment of making and playing with real objects or the social interaction it gives.

WORDS: BEN MORRIS
PHOTOS: TOBY PHILLIPS

For more on South Downs Siegebreakers visit the website at www.sdswargaming.net
The group also has a Facebook page at www.facebook.com/sdswargaming