Sunbeam Offers a Ray of Light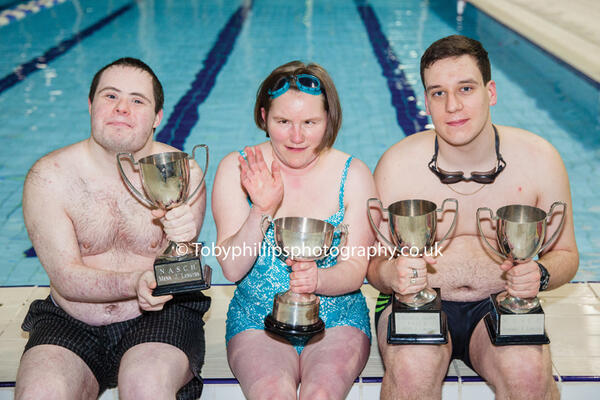 The Sunbeam Swimming Club was established in 1982, but has experienced many ups and downs during its 30 years. It has had to fight to stay in existence due to funding cutbacks, but it remains a vital weekly experience for its members.
Sunbeam is a club for people of all ages who have a learning or physical disability. However, as time has gone on, it has become predominantly a club for those with additional learning needs,as people with physical disabilities have very different requirements.
Members meet every Friday evening at 8pm for an hour's swimming at the Pavilions in the Park, where the main pool is divided into two with Sunbeam taking up half of it, and taking advantage of the the spacious disabled changing facilities.Most of the members are joined by family members or carers in the pool, and the emphasis is as much on socialising and enjoyment than developing swimming techniques.
There is, however, usually a trained swimming coach at the Friday sessions. Sarah Burling has been helping several members improve their strokes, and that assistance has helped some scoop individual awards at an annual regional gala.
Ann Grant attends the club sessions with her 37-year-old daughter Becky (above). She says Sunbeam gives people with learning disabilities greater confidence and develops social skills too.
Ann said: "We receive great support, from the staff at the Pavilions as well as companies and organisations. We have to ask for grants each year, and thanks to the likes of Saxon Weald, Hall and Woodhouse, BAA Gatwick, Waitrose and Horsham District Council we are able to continue. Fundraising events, such as the Lions Club's annual sponsored swim, also help a great deal."
The club is affiliated to NASCH (National Association of Swimming Clubs for the Handicapped) which hosts the regional and national galas, and some members even attend the NASCH Summer Camp held in Farnham.
We spoke to several members and carers at Sunbeam, but for more details about the club call Robin Ayres on 01403 253200 or Nicholas Cutler on 01403 372436.
Robin Ayres: "I was there when the club started in 1982. I started talking about it with Norman Garner and eventually the idea took off. Initially, we had some people who were interested in joining and then Horsham
District Council was willing to support us.
"One of our members designed the logo and we called the group Sunbeam. We started off with just four members and soon more people joined from homes and schools. We have a national gala in Leamington Spa every November. We used to host a regional gala here in Horsham and we would like to be able to bring it back one day. Personally, I enjoy swimming and trying to bring in new members.
"I like helping the others to swim too. At the moment we have about 30 members but we would like more. The membership was a lot higher once, but some of the former members have gone out of homes and into independent living. Often the carers don't bring them down to swimming any more. The Friday night time slot may be an issue for more people but it's always been that way for us We've never been able to get another time. But for those of us here, it's an enjoyable evening."
Ann Grant: "My daughter Becky started swimming when she was seven-years-old. Back then there was a large membership of about 50 or 60 at Sunbeam. Most special schools try hard to get people with learning disabilities swimming, even if it's not swimming as such, it's more doggy paddling. The members love being in the pool. The most important thing for them is being able to get across the pool using their own strokes.
"Some members are on the autistic spectrum or have Down Syndrome, so they do want to have a bit of
privacy in the pool. So we have half the pool, which is great for us. At the old Horsham pool we used to have the whole pool but this is a bigger site. In some ways it's as much about the social side as learning to swim, but we do attend competitive galas and you'll be surprised how much they focus on these races.
"Horsham District Council was very good to us, so it was a major blow when they cut back their funding. They used to provide us with a rather large grant, and that became smaller and smaller until we had to look elsewhere. We contacted lots of organisations for donations and found people were very supportive.
"We only ask for small amounts to fund the club. The pool fees are the biggest cost, and we know there are similar clubs in the country that do not have to pay these fees ,so we are a bit unfortunate there. We still receive great support, from the staff at the Pavilions in the Park as well as various companies and organisations."
Sarah Burling: "I come here on a voluntary basis. I'm here most weeks but I do provide swim cover for another swim school at Handcross Park. I enjoy teaching children with additional challenges. I've taught children on the autistic spectrum, with Asperger Syndrome, Attention Deficit Hyperactivity Disorder (ADHD) and language processing difficulties.
"My son has Asperger's which is why I had an interest in coming down to the Sunbeam Club initially, but he doesn't swim here yet. I think for some people with younger children with additional challenges, the difficulty is that club sessions are held at 8pm on a Friday night. Children are tired at that time as they have been at school all week.
"My teaching here is not like having a lesson. I don't say 'would you like a lesson?' Stuart clearly wanted my input so I spent the first two weeks concentrating on him and that led to Matthew asking for some help too. People didn't seem to think Becky would want my help, as she was set into a routine of her own. But after a while Ann came to me and said 'Becky's very jealous, do you think you could spend some time with her?'
"When I am around they can see what I am doing and realise it's not a lesson and there isn't a standard they have to reach. It's just about giving tips. They will come to you rather than the other way around. Swimming has given me so much, and this is a way I can give something back. When you don't succeed in all sorts of other areas of life, having something you are good at is nice, and these swimming sessions give the members so much confidence and self-esteem."
Stuart Cutler: "We saw the information board about the Sunbeam Club in the Pavilions café and joined the club about four years ago. Now my dad Nick is the Chairman.
"I play lots of sport. I also like table tennis, football and badminton. I think swimming helps me with my co-ordination and gradually I'm improving. The first year that I joined I went to the gala. We had to do a timed swim beforehand so they know how fast you can go and decide your starting position for the handicap swim. The slower swimmers then start first and they handicap the faster swimmers so it ends up like a photo finish.
"I'm one of the more confident swimmers now but I couldn't swim much when I started. When I went to the first gala I went too fast at the start, but last year I knew I had to swim close to my time and I finished first in two races and second in another race. I've had some extra tuition with Sarah and that has helped me a lot. I was swimming quite well already but I didn't have a good technique. She has helped me on the little things that make a big difference."