Hot Food on Horsham Market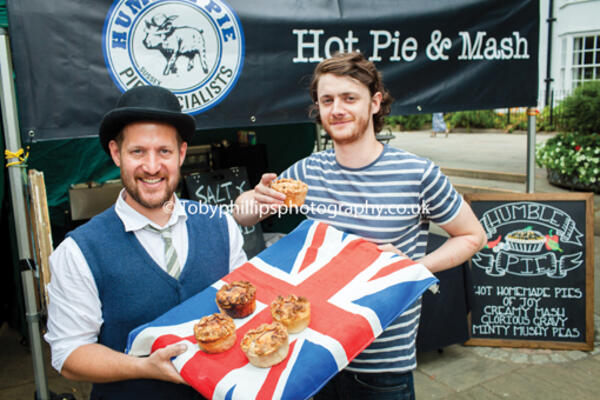 A little over a year ago, the market in Horsham's Bishopric seemed to have passed its sell by date. But it's been given a new lease of life by moving to the Carfax, and amalgamating with some of the stalls from Saturday's popular Local Produce Market.
One of the surprise elements of the Thursday market has been the popularity of hot food outlets. Hundreds of people working in the town centre now rely on the market for Thursday lunch, with options including Mexican burritos, Slovak sausages, Thai curries, Green feta and very British pies.
PJ Aldred, of market operator Aldred Associates, said: "A couple of years ago the market was in the Bishopric. It was a general market, so there was no local produce, and over the years it had become depleted. There are not as many office workers around there and it wasn't drawing people in. We were down to four or five traders, which in my view, doesn't represent a market.
"We moved the market to the Carfax and we invited stallholders from the local produce market too. As it turns out, we had a few street food outlets, and it has even surprised us how successful they have been.
"Let's not pretend it's as successful as the Saturday market, where we now have 45 producers coming from all over the district, but the Thursday market has a good feel to it. People come out, have a bite to eat, and enjoy milling around.
"There are still your staple foods, so we have stalls selling eggs, bread and vegetables, so it's a really nice market. We started in June last year and it has since built into something good for the town centre. It helps boost the business around us too. A lot of the shops believe it brings in a lot of extra trade for them. Even some of the Swan Walk tenants have reported that they have seen a boost in the town."
The operators say that the market is constantly growing, with one or two new stalls each month. But there are hopes it will be 50% bigger by next summer. A new shop, Crates, will also be opening in the Carfax soon, selling some of the produce you will find in the town on a Saturday.
PJ added: "The credibility of the market, not just ours, but markets across the country, has shot up in recent years. But there are still a lot of people who might be either intimidated by shopping on the market or it simply doesn't appeal to them. However, they do like to buy local and would prefer to do so at farm shops. That is why we are setting up the shop."
With so many hot food stalls on the Thursday market, AAH headed out to chat to them about their businesses, and to gauge the various tastes on offer…
James Colacicco, DJ's Spot: "We've been running the market business for two years in September. My partner, Denise Lehocka, took me to Slovakia on a holiday and I fell in love with the food. Her grandfather was a hunter, so he would shoot wild animals for food. All of the hunters would have slightly different sausage recipes but these are like the ones Denise grew up with.
We had the idea of introducing this food to Horsham, as we found that we could not buy it in the UK. It has to be imported. But we make a lot of the food from scratch. We use free range pork for the sausages and free range beef for the goulash, and prepare using Denise's old family recipes. The bacon we use is imported; it is cold smoked with seasoning and has this incredibly strong flavour.
We sell beef Goulash, a barbecue klobasa (sausage) Panini, and langos (a savoury doughnut with fillings) and we'll soon be introducing new foods such as stuffed peppers and Slovak meatballs. Through the winter, we will
sell 50 litres of goulash in a day and need to prepare it in a huge cauldron. We don't sell as much in summer as the sausages are our main seller.
It's been hard to establish ourselves here in Horsham. If it's something new that you are trying to introduce, people stand back and look. Very few actually think 'that's new, let's try it'. It has taken a while but those who do try it come back for more. But we are making progress. We now sell sausages to Cromptons, for a dish on their new menu, and our website helps too as we have written about the food that we sell and where it originates
from." www.djsspot.co.uk/
James Thomas, the Olive Jar "I set up at the back end of last summer. I needed a change from what I was doing and I'd always had an interest in charcuterie. I was a 3D modeller, sitting in front of a computer all day. But then I had an illness that required a lot of hospital treatment, and I felt I needed a quieter life.
So I started this and haven't looked back, as they say. Although it says charcuterie and pastry, I don't take much of that to the Thursday market. I take the Sussex Porker, which is unique. It's a pork pie, but there's no gelatine. It's rare breed pork – Gloucester Old Spot - and there are six varieties including pork and vegetable, pork and chilli bean and a taste of the Orient. It's all wrapped in an enriched hot water crust, and can be served hot or cold.
Our main charcuterie work is pates, including Ardennes and chicken liver pate. We also sell cured pork, again all rare breed, sourced from a farm in Steyning. I have good customers here in Horsham. It takes a long time to establish here – you won't do it in a couple of weeks. You have to pay your dues, but once you get there people will come back to you."
Neil Moran, Tex-Mex Burrito: "We started the business in November last year. I work alongside my wife, Pat, and this is the only market we go to, as most of the work we do is for staff banquets, hospitality lunches and things like that. Pat and I enjoy making Mexican food, and we would eat it once a week, so we developed a taste and understanding of it. I love spicy food too, which all stems from the time I lived in Thailand.
Having had the idea for a market stand, we searched online for markets in West Sussex and found Horsham and thought it would be ideal for us. We've been to the Local Produce Market on a Saturday as well to have a look
around and we thought Horsham seemed like a nice town. There's no Mexican food here either, so it seemed there was a gap in the market.
It took a couple of months to take off but now we see the regulars coming back. We sell a 12" corn tortilla, filled with American pork or beef chilli, with smoked sausage, yoghurt, jalapeno if the customer wants it, cheese, freshly made tomato salsa, and lots of fresh coriander. Then we wrap it up and put it under the grill with a little more cheese.
We just offer burritos at the moment. I was serving quesadillas for a while, but it was too messy for people so we stopped serving it. Lots of people just come for the iced watermelon drink we serve, particularly in the summer. They love fruit drinks in Thailand and it sells well here too as we only charge £1.50 for that."
George Koumaridis, The Greek Deli: "I've been coming here to the Thursday market since last winter. I live in Brighton, so I thought I would come to the Horsham and some other towns nearby as well. There is a good response to Greek food here, but it does take a while for people to know what you sell. The spinach and feta filo sells particularly well here, but we sell herbs, spices, oils and many things here.
Greek cuisine is very good, but there is so much variety. I was raised in the north of Greece, but kitchens in the south will use totally different ingredients. Once you start travelling around the country you begin to identify the different flavours that are used in different areas.
I find a lot of people are going on holiday to Greece and then coming to me to find some of the foods they have eaten on their trip. A few years ago, I could only really sell a few items, but now people are willing to try different flavours.
I make all of the food myself at my home. I have to import a lot of the ingredients over from Greece. The feta cheese, for example, needs to come from Greece as it has a very distinct taste. But when I make something I
like to do different things with flavours."
Darren Keet, Noky's Thai Kitchen: "I run Noky's Thai Kitchen with my wife, who the business is named after. But we've just had twins so she is at home looking after them.
Nok is from Krabi, which is a beach resort in Thailand. I met her out there as she worked for me. I was a SCUBA diving instructor in the islands off Thailand before I went into resort management, and Nok became a tour guide for me. We married in Thailand and came back to the UK when my father was ill.
We set up the kitchen four years ago, and we are in Horsham on a Thursday and Saturday. We used to go to other town markets too but that has stopped now that the boys have arrived. The longer we have been here, the
more business has grown. We see a lot of office workers during that lunch hour on a Thursday and we see really big queues. But we make sure there are three people serving so the queue goes down really fast.
The sauces are all Nok's family recipes that have been passed down through the generations. We serve four sauces. We have a mild massaman curry, which is a traditional southern Thai curry, a yellow curry for vegetarians, a green curry which is spicy, and the Penang or red curry with red chillies.
I grow the chillies myself. I own a smallholding of about four acres, and we try to grow as many of our own ingredients as we can. We grow lemongrass, Thai sweet basil and the chilli. The meat is all sourced from
a Sussex farm shop too."
Alex Wood, Humble Pie: "I've been selling pies for nearly three years from a pub in Lewes, operating under the name Pie Society. But another chap in Brighton took that name so we changed the name to Humble Pie.
I worked as a chef at a restaurant in Cuckfield, run by Toby Erlam. Toby managed to sell the restaurant and we went into business together. Now as a partnership we can really go for it at markets and festivals. We recently
went to the Mumford and Sons festival, Gentlemen of the Road, in Lewes, which was a bit of a baptism of fire. We weren't really prepared for it but we sold 600 pies and did all we could!
We use suet for the pastry, whereas pies are normally made with short crust with butter. The suet gives it a meatier, richer flavour. We're not the only people doing it but there's not many people doing it. We offer more than the standard flavours too, like hoisin duck pie and the pork chorizo and capers pie. We also have a ham hock, leek, chicken and cheddar pie, which is a great combination.
There's nothing too wacky, but it's a little different, and we use the best ingredients to try and separate ourselves from the puff pastry pie companies that are out there. We seem to be attracting more business here in Horsham now.
On this Thursday market, we find a lot of people come into the market for lunch, as a treat once a week, and they tend to have their favourites. But it's going well for us and now we're now looking at a couple of other markets around Sussex."