HORSHAM HORTICULTURAL SOCIETY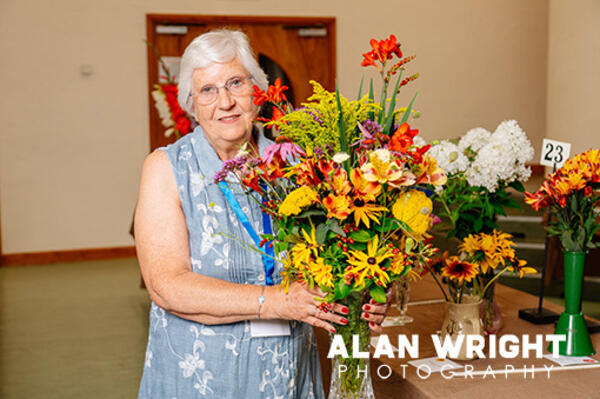 Published on 1st September 2023.
Horsham Horticultural Society (HHS) was founded in 1945 and continues to thrive, hosting two seasonal shows and organising a varied programme of demonstrations and days out. AAH visited the Summer show at North Heath Hall, Horsham, on Saturday 12 August to meet Sue Hammond (show secretary), Lynda Cheeseman (society secretary) and Carolyn Smith (vice chair).
SHOW BUSINESS
Horsham Horticultural Society (HHS) hosts two shows a year, in spring and summer. Members submit entries in a wide range of categories for plants and floral arrangements, with prizes for vegetables, cooking, photography and arts and crafts. At the Summer show, there were more than 60 categories, with 14 trophies available, including the Padwick Cup, awarded to the person with the most points in the horticultural exhibits.
Sue Hammond, show secretary, said: 'Our members can enter as many categories as they wish. Some specialise in a certain kind of plant, like roses or dahlias, and may only enter one or two plants of a very high standard. I'm at the opposite end of the scale, as I have entries in 34 categories!'
'We make changes to the competitions when necessary. We introduced photography to the Spring show a few years ago and that is increasingly popular, and if several years pass without any entries in a particular class, we will replace it with something new. We used to have sweet peas in the Summer show, but they ripen later in the year now, an impact of climate change. So, we welcome chilies and peppers instead, as they grow earlier in the season.'
MONTY DON EFFECT
Like clothing and hair styles, plants go in and out of fashion, and HHS reflects trends at its shows. An increasing number of gardening enthusiasts are drawn to high pollinating plants, such as lavender and dahlias, recognising the need to attract bees and butterflies to our green spaces. Dahlias have enjoyed a popularity surge in recent years, while chrysanthemums, gladiolus and other classic perennials are attracting younger gardeners seeking vintage themes.
Lynda Cheeseman, secretary, said: 'Sometimes plants disappear for a while and because there are countless varieties, they are forgotten about. Then someone like Monty Don will declare them back in fashion on Gardeners' World and everyone rushes out to garden centres to buy them! However, people are generally more adventurous now when it comes to gardening and they take inspiration from places like Sussex Prairie Gardens, which has striking displays of rudbeckias, cosmos and other high pollinators.'
'Our shows are a good place to pick up ideas from knowledgeable growers too. I'm proud of my miniature dahlias this year, but I'm up against Paul Dalby, a member of the National Dahlia Society. His flowers are perfect and chances are, I'm never going to take first prize, although I'm determined to give him a run for his money!
BEETROOT BAR
The show attracted 205 entries, exceeding the 137 recorded last year, when variable weather impacted growing conditions. When it comes to selecting the winners, controversy is largely avoided by the deployment of independent judges from other societies. It isn't always a simple matter of picking the prettiest, biggest or most colourful, as the judges' handbook contains over 200 pages of information, covering the full remit of categories.
Sue said: 'We might not always agree with the judges, but their decision is final and they often explain their reasoning. It could be something like a damaged leaf on a plant, as the experts are meticulous! Once, someone entered a beautiful cactus in a foliage category, but it wasn't considered as buds were blooming. In some of the floral and vegetable categories, consistency is key, as you need to enter several examples of the same thing. That's why I had 20 beetroots spread out across my breakfast bar, trying to find a trio that were the same size and colour!'
'We have occasional special competitions too. At the Spring show, we gave out small bags of coleus seeds and at the Summer show, there was a prize for the best plant grown from them. It adds a bit of fun, and members are interested to see how much variation can come from the seeds.'
VISITING SPEAKERS
The society currently has about 60 members, although not all attend meetings, as some are life or honorary members. HHS is currently lacking a chairman, although is doing fine without one, with the committee dividing responsibilities between them. This includes a programme of fortnightly talks and demonstrations during autumn and winter, with experts speaking on a wide range of subjects.
Carolyn Smith, vice chair, said: 'We do our best to offer something for all members. We have demonstrations focusing on growing or propagating a certain type of plant, tips on how to exhibit at floral shows, and talks from professional growers and allotment holders. We also welcome speakers from organisations like Sussex Wildlife Trust, highlighting how gardens can attract animals, and we've even had an owl expert, who brought along several native species. During spring and summer, we visit attractions such as Wisley or Kew Gardens, as well as nurseries and private gardens opening for the National Garden Scheme (NGS). Recently, we visited the local recycling centre, so we are not hearing about the same thing all the time. There is plenty of variation, which keeps everyone interested.'
PIECE OF CAKE
This social aspect adds another element to the society. However, despite a varied programme of talks, trips and shows, HHS can struggle to attract members. Meetings typically attract 30 – 40 people, but Lynda feels many others could benefit from joining a horticultural group, either in Horsham or one of the rural societies in villages including Southwater and Mannings Heath.
She said: 'We receive a lot of emails and messages from people asking us questions. When we respond, we suggest that they come along to one of our meetings, but they're normally reluctant, despite their interest in gardening. I suspect there are people who are out of the habit of socialising after Covid, while others may think HHS is full of retired people, which is a common misconception about any society.'
'Perhaps some believe you have to be a gardening expert, which absolutely isn't the case. We are all amateurs with a shared passion. One of the things I love most about HHS is that it's a great place to learn from others. The social side is great too, as it's nice to chat to like-minded people over a cup of tea and a piece of cake.'
WORDS: BEN MORRIS / PHOTOS: ALAN WRIGHT
Further Information:
For membership details, call Carolyn on (01403) 255253 or email: flowers@horshamhorticulturalsociety.co.uk
www.horshamhorticulturalsociety.co.uk
Visit the Facebook page at: Horsham Horticultural Society. Grow With Us.