Horsham Air Training Corps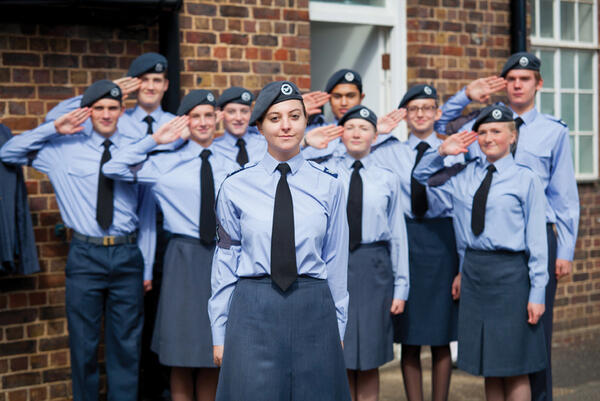 It wasn't so long ago that the Horsham Air Training Corps, 1015 Squadron, was in danger of closing due to a shortage of members. But now the squadron is as healthy as it has been at any time since it was founded shortly after the Air Training Corps was formed in 1947.
On 18th September, nearly all of the 73 members of 1015 Squadron marched through town to the War Memorial in the Carfax, as part of Battle of Britain Sunday. 1015 Squadron has a fine reputation as one of the better drilled of the country's 966 squadrons, but it is not just the parading and regimental elements of the squadron that has made it the most popular in Sussex. For many young people, the Air Training Corps is still viewed as a great stepping stone to a career in the Royal Air Force, and of course presents opportunities for the young cadets to fly a plane!
Stuart Reid, Chairman of1015 Squadron, said: We've recently spent quite a lot of money on a flight simulator which one of the cadets has built. It's a fairly modest thing – it's not the sort of thing you would learn how to fly a 747 on, but it's a good exercise for beginners.
"The cadets at Air Training Corps have the opportunity to learn how to fly and glide, and at 1015 Squadron they learn how to fly a Grob Tutor at RAF Benson. Our simulator is configured to Grob Tutor settings so cadets who haven't been flying can see what it is going to be like when they get into the skies over Oxfordshire."
The Air Training Corps is a voluntary youth organization supported by the Royal Air Force, for people aged from 13 to 20 years. Funding for 1015 Squadron building, uniforms and other essentials comes from the Ministry of Defence, but a lot of the activities that the cadets get involved in are self-funded. Cadets pay a monthly subscription and the squadron also holds fundraising events to help pay for extra equipment such as radios and camping equipment. Kayaks were another purchase, for water sports activities at Southwater Country Park.
Currently there are 73 cadets at 1015 squadron in Horsham, and the group meets on Tuesday and Thursday evenings. Stuart said: "All the time the weather is nice we can hold outside parades, but we have a lot of classrooms in the building and the cadets have lectures and hold activities in which they can acquire many badges for skills and progress through the ranks. They may learn radio communications and such skills.
"One of the things we'd like to do in the short term is redevelop the site so we can actually fit more cadets in. We find that by word of mouth we are often seeing new cadets, so we don't need to do a great deal to promote the Squadron. There's no barrier, just come along and see if it's for you. There are many people here who are looking at a career in the military, but it's also said to be very good for employers to see Air Training Cops experience on a CV, as they know they are looking at someone who is responsible, well behaved and properly turned out."
Stuart says the dynamic of the group and the social element has been like a 'second childhood' for him and other parents. He said: "Some groups are treated by parents as being like a crèche but that is not the case here – many get involved in the organisational side and also we have several parents who have been involved in the armed forces and it's nice for some of our cadets to carry on a family tradition. There's always another challenge for a cadet – as soon as you have achieved something there is always something else to aim for. Once you have achieved Corporal you want to get to Sergeant, and then you want to reach Flight Sergeant. You want to do a gliding scholarship and get your wings. A cadet's life is very fulfilling."
For more information visit https://www.air-cadets-squadron-finder.org/air-cadets-squadron-details.php?sqn=1015--horsham-air-training-corps-atc