Central Sussex Beekeepers Association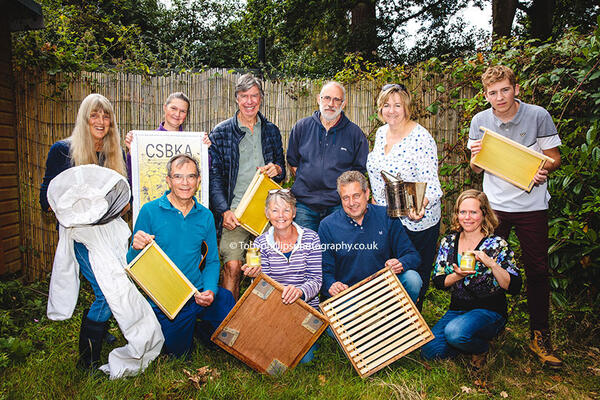 Published on 1st October 2019
The Central Sussex Beekeeping Association (CSBKA) offers the chance for people to keep bees and harvest their own honey. Affiliated to the British Beekeeping Association (BBKA), the group meets weekly in Pease Pottage, where it has its training apiaries. Introduction courses give people a taste of beekeeping, with talks and lectures held during the winter months to broaden the knowledge of members. We meet Apiary Manager Melvyn Essen, Membership Secretary Pip Edgcombe and members Becca Laurence, Morgan Bolt and Elaine Allen…

Melvyn: It's hard to put your finger on what it is about bees; impossible to resist!
Becca: I've always loved the idea of keeping bees. They pollinate most of our crops and if it wasn't for them, humans would struggle to exist. So, to say they're important is an understatement!
Melvyn: I have been a member since 2005. I was working on an estate when I came across a swarm and called the CSBKA. The chap who came to deal with it could see that I was interested in the swarm and invited me to join. That year, I was the group's only new member. Now, we attract many more people through introductory courses.
Becca: I attended the course three years ago. Melvyn showed me the ropes but I like to keep coming along to the Saturday meetings. I have three children and it's nice to have some time to pursue my own hobby.
Morgan: I was interested in beekeeping at a very young age, but my parents said I should wait a while. Then, I went to a school fair and met Melvyn, who invited me along to a CSBKA meeting. I don't know where the interest stems from, as it's an unusual hobby for a 15-year-old. I've just always been fascinated by the natural world.
Pip: I responded to a newspaper advert about the introduction course three years ago and have been a member ever since. There's a space at the bottom of my garden and I'd long thought it would be ideal for hives. But with family and work commitments, it was a while before I could do it.
Elaine: I was booked on to the introductory course as a Christmas present, as I'd mentioned an interest in beekeeping. Melvyn has been my mentor and in the early days was always on hand to help. Some take the course and then continue beekeeping at home, but others enjoy coming to the meetings as it's a pleasant, sociable environment.
Morgan: I joined four months ago and the experienced members have been showing me the basics. You can only learn by going into the apiary, inspecting the colony and understanding what to look for in a healthy hive. They allow me to be hands-on, and the morning flies by! I'm hoping that for my birthday, or perhaps Christmas, I will get a hive of my own.
Pip: You shouldn't go into beekeeping without some experience, as you'll come unstuck. Some people watch a few videos on YouTube and think they can do it, but it doesn't work like that.
Elaine: When you keep bees, there are many things that can go wrong. It's important to be able to call on people who have experience.
Becca: A few weeks after the introductory course, I bought a flat-pack hive, as well as the basic equipment. The day after my bee suit arrived, I found a swarm in a tree in my garden. Melvyn had just run a session on how to remove a swarm from a tree, so it felt like fate! With his words of wisdom ringing in my ears, I took on the swarm and now have two colonies at home.
Pip: When I told my husband that I was bringing bees home for the first time, he freaked! Fortunately, he's fine now and even helps me move the hives around in the summer months, when a colony can contain about 60,000 bees. As I have four, there's potentially 250,000 bees in my garden.
Elaine: I have two hives at home and produce a small amount of honey, which can be 'set' honey or 'runny' honey. Beekeeping is my hobby at home and my husband is a little wary, as there are so many bees in a colony. Even when you're wearing a protective suit, you need courage to open the hive.
Melvyn: I have 12 hives and sell honey at the Co-op in Southwater (Godfrey's). Even if you charge £10 a jar, you wouldn't come close to making it profitable, as it takes a lot of time and effort. So, I don't charge much. I just want people to enjoy it!
Pip: It's very rewarding. When you dip your finger in and taste honey from your own hive, the feeling is incredible! Initially, I made just enough to give to friends and family. This year, I made 90lb of honey, which is remarkable when you think that each bee makes a tiny amount in its lifetime.
Morgan: For me, the honey extraction is the best part. You need to manually turn the rotating drum so that the honey comes off the wax combs. It's a lot of work for quite small amounts of honey.
Becca: It's exhilarating to have honey that you helped nurture and gives you a great deal of satisfaction. My children get involved with the extraction. They're too little to handle hives, although I'll buy them bee suits one day as they are interested in it. I've even been to their school to give a talk on beekeeping!
Elaine: You do get stung occasionally. It's an occupational hazard, but not as common as you'd think. It normally occurs when you upset the colony. When you go into their home and start shifting things around, they can get a little annoyed! But once you've been stung, you know what it feels like so you don't feel fear it as much.
Elaine: The colonies are now preparing for winter. They are much more active in the summer. However, most just go about their business. If you're gentle and precise in your movement, they let you do what you need to.

Melvyn: Part of our role as a club is to protect the honeybee. There is a threat from the Asian hornet after a mated Queen was accidentally introduced in France. It's moving throughout Europe and last year nests were found and destroyed in Hampshire. This species can wipe out entire colonies, so a network of beekeepers operates across the country and is ready to respond.
Melvyn: If a member of the public finds a swarm locally, they call us. If it's not a wasp or a bumblebee nest, we'll take it away, build a colony and often one of our members will take it on. When we receive calls about nests in the ground, they are not honeybees but mining bees. They should be left alone as they are a very beneficial insect with an important ecological function. People needlessly worry- it's best to put something around a mining bee nest, if you're worried about dogs or children. Sadly, I regularly hear the words, "I love bees but not in my garden."
Pip: We have about 100 members and another 50 who have been on the instruction course and are thinking about getting bees. As well as Saturday meetings and courses, we attend events like the ploughing match to promote our work.
Elaine: During winter, guest speakers come in to talk about keeping bees, making honey or even things like cosmetics, which honey and beeswax is used for. We've also had talks on the environment, including one from the beekeeper on the Knepp Estate. One woman studying for a PhD came here after she monitored the waggle dance that bees do to determine where bees forage for honey!
For more details about the introductory course or meetings, visit the 'Contact Us' page at https://centralsussexbka.org.uk
WORDS: BEN MORRIS
PHOTOS: TOBY PHILLIPS