Keeping the Visually Impaired Informed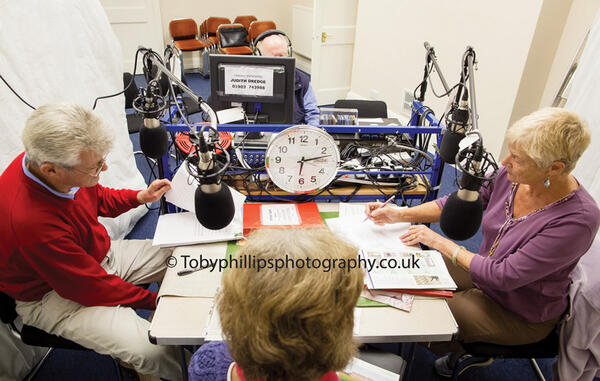 The Roundabout Talking News is a volunteer-run registered charity which has provided a free weekly recording to the visually impaired since 1978. A team of 50 volunteers are involved in the service, providing about 150 listeners a 30 minute reading with the best of the news headlines from the West Sussex County Times, as well as the obituaries and key entertainment listings.
A further half an hour is filled with a variety of informative and occasionally humorous articles, sourced by the volunteers from magazines, specialist publications and the internet. For many years, the recordings were made onto cassette tapes, but in recent times listeners have been given the news on memory sticks.
The sticks are played on easy to use stereos given out free of charge. Chairman John Dean said: "We're limited to 4,000 words as that is the maximum we can fit on to the one hour cassettes, which a few listeners still use. When we have completely switched over to memory sticks it will be more open-ended, but still, we don't want to drown them in news!
"There is very little sport as most of the listeners are not interested in it. Some are, but you can't do bespoke recordings. We keep the articles quite short and snappy by editing them down to about 250 words per story. The West Sussex County Times has been good to us over the years. They agreed to our request to use their articles. We have always met up on a Thursday night and did think about moving back another day when the West Sussex County Times started publishing on a Thursday rather than a Friday, but we have 50 volunteers working on this and so the Thursday routine is well established."
There are several teams involved in the production of the Roundabout Talking News every Thursday. Firstly, a Preparation Team arrives at about 4.30pm to sort the postal wallets returned from listeners which contain either tape cassettes or memory sticks. Meanwhile, an Editing Team selects articles from the newspaper and edits them
down before the Readers digitally record the news in the studio.
The Magazine Team comes in shortly after 6pm to record their articles. Sound Technicians then create master copies of the recordings on cassette tape and on memory stick. The Fast Copying Team arrive the following
morning and use fast copying machines to copy the recordings on to cassette tapes and memory sticks, before placing them all into the postal wallets.
We spoke to some of the volunteers about the service they provide...
Martyn Field: "We have received some statistics from West Sussex County Council that state that there are about 2,300 people in the Horsham area that are visually impaired. I would suggest that about half of that number are long-term visually impaired. So there are potentially about 1,200 people who could benefit from what we do. So our challenge is to get the message out to more of them. That's difficult as you have to rely on the friends and family of a visually impaired person to let them know about the service. As well as the local news headlines, we have a magazine section with light-hearted messages too. The Oldie Magazine is a good source for articles – and we also use the internet to find some articles about the visually impaired. Everyone here is a volunteer so funding is important. At the moment we are doing okay, but if it does take off and we get 1,000 new listeners, we would need a lot of new speaker systems as we give those out for free, as well as more memory sticks, and that would require funding. There's no doubt that it's worth doing and until the last listener goes we'll keep going!"
Howard Brake: "About 18 months ago we switched over to memory sticks. We used cassette tapes up until then. It's so much easier with the memory sticks and the quality is so much better. Every listener gets a stereo for free and you just put the memory stick in the top and listen. We have about 15 people who still use tapes and we're busy transferring them all over. Some people have problems with new technology but once they realise how easy it is to use they are happy. There are 119 memory stick users now and only 15 on tape. We also have a couple of people who listen on the website. On Thursday, a small team prepares the wallets with all of the addresses attached to them and then another small team comes in on a Friday morning and transfers the finished recordings to memory sticks. We have a computer that can copy the news to eleven memory sticks at a time and it does this in less than a minute. A memory stick is then put into every wallet and they are all put in the mail bag and taken to the sorting office. Royal Mail delivers them for free and the listeners usually receive them on a Saturday morning. They send the wallets and memory sticks back to Collyers and we collect them from there."
Barbara Lunn: "I've been involved here from the start – 33 years I think. There was an advert in the local paper when they were setting it up. I remember going to an audition and they got enough readers and put us in teams of four. That's been the set-up ever since and I am in a team that reads on the third Thursday of each month. I trained as an elocutionist, so I speak with clarity and I am careful at the beginning and ends of sentences. Reading the news is quite serious and we're not supposed to inject anything that would lead people to think one way or the other. It is important to be neutral. The listeners do get to know your voice. I have met some of them at the committee meetings, which is interesting. I said to one 'Hello, my name is Barbara' and he said 'yes I know, I've been listening to you read for years!' I still enjoy doing it – I wouldn't think of giving it up!"
Carol Dilley: "We are appealing to people who know someone with a visual impairment who might like to receive a copy of the Talking News. It does centre on the West Sussex County Times and if you don't want to read that it's not going to be of that much interest to you. But I am part of a team that works on the magazine which forms the second half of the service. We do half an hour's worth of just about everything. We talk about where we've been on holiday, and pick out stuff from every kind of publication you can imagine. We try to keep the magazine parts quite light-hearted. This evening I'm reading an article on the type of long-life bulb that gives the best light and on my last visit I was talking about a visit to Osborne House, so it's very diverse. I'm in Team Two and we all bring in articles and I decide the order so it's very flexible. Other teams are far more scripted, but we're quite spontaneous!"
John Dean: "I came here to help from the start. There was a steering committee initially and they set the whole thing up, getting the money from Horsham Round Table. The first Roundabout Talking News was broadcast on December 15th 1978. Social services knew that there were a number of visually impaired people in the Horsham District and one of the things they couldn't obviously get was the local newspaper, so these Talking news groups were set up all over the country. There are about 500 now and we are governed by the Talking Newspaper Federation. We fund it through donations. Some donations are from the visually impaired people who receive the news, as they are very pleased with what we give them. We also make money through street collections and at this time of year charity Christmas cards help too. We used cassettes for many years but now of course we have memory sticks. That meant a big investment but we managed to get a grant for the memory sticks and the stereos for them. We send them out quite quickly, but it usually takes a couple of weeks for them to come back so we need about four memory sticks per person. So with 150 subscribers we need about 600 memory sticks to ensure we also have plenty in stock. It's a very important service for our listeners. One lady I went to see said she doesn't get to talk to many people during the week so she listens to the Talking News several times over. Over time the voices reading the news become very familiar to the listeners."