COWFOLD HISTORY SOCIETY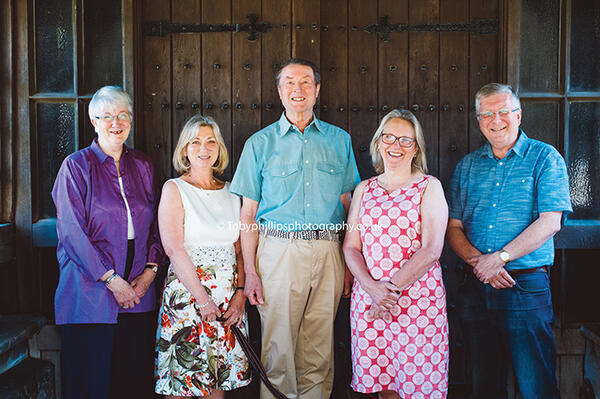 Published 1st August 2017
The Cowfold History Society helps to preserve the memory of the small yet fascinating village for future generations. We meet Sue Crofts (Membership Secretary) Stella Bianco (Hon Treasurer), Chairman Michael Burt and Committee members Jan Case and Jim Parsons.
Jan: The Cowfold Village History Society was formed in 2009 to bring together people interested in local history. The committee is quite small, but the membership stands at around 60.
Stella: We organise talks every quarter in the Village Hall, with invited speakers talking to our members. Some of the most interesting talks are not always about Cowfold. Members enjoyed talks about the Adur Valley and on weather forecasts by someone from the Met Office.
Mike: The Society is also involved in local projects and has been instrumental in encouraging other village groups to take an interest in our history. We mooted the idea for Cowfold Remembers, which organised World War One commemoration events over a four-year period. This included children at St Peter's School joining the Cowfold Horticultural Society to plant poppy seeds in memory of soldiers named on the War Memorial. It is important to bring history alive for children.
Sue: There are still people in the area who don't know a great deal about Cowfold. I recently took a group from U3A in Horsham around the village and they had no idea that we have such a beautiful church.
Jan: St Peter's Church has an incredible history dating back to the 13th century. The three lancet windows in the chancel are among the oldest stained-glass windows in the country. Cowfold has great history, yet it's very much a living village that is still evolving. There have been major changes over recent years; new houses have been built, the Co-Operative has moved, The Coach House has closed and we lost the Post Office too. Yet there remains a strong community spirit.
Mike: On the face of it, Cowfold is an ordinary Sussex village that doesn't have a significant place in history. Nevertheless, it has a long stream of antiquity which is very interesting. We are fortunate as a history society that we have lots of information available to us.
Sue: The 1911 Census provides us with general information about local households and we also have parish records that tell us about the people who lived and died in the village, going all the way back to the 16th century.
Jan: The Godman family are among the most important figures in Cowfold's history. They were major beneficiaries, providing the village hall and several of the stained-glass windows at St Peter's. Charles Godman lived at Woldringfold on the village outskirts, whilst his older brother Frederick DuCane Godman lived at South Lodge. Charles wrote a book featuring many black and white photos that offer an insight into village life. The Godman book was presented to St Peter's in the 1930s. One photo shows the old Red Lion pub, an image that was also used on what is thought to be the first postcard produced in this country.
Mike: There was once a clear hierarchy in Cowfold. At the top were people like the Burrells at Knepp Castle and the Godman family, then came the farmers and finally the labourers. It might not appeal today, but this class structure worked, as everyone knew their place and helped each other.
Sue: There remain stories and pieces of information about Cowfold that we'd like to see or hear. A book that we know exists includes a history of the village going back centuries. Unfortunately, it has disappeared. It was probably removed for safekeeping, but we don't know where it went. It's been missing for 100 years, but we hope it'll turn up one day!
Mike: In 2015, I wrote a book called Cowfold: The History of a Sussex Village with the help of Society members and local people. The book owes a huge debt to the research of David Pavitt, who died in 2011 after conducting a huge amount of research into the early history of Cowfold. David wrote in gentlemen's English, so I translated his words for a modern readership and continued from where he left it in the 1920's. The book also uses information from a sociology study of Cowfold conducted by Rosemary Coleman in the 1960s.
Jan: We have carried out interviews with local people for Oral History, a society project that records memories of village life for posterity. It may be that these stories form the basis of a second book. The interviews also tell us that traffic has long been an issue. We now have about 26,000 cars passing through every day. Yet, long ago, monks at Parkminster wrote to the Home Secretary about the "appalling" noise from steam engines in the village.
Stella: The interviews also tell us that the old South Downs Rail Link had a big impact on the village before it was axed. Livestock would arrive at West Grinstead Station and there was a chap who operated a horse and cart between the station and the village, like a taxi service!
Sue: The Census suggests that people in the village regularly lived until they were 100-years-old. There was poverty, but overall the residents were in good health. It helped that the area offered good agricultural employment, with a dairy farm and local produce. Fowler's was also a major employer for generations. They were first and foremost a construction company, but were also a wheelwright, coffin makers, funeral directors, carpenters and they ran a sawmill in the village.
Stella: We've recently received photos from Horsham Museum that relate to Fowler's. We are using our knowledge and our local network to help identify what is pictured. We have a contact who has great knowledge of veteran cars and can identify vehicles that might help us age a photograph.
Jan: As well as offering employment, Fowler's helped rebuild St Hugh's Charterhouse at Parkminster when it suffered bomb damage. As a society, we have a lot of information about the monastery, but women still aren't allowed to visit. The monks walk through the village once a week. As they are a silent order, the walk gives them a chance to talk in pairs.
Sue: The monks are supportive of church fundraisers. They donate apple wine, honey and knitted garments. It is very important for us as a community to respect their privacy, as they have chosen to live their life a certain way. However, people are interested in Parkminster and our talks on St Hugh's are always popular.
Mike: Another important landmark of the village, historically, has been The Red Lion, which became the Coach and Horses and then The Coach House before it closed. It used to be the centre of the village, not just because people met there to drink, but because meetings and elections were held there too.
Stella: As well as hosting talks and projects, we have organised village history days which have proved very popular. They provide an opportunity for people to come along and share their memories of Cowfold. It helps keep the village alive and in some cases people have met old friends and made new friends they didn't know they shared a history with.
Jan: A lot of pictures turn up at these history days. Some people brought along collections of photos and postcards that we hadn't seen before. What is fascinating about pictures from the early 20th century is that, whilst there have been dramatic changes, you can still see that they are of Cowfold. Some parts of the village have hardly been altered, particularly around the church and almshouses.
Sue: We still have two insurance fire marks on buildings in the village, which came about after the Great Fire of London. There is one on St Peter's Cottage and one on the Olde Sweet Shoppe.
Mike: One issue we face as a society concerns membership. As with most history groups, trying to attract younger people is a challenge. That is mainly because they have other things to do in terms of career and families. We try to engage younger people through St Peter's School and hope it'll encourage them to take a long-term interest. Our other target is to maximise the use of the website and make it more interactive. We have had over 700 hits, so there are people using it both here and overseas; but we'd like to do more with it.
Sue: The website launched in April and we want it to become a communication channel for everything happening historically in Cowfold. It's not much good if a history society has information that it can't share. Whilst people might not be able to find what they are looking for on the website, they can at least contact us and we will help if we can. We have had people contacting us from all over the world.
Stella: I recently helped an American woman whose family lived on Clarke's Farm long ago, in the only thatched house in the village. She was visiting and wanted to see it. Fortunately, when we went to the house, the current owners were happy to show her round!
Mike: We are also talking to Jeremy Knight at Horsham Museum about encouraging various history groups in the area to work more closely together. Ideally, we'd like to establish a forum for local history societies as we all have great information we could share.
For more details about the Society and how to join, visit www.cowfoldhistorysociety.org.uk For a copy of the Cowfold book email Michael Burt at michael.burt1911@btinternet.com
INTERVIEWS: BEN MORRIS
PHOTOS: TOBY PHILLIPS / COWFOLD HISTORY SOCIETY