PHOENIX STROKE CLUB IN HORSHAM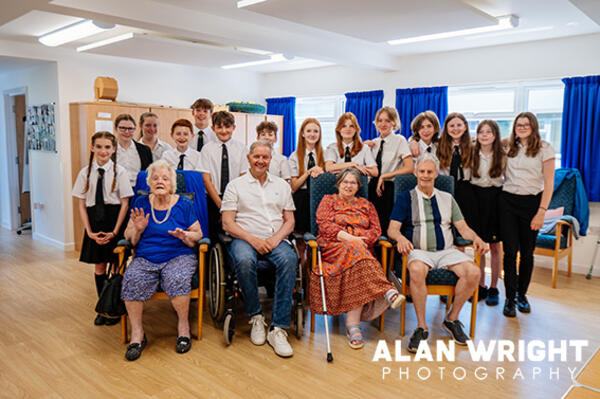 Published 1st September 2023
Members of the Phoenix Stoke Club, based in Horsham, are enjoying social interactions with students at Forest School. AAH attended a group meeting and spoke to Renata Bielinska (Phoenix Stroke Club supervisor), Sarah Boult (trustee and volunteer at Phoenix), Mairi Sleight (transition co-ordinator at Forest School), stroke survivors Daryl Gayler and Ann Harris, as well as Year 8 students Jack and Livvy to find out more.
Sarah: The Phoenix Stroke Club has provided an invaluable service for more than 40 years. It supports stroke survivors by providing a wide range of activities that help restore confidence and improve communication and mobility. We meet four times a week in our recently extended clubhouse within the grounds of Forest School, with our members coming from across the Horsham District as well as further afield.
Renata: On Mondays, Tuesdays and Wednesdays, we host activities that could include physical exercises, games, baking, arts and crafts, and group discussions. Members are provided with a freshly cooked two-course lunch and refreshments, served by our team of volunteers. On Thursday mornings, we host a Communication Support Group, focusing on language and communication skills. We also have a Thursday lunchtime group called Onwards and Upwards, which is a place for younger stroke survivors and those members who would like to stay active. Members meet and share experiences in a more informal setting, organise fundraisers, and are happy to challenge themselves and learn new skills.
Daryl: I was fit and healthy, working as a regional director for NatWest and regularly attended a gym. I didn't drink or smoke, yet at the age of 53, I suffered a stroke at work. I was taken to East Surrey Hospital, then transferred to St George's Hospital, where a large part of my skull was removed as I underwent major brain surgery. I was on life support for several weeks and left without the use of my left arm. It was a difficult time, as I embarked on a year of rehabilitation, with cognitive therapy, speech therapy and physiotherapy. My sister is my primary carer and I have support from my family, but attending the Phoenix Club twice a week is important to me. It gives my sister some respite and it's also good to talk to people who understand what you've been through.
Ann (pictured): My stroke changed my life overnight. I woke up alone and didn't know where I was. I tried standing up to reach the telephone, but fell down immediately and found myself laying on the floor for many hours, confused and frightened. Fortunately, my workplace called my daughter when I didn't show up for a shift, and she called the police. Seven hours after my stroke, they smashed down my front door and found me. Ever since then, I've been fighting. Firstly, it was a fight to survive. Then, it was a fight to walk again, which I can now do. Now, I come to Phoenix twice a week and find it benefits me, both socially and in continuing my recovery. Everyone at the club are just amazing.
Sarah: The charity is unique in many ways. Renata is the only paid member of staff, but there are 30 volunteers who help provide the service to over 50 stroke members. The team includes an occupational therapist, a physiotherapist and a speech and language therapist. They provide invaluable and constructive help and support to enable members to enjoy as full a life as possible. With the extension, we now have a dedicated therapy room, giving members much-needed privacy. We also have carers who provide members with personal care.
Renata: The building and refurbishment work took many months to complete, although one positive impact of Covid was that we could carry out work while Forest School was closed, reopening again in May 2021.
Sarah: The extension cost over £325,000 and has enabled us to provide more places, particularly to members in wheelchairs. As well as a therapy room, we have a kitchen, separate coffee and tea making area, and a newly-landscaped garden. To fund the project, we held many fundraising events, secured money from grant applications and received generous donations from numerous individuals and bodies including The Wolfson Foundation, The Hope Keith Villagers Trust, The Three Oaks Trust and The League of Friends of Horsham Hospital.
Renata: We have always provided members with a busy programme of activities. We have arranged for musicians and ensembles to sing and perform, as members find music very therapeutic. We have regular quizzes, games and many fun activities, and often welcome speakers and visitors. We have restarted outings,a recent one being to Old Barn Nurseries, which everyone enjoyed. Having Forest School students coming on a regular basis is a lovely addition to everything we do for the members, and we will continue planning new activities that both members and students will enjoy and benefit from. We are grateful that Forest School Head Teacher, Mr Straw, has been so supportive.
Mairi: Renata contacted Mr Straw, and he asked me if I could take a small group of Year 7 students along to the Club. The idea has blossomed into a wonderful relationship between the school and the members, volunteers and staff at the Phoenix Stroke Club. We take students from across the year groups, and they join Club members and participate in activities and crafts. We always receive a warm welcome and I find that once our young people have had a biscuit, they really enjoy it. I always have requests from students to return!
Sarah: Everyone benefits from the relationship. Our members enjoy spending time with the young people and it gives the students an understanding of what it's like to live with a disability. Some of our members are quite isolated, due to family circumstances or their own disabilities, so don't have opportunities to engage with younger generations.
Mairi: We tend to bring Year 7s, as well as student mentors from Year 8. For some of them, these visits are an important part of their transition to secondary school. Some find they actually thrive in this kind of environment and that can be a surprise to themselves and the staff. It's wonderful to see multi-generational conversations around the tables, with people young and old laughing together. For students, it can help with their confidence and improve their self-esteem and mental health. They have a good time, and not just because they're missing lessons!
Jack: This is the second time I've come to the Phoenix Club. Last time, we were decorating cookies for Christmas and today we've played games and quizzes, and done arts and crafts, even making our pwn Phoenix. I like chatting to people here. They talk about their lives and families and some of the guys ask me about rugby, as I play for Crawley RFC.
Livvy: When I was in Year 7, I mentored Lottie, who was just joining Forest. We became good friends, as even though we're in different years, our birthdays are only two months apart. We both like coming to the Phoenix Club, as we can hang out, eat biscuits and play games. Last time, we baked Irish themed treats for St Patrick's Day, and today we designed a Phoenix using bits from the craft box, which was really good fun. The stroke survivors like talking to us too. They ask about school, what we like to do, and even what lessons we're missing!
Daryl: It's nice to see the children and hear them laughing. These sessions are much louder than our normal meetings, but it's different! We get something out of them and I hope they get something out of us too.
Renata: The students always seem very comfortable spending time with our members, and that confidence and honesty creates an interesting dynamic. What is nice is that many students have even expressed an interest in coming back to do work experience with us. It has led to other opportunities too, including a visit to Forest School to watch a production of Billy Elliott. I hope the children benefit too and that they leave these sessions with more confidence.
WORDS: BEN MORRIS / PHOTOS: ALAN WRIGHT
Further information:
Call The Phoenix Stroke Club on (01403) 268130, email: manager@phoenixstrokeclub.org.uk or visit www.phoenixstrokeclub.org.uk