HORSHAM LIONS CLUB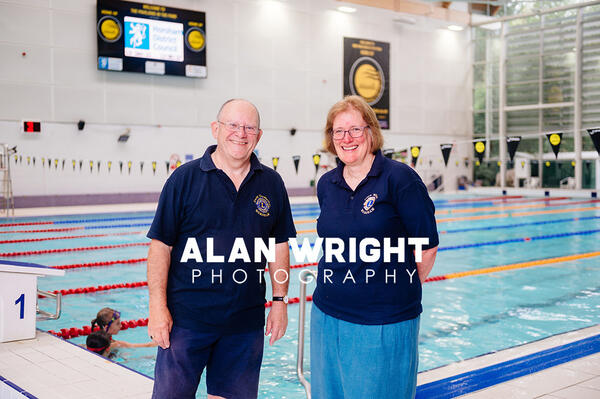 Published on 1st October 2021
Horsham Lions Club is part of the worldwide organisation of Lions Clubs International, operating across more than 200 countries. Membership is open to men and women interested in helping others whilst also enjoying social events. AAH spoke to members David Trowbridge, Gordon Hoare, Clare Wilson, John Williams and Paul Terry during a Swimarathon at the Pavilions in the Park in September.

David: The Swimarathon is the biggest fundraising event of the year for Horsham Lions. It's very manageable for people to compete in, as we welcome teams of up to six who swim for 55 minutes. They take turns to swim a length of the pool and if somebody can only swim one length, that's fine as others can keep it going. We then have a quick change around and the next six teams begin.
Paul: This is the 10th year of the Swimarathon. Our last one was held in March 2020 only days before the first lockdown. We've done well to host it this year too. Next year's event will be on 15 May and then in 2023 we hope to resort back to an original March date. September isn't ideal as schools are back and people are not geared up for sponsorship. Clare: At its peak, we used to attract 40 teams. After the year we've been through though, we're very happy to have 24 clubs supporting the Swimarathon, as it's our first major event for 18 months.
John: We receive more support from clubs and organisations than we do businesses, and often see the same teams returning. This year, we have Horsham Bluebelles Baton Twirlers, St Andrew's School, Rock Choir, Tanbridge House School, Action Swimmers, Horsham Lifesavers Club, Castlewood Primary School and several Horsham scout groups, including one entirely comprised of Leaders.
David: The Lifesavers Club do things differently, as they don't worry about how many lengths they swim and use it as part of their training instead. This year, £5,321 has been pledged, which is much more than we expected. Some teams raise funds for their own club and split sponsorship with the Lions. Tanbridge House swam the most lengths (180), despite having only three swimmers. The record is 194 by the Doggy Paddlers from Assurity Consulting, so I suspect Tanbridge will be back with an attempt at beating that!
Gordon: The Swimarathon is important, as it puts the Lions' name out there. We used to organise a gala in Horsham Park with a historic vehicle rally. At its peak, it attracted about 40,000 people and became almost too big for members to cope with alone. We've also run pony events in the past, which were good but too niche. The swimming event works better as it has wider appeal.

John: At Christmas, we deliver food and toy parcels to local families in need. Previously we worked with Social Services to identify families, but we've since built a close rapport with Saxon Weald. The identities of those who receive parcels are protected, but we ensure money is well spent. We used to donate presents, but often the gifts weren't what people wanted or needed. Now, we buy a specific item or donate a gift card of up to £50 per family.Gordon: We also raise funds through collections in town and at supermarkets, while there are many other schemes run by the Lions. We collect spectacles as part of an international Lionscampaign. They are fixed before being distributed to those who need them.
Clare: Another way we fundraise is with our Easter and Christmas hampers, usually run with the help of local pubs. People buy a square on a board for £1 and the winner is pulled at random. But it's not all work! We meet socially once a month, usually at a pub that supports our hamper campaigns. We used to have regular meetings at the RAFA Club in Broadbridge Heath too, but when COVID struck we held those on Zoom instead.
David: This year's Swimarathon will support Horsham Matters, which does so much good in the community. In previous years, we've supported Chestnut Tree Children's Hospice, Sussex Air Ambulance and other charities. Next year, we'll fundraise for the Lions, as we've not been able to so street collections which boost our coffers.
Gordon: People trust us to do the right thing with the money we raise. We don't hoard it; we spend it quickly. That's one of the advantages about being a local organisation with good connections. We know how to get the money to those most in need.
John: We're fortunate in that the people of Horsham are vey generous. Last year, we raised about £2,000 in our Christmas campaign, which meant we could help about 60 families. But we do need more members so that we can do more in the community. It's often hard for people to commit, as people's lives have changed and they struggle to fit things in around work and family. Horsham still has that sense of community though, which is vital, as people have to want to make a positive difference.
Gordon: I've been with the Lions Club for about 40 years. Rotary and Round Table International tend to focus on the business community, whereas Lions is for anybody who wants to put something back into the community. That's what first appealed to me. I was born in Park Street and have lived in Horsham all my life, while my grandfather is listed on the War Memorial. So, the town is dear to my heart.
Clare: I initially joined the Leos, an arm of Lions International for younger people aged 18 to 28. The idea is that Leos move on to the Lions but sadly many of the Leo Clubs have gone now. I lived in Guildford at the time and wasn't allowed to progress to the Lions, as they didn't accept women at the time. So, I joined the Horsham group instead.
John: One of the ways that Lions has changed for the better is by welcoming women. However, like many Lions clubs, we're still much smaller than we used to be. Some clubs have disappeared, including Crawley Lions, yet others like Billingshurst are thriving. A couple of friends from Billingshurst Lions have been called in to help us at the Swimarathon, as we don't have enough members.
David: When there's only a small pool of active members, there's only so much we can do before we feel burnt out. That's why we'd love to see new faces. We always say family comes first though, and people only need commit what they feel they can. Gordon: I find the Lions Club is very rewarding. I visited the Strawford Centre recently, which is for people with learning difficulties, as prior to COVID the centre helped us a lot with collections. Newbridge Nurseries donated some plants and I delivered them to the Strawford Centre as many people who rely on it love gardening. A volunteer told me that the Lions had helped his family during hard times a few years ago. Now an adult, he's giving something back to the community. For me, that shows what we do is worthwhile.
Further informationFor details about membership, email David Trowbridge at info@horshamlions.freeuk.com or visit www.horshamlions.freeuk.com