HUKUBERRY UKULELE CLUB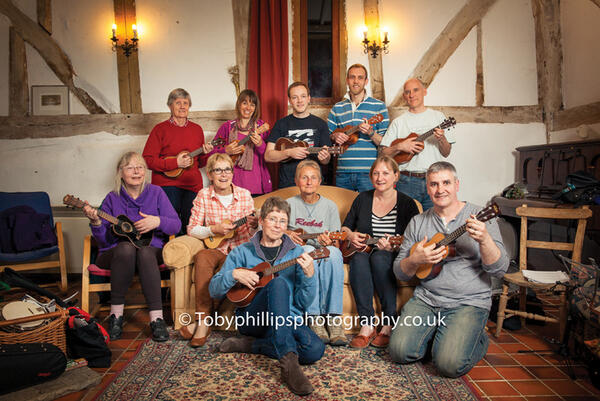 Four years ago, The Guardian newspaper suggested that the much-maligned ukulele was being 'championed' by a new generation of artists.
It hasn't quite panned out that way. The four artists that were highlighted as leading the charge –Amanda Palmer, Arms, Rachel Unthank and Dent May – haven't exactly strummed their way to worldwide fame.
Whilst modern charting acts such as Mumford and Sons and Jack Johnson occasionally feature a ukulele in their songs, the most successful 'uke' song remains a cover of 'Somewhere Over the Rainbow' by Hawaiian singer Israel Kamakawiwo'ole. It has featured on numerous film and television scores, including Meet Joe Black and Fifty First Dates. So it might be a while before most of us can name a uke player who isn't George Formby.
Nonetheless, there has been a boom in sales for this small, four-string instrument of the guitar family over recent years, primarily as it is cheap and easy to learn. The uke's popularity has led to new groups being established here, there and everywhere. One such group is the Hukuberry Jam which meets twice a month at the Micklepage Barn in Nuthurst.
Hukuberry Jam was formed by friends Chris Clarke and Matt Batchelor shortly after they had bought their first ukuleles. Chris said: "We had both bought an instrument and thought we'd have a crack at it, but the only club we found was in Worthing. So we thought we'd start our own group. We started a website, put some feelers out there and it quickly picked up.
"We met as a group the first time off last summer, and for a while there would only be a few of us, wondering if it would ever pick up. But by September it had picked up and by Christmas we had nearly 20 on the list. Now we tend to have about a dozen people here each week."
The members play a huge array of songs. There are traditional Irish folk songs (Whiskey in the Jar), country classics (Jolene), rock anthems (Sweet Home Alabama), party tunes (Dance the Night Away), pop gems (Friday I'm in Love) and indie rock (Creep - the radio edit, we presume!)
Just occasionally, a banjo-ukulele is added to the mix for added affect. The group likes to mix it up in terms of venue too. They've met up at The Owl at Kingsfold and hope to meet at the pub again in the future.
We spoke to a selection of members but if you'd like to know more about Hukuberry Jam visit https://www.hukuberry.co.uk
Tina Fox: "I played guitar for 30 years before I transferred over to the ukulele about 18 months ago. My partner retired and I bought her a ukulele as a joke present. I said 'I've found a jam for us to take these to' and we turned up at the session and never looked back.
I went to a great night school guitar class for 15 years and we played everything from classical to rock, so I don't mind what we play at Hukuberry – except songs in 'F' as they don't work!
Playing the uke is very different to the guitar and you have to unlearn a lot of guitar traits. It has two fewer strings, so all of the chords are all a different shape to guitar chords. Playing the chords is all muscle memory, but it's not playing the chords with the left hand that is the problem, it's the right hand side of things that is harder to adapt.
I 'pick' the instrument rather than strum, which is difficult at first but once you get the hang of it it's actually quite fun.
I also have a banjo ukulele, which George Formby used to play. They are more expensive and very loud, so sometimes in a jam it is not always appropriate to play one. But some songs do sound nice with the banjo, such as Big Rock Candy Mountain by Harry McClintock.
There are a lot of jams around West Sussex and I play in several of them. I've been to The Duke in Shoreham, Billingshurst, Chichester, Littlehampton, and a group in Worthing. I like being in the barn at this group though. This is a grass roots group – most of the people here have never touched an instrument before in their life, so it's great.
I have hosted several uke workshops for beginners. At the last workshop I taught 14 people three chords and we jammed for a couple of hours."
Liam Sturt: "I was here on the first week, when there were only four of us. I bought my ukulele about two weeks before that and just happened to be looking on the internet for a group in the Horsham area at about the time that Chris and Matt set up their website.
I had a drum kit beforehand, but my flat is too small for it. The drums are in storage at the moment, so I thought I would buy a ukulele. I bought one off Amazon for £19 and progressed up to the one I've got now. I could have played guitar but everyone does that. I thought I would be different and play the uke.
It's not that difficult. You can really pick one up and learn how to play a simple song in half an hour. You've got chords that only involve one finger, where as guitars are more complicated. I am getting better and coming to the group has helped. There are people here who have been playing for a lot longer, so you can brainstorm ideas with them and pick up tips.
I've tried to throw in a few new songs. Friday I'm in Love by The Cure is one of my introductions, but there are a couple of others I've suggested that we've not tried yet as I'm the only person who knows them!
It's good fun here. I don't mind that it's mostly older people, although I would like to see a few younger people.
Ukuleles are enjoying a revival thanks to bands like Mumford and Sons, as it was a bit of a jokey instrument for a while. If you take it with a pinch of salt, it works!"
Lorna Samways: "I joined Hukuberry in September last year. I had played the instrument for a while, as I go to other groups in Billingshurst, Worthing and Shoreham. I picked one up for the first time about four years ago. I had never played an instrument in my life. I saw one in a tent at a craft fair and the chap said 'Would you like to have a go?'
I told him 'I have no idea how to play it!' He said 'Well, I've got a book!' So he sold me the ukulele for £18, the book for £7, and I haven't looked back since.
I had always wanted to play an instrument and now I'm retired I have the time. I started strumming at home, practicing for the first year. Then I started going to a club in Worthing and gradually people told me about other groups. I've been waiting to join a group in Horsham since I started playing, so I was very pleased to hear about Hukuberry.
It takes a bit of practice but the uke is one of the easiest instruments to learn how to play. I wouldn't say it's easy to get to the level of Jake Shimabukuro though! I love the ukulele and I now have five with another one coming. I also like the camaraderie at the jam as it is musicians all coming together to make music. There's a real mix of songs. I think Chris and Matt introduce a few modern hits, but because of the older members there is a real mix of songs.
Sometimes playing and singing doesn't mix very well as you'll be concentrating on the chords and you have to sing the lyrics too. I like to sing during the sessions. I belong to a rock choir anyway, so I enjoy it, although
others prefer just playing."
Ann Smith: "I've been playing for just over a year. I play in a lot of care homes and I used to play the piano. But homes tend not to have pianos these days so I thought 'If I could learn the ukulele I could still go to homes and play.'
I bought a ukulele and taught myself to begin with. When I saw the ukulele group had started, I rang up and joined and have been coming here ever since. We sing and play a lot of songs that I don't know. I know the old songs but quite a few are not from the era that I was listening to music. Once you realise the timing and rhythm though, you can learn how to play along.
I have started up a ukulele group within the U3A group in Horsham, and that has been going for a few months now. I hope some of the U3A group will come with me to the care homes and play for older people and those with Alzheimer's.
Playing the ukulele is good for the mind. I think they should teach it in schools. One of my grandchildren who is aged seven or eight had a school project to make a ukulele out of a butter pot, a piece of wood and some fisherman's string, and they sounded jolly good! The teacher then took a set of red ukuleles into the school, the kids started playing them and it really took off."
Chris Clarke: "It's really quite easy to learn the uke and that's why I play it. I'm really quite lazy! I just want to be able to play an instrument straight away. I did used to play the banjo, a five string, but that was trickier for me and I had to practice hard so I gave that up.
The uke is far easier than a guitar, as there are only four strings, but guitarists often like playing it as the ukulele has a nice tone. There are famous songs by the likes of Israel Kamakawiwoʻole and you're starting to hear more bands using it too.
On our website we've got about 90 songs. Different people in the group will find a song they think will sound good on a ukulele and we'll try it. It's so easy now with YouTube, as you can hear a song and go and watch it to see how people are playing it.
The singing comes to people as and when, but it's not my thing. It doesn't really matter – some mumble along, while others sing in full voice. That's how we like it. It's a chill out session and we want people to be comfortable and to enjoy themselves.
The ukulele has become really popular and you see a lot of shops buying them in. You can pick up a cheap one for £15, but they are your bog standard instrument. You can spend as much as £100 for a good one. Ukuleles come in different sizes. There's the soprano, concert, tenor, and baritone size, so there is quite a range of sound."